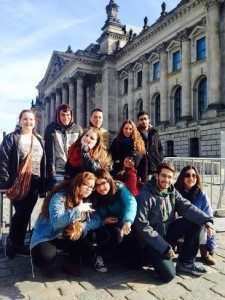 It may not exactly be everyone's first choice when thinking about Jewish tourism…  however; Germany looms large in Jewish history and is a country that has made tremendous changes the last few decades.  The focus of this trip will be Berlin, and the surrounding area.  In describing Berlin, nothing says it better than this excerpt from Let's Go Berlin, Prague & Budapest, 2011:
"Congratulations on your decision to visit Berlin.  Your wussy friends went to Paris.  Your snob friends left for London.  Your tacky friends chose Florence.  And your fat friends stayed home.  But you chose Berlin, which makes two things true of you:  1. You're smarter than your friends.  2. You're bad at choosing friends.  Everything that rocks in the other European capitals does so in the other European capitals does so in Berlin, but here the beat is faster, the groove is harder, and all of it is covered in more mustard than Mr. French could dream.   First, Berlin has normal history: the Prussians ruled from Berlin's canal-lined boulevards, built the Berliner Dom, pimped out opera houses, and collected enough art to make the Louvre green with envy.
But Berlin also has more recent history, part of which was the implosion of its older history in WWII, then the whole 'wall' thing where the Soviets literally cut the city in half.  In short, 'change' more than anything else continues to define Berlin.  As a city simultaneously abandoned and dominated by authority, Berlin became a haven of punks and anarchists in the '70s and '80s.  When the wall came down, that sharp culture was suddenly forced to have a playdate with legitimacy as East and West reunited and sought to establish common ground.
In 1999, the German government moved from Bonn to Berlin, and suddenly Berlin's graffiti-filled streets were full of brief case-carrying bureaucrats. Embracing change and pushing forward has also made Berlin the "cool" capital of Europe.
Your friends are morons."
Sample Itinerary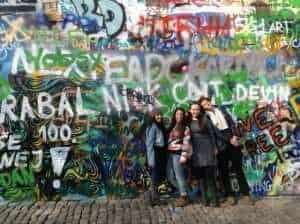 Day One
This day will take place in the neighborhood of Mitte.  Visit the Story of Berlin Museum to learn the history of the country.  Then see the Topography of Terror exhibit to learn about the origins, development, and deployment of Nazi terror from 1930-1946. After WWII Berlin was a divided city; see the famous Berlin Wall and Brandenberg Gate.  Afterwards enter the Reischstag, seat of the German government to learn about the thriving and strong democracy Germany has become.  On a lighter note explore the House of World Cultures and discover why it is called "The Pregnant Clam."  In the evening we will visit an old German beer hall.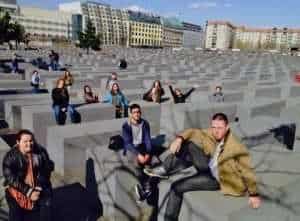 Day Two
Take a train to Museum of Wannsee Haus in Wannsee, and see where the Final Solution was drafted. Come back to Berlin for lunch and then discover the history of the Berlin Jewish community with the beginning of the Enlightenment movement, Reform Jewry, Feminist Rabbis, and Socialist Jews.
You will visit the Old Graveyard, the Jewish School, the New Synagogue, the Old Synagogue and the Rosenstrasse.  In the evening meet and hang out with local Jewish youth.
Day Three
Take a train to the concentration camp of Sachsenhausen.  Come back to Berlin for lunch and go to the Jewish Museum.
The day will be spent visiting many of the memorials and monuments dealing with WWII such as: the Jewish Holocaust Memorial, the Homosexual Memorial, the Soviet Memorial, etc.  Decompress in the evening by going clubbing.
Day Four
Take a train to Potsdam.  This is your chance to see a more rural Germany and visit various palaces, including that of the royal family.  After lunch visit the Israeli Embassy where we will have the chance to hear about the relationship between Germany and Israel today from a member of the embassy.  We will, of course, take some time to shop since we are in a major European capital.
Day Five
In the morning travel to Kruezberg to the Deutsches Technik museum.  There you will see an amazing assortment of airplanes, a Viking ship, trains from every decade since 1880, windmills, and even a brewery.  Next is the Pergamon Museum where you will see the breathtaking Mesopotamian Ishtar Gate and Pergamon Temple.  Finally visit either the Zoologischer Garten – with Knut the world famous polar bear or the Aquarium with psychedelic jellyfish and slimey carp petting zoo.
---
Educational rationale for a trip to Germany
By Keith Berman
I have avoided Germany.  When I was younger, and went to a family occasion with my limited number of relatives, I would think of Germany…but not want to visit.  I have been to many countries in Europe but always wanted to avoid Germany and hearing its language.  However that is me.  I am from a different generation.  Today I am an educator working with youth, and I think there is every reason to go to Germany. I may even enjoy it.  Germany is a different country today.  It is a strong democracy.  It is one of the only strong supporters of Israel in the world.  They have one of the largest, and fastest growing, Jewish communities in Europe.  It is important to expose our youth to the reality of Germany today balanced with a clear analysis of Germany's past.  We will go to Germany and delve into that past.  But we will also go there to have a good time, interact with pro-Jewish and pro-Israel Germans, and recognize that while Germany will always be held accountable for what they did to our people, we still appreciate the tremendous effort of their new generation to be completely different from their parent's and grandparent's evil deeds.