Holiday Season In Israel – JLM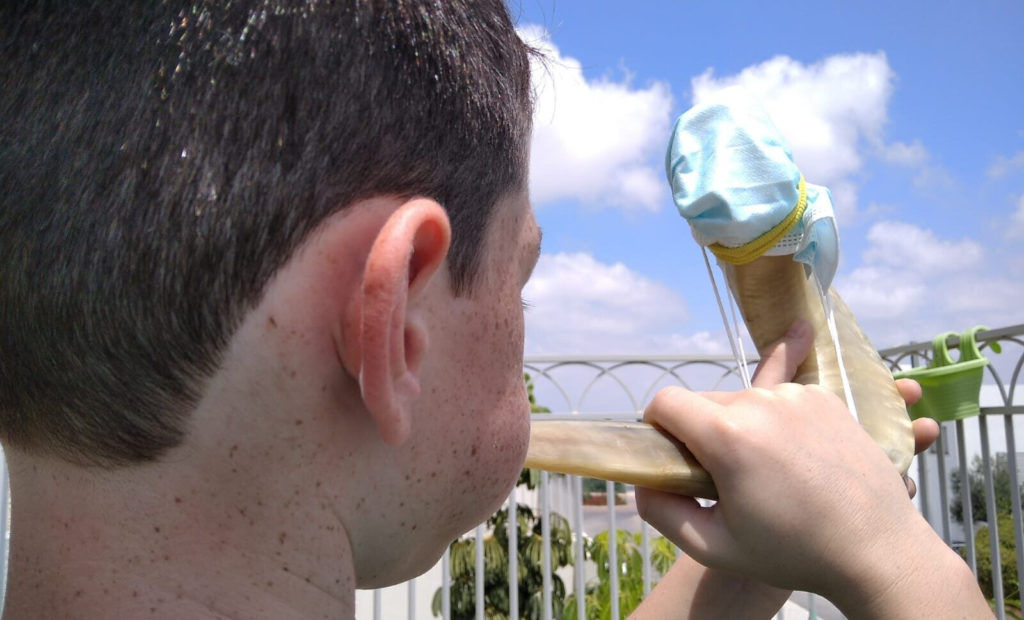 This week the whole Jewish world celebrated Yom Kippur and here In Jerusalem, this experience was truly special.  Zachary Buller shares his experience of the holiday:
"When the Israeli government announced the three-week lockdown, I was worried that I wouldn't be able to experience the High Holidays like I usually do, let alone enjoy the heightened spirit and meaning of celebrating these holidays in Israel.  However, after a week and a half of lockdown, I can confidently say that my predictions and worries were unequivocally wrong. After an incredibly meaningful Rosh HaShanah where I attended outdoor services, ate delicious meals with my roommates, and spent quality time with friends around the building, I began coordinating logistics for Yom Kippur.
At an inspiring outdoor Kol Nidrei in our neighborhood, some students prayed while others listened, but everyone felt the power of the day as the dozens of congregants (all sectioned-off into capsules of 20 people) cried out to God for a better, non-corona year filled with health and happiness.
Prayers the following morning were beautiful as well, but the moment of Yom Kippur that was most meaningful for me was reciting the Neilah service outside of the Great Synagogue as the sun set over the Jerusalem skyline, hearing the Shofar sound just as the sky fully darkened, marking the end to a powerful day full of prayer, repentance, and introspection.
While I definitely did not envision being under lockdown for the High Holidays, being in the heart of Jerusalem for the holiest days of the Jewish calendar proved to be an incredible experience for me that I will never forget".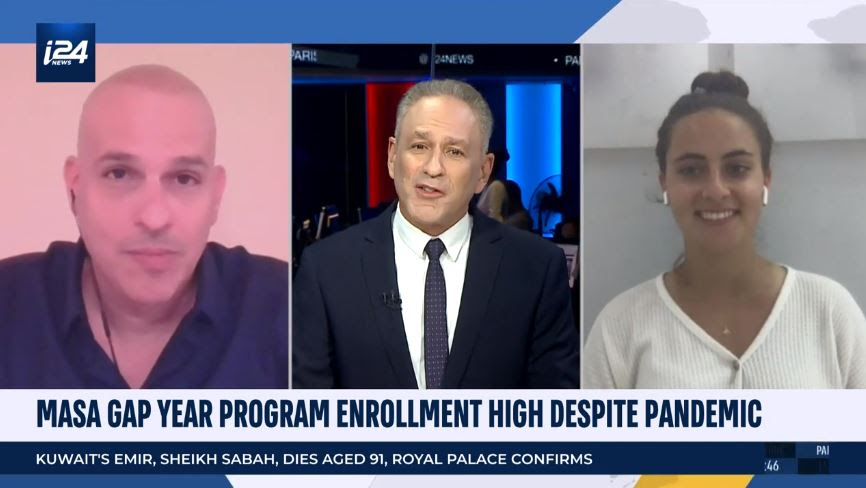 On Tuesday, one of our Aardvark Israel students, Sophie Goldberg, was interviewed by i24 News alongside the CEO of Masa, Ofer Gutman. Sophie spoke beautifully about her experience in Israel thus far and we invite you to watch the full interview.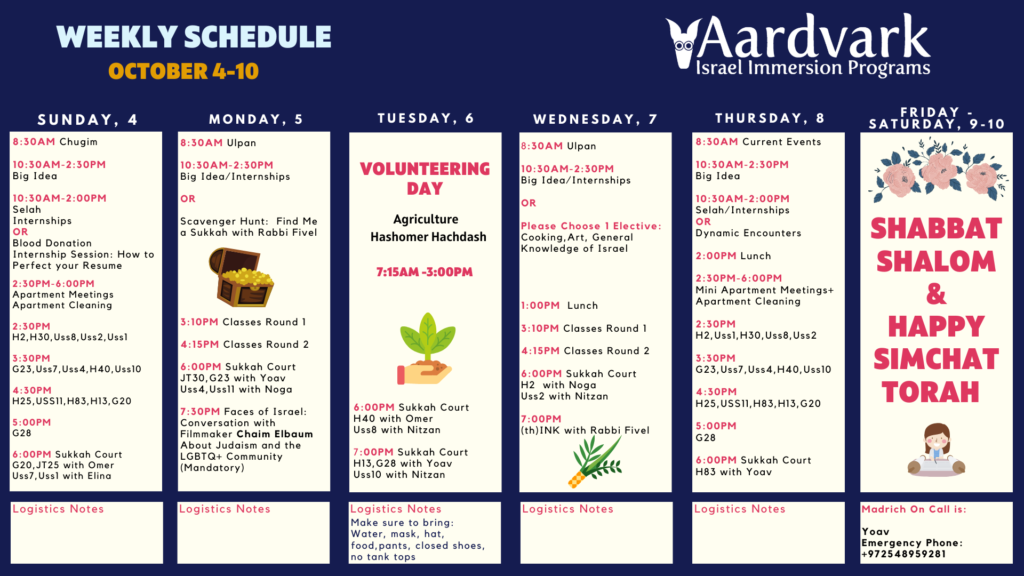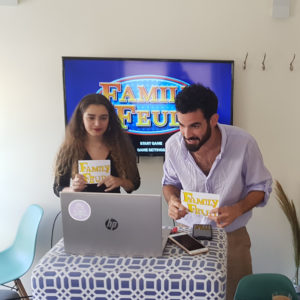 One of the sessions we had this week was the famous game calld Family Feud! The game was adapted to an Israeli format and had questions such as "What food does every Israeli eat in the morning?" and "Where do Israelis go on a trip after the army?" Madeleine Rubin shared, "I had so much fun participating in Family Feud! It is one of my favorite games at home to watch! Thank you for having such great energy and putting it together Nitzan & Omer (our Madrichim)!!"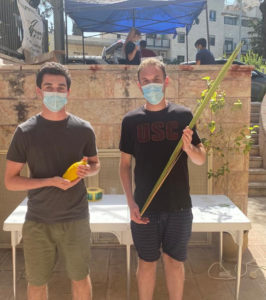 Today some of the students volunteered with the community we live in by spending the day packaging Lulavim and Etrogim to be distributed around Jerusalem since they were available by order only this year.  The students were a huge assistance to in preparing for Sukkot during this pandemic. In this photo are Charles Smolen and Jacob Gottesman who helped pack and deliver these holiday essentials. What a Mitzvah!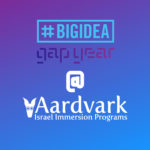 This week on Big Idea, the students participated in a workshop about strengths & weaknesses and setting goals. Through different group, partner and individual activities, they explored a variety of questions that we can ask ourselves in order to identify our own strengths and weaknesses. Then, with those characteristics in mind, the students worked on setting individual professional goals and expectations for the first four months of the program. They then had a chance to share their goals with each other.
Also this week, in the Big Idea "Authentic Confidence and First Impressions" workshop, the group talked about what makes a first impression and how to influence our first interactions with others.  The students also practiced meditation to strengthen their connection to self and talked about the importance of energy in our first encounters.
Afterwards, they had a conversation about popularity within a work environment.
To conclude, the group discussed what the older generation expects of the younger generation and how we can move past that barrier professionally.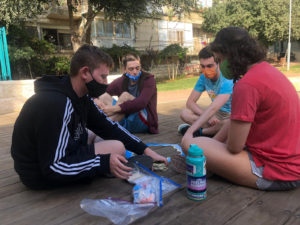 Catan Tournament from the weekend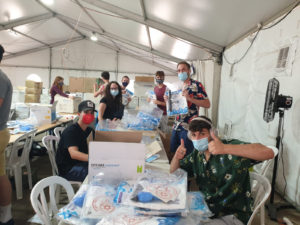 Volunteering with Magen David Adom, packaging supplies for First Responders.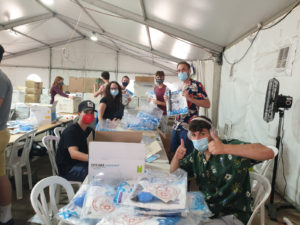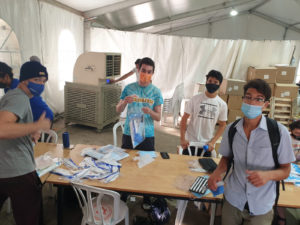 Next week are going to celebrate Sukkot together and seeing the streets and balconies around the neighbor decorated with sukkot will surely be a sight for everyone! We will be continuing interviews for internships and more students will also begin their internships. Despite lockdown, the atmosphere is quite positive with all the opportunities and new experiences we are having.
Chag Shamech and Shabbat Shalom,
Natali