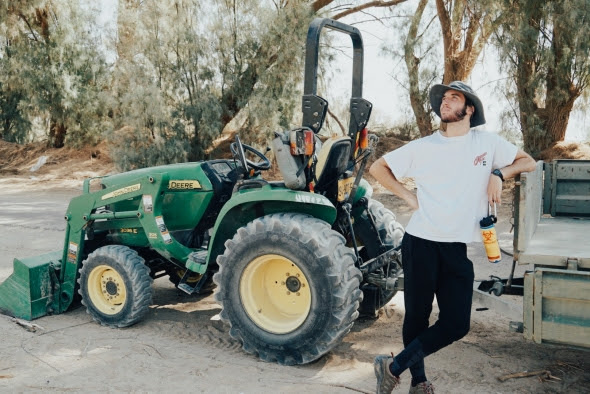 With the partial lockdown ending in stages, we took the students in their capsules to Kibbutz Ketura for a change of scenery from the Jerusalem stone!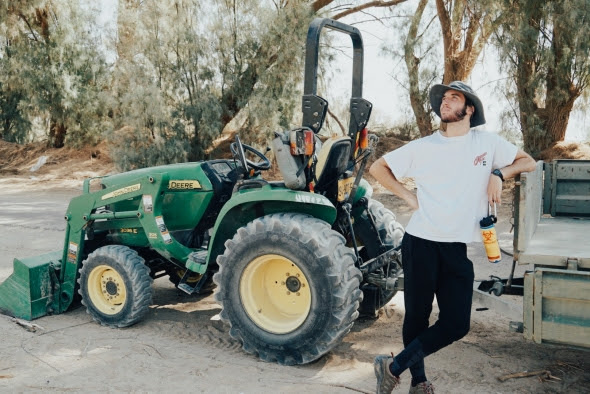 Josh Glucksman wrote about what he learned this week on the Kibbutz:
"From desert to garden" is a phrase often used to describe the unique and arguably miraculous climatic condition of Israel. Through ingenious agricultural innovation, strong environmental values and policies, and,—if it's your cup of tea—the will of the man upstairs, Israel has truly become a garden. However, if anything from our three day trip to the Arava has taught us, the desert is hot. Really, really hot. Climate-change-induced extreme weather events make it a colossal challenge for communities like Kibbutz Ketura to prevail. So how do they do it? With good old socialist ideals.
I had the great pleasure of speaking with Yair Wahle, co-director of the Arava Institute of Environmental Studies, during Ussishkin's 3-day trip to the kibbutz and learned so much on how important community is when the environmental odds are stacked against you.
Kibbutzniks are born with strong values of caring for the earth. From mandatory field work days during school to living in a house next to the horse stables, Yair and many other communal-livers grew up with a deep connection to the land of Israel. In between waves of exhaustion from hours in the fields picking water-smart crops, I really did have a few spiritual moments realizing how important learning about and protecting this land is. To be fair, I hope it wasn't heat stroke messing with my brain.
A lot of socialist philosophy can be attributed to the success of small desert communities like Ketura. Humans are social creatures that work well together with other similarly-motivated individuals, who can pool resources and create less waste. I would argue that a lot of this same community-oriented thinking is what makes living in Ussishkin so challenging and rewarding (plus a little free market capitalism to give us our apartment's luxuries).
Israel did not become a literal and metaphorical garden overnight. It took brilliant environmental innovation, (evidently) lots of nut picking and weeding, but more than anything else, it took a vision: a vision of a country with such strong ties to the land and such a rich history that it is morally imperative to do everything we have in our hearts and souls to protect it. Whether it be Aardvark Jerusalem, Israel, or the world Jewry as a whole, only when we work together can we truly fight for this vision.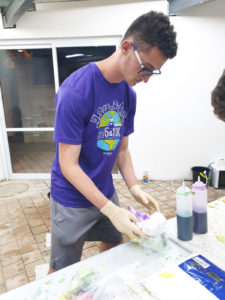 Harris Gagnon tie-dyes his t-shirt
On Wednesday, students enjoyed a tie-dye activity run by the Madrichim. Everyone received shirts and plenty of colors of dye, which we used to create our own 70's-inspired outfits. We are looking forward to showing off our new swag now that we can be out and about!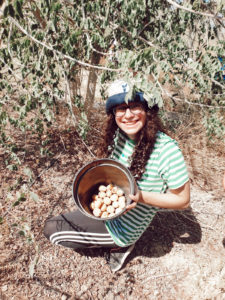 Emily Schwartz picks marula fruit
The students spent time at Kibbutz Ketura picking marula fruit. It is commonly found in the woodlands of Southern Africa (as Benji Abrahams told us); however, there are also trees located near this Israeli Kibbutz. The fruit is used to produce oil, creams, and tasty food.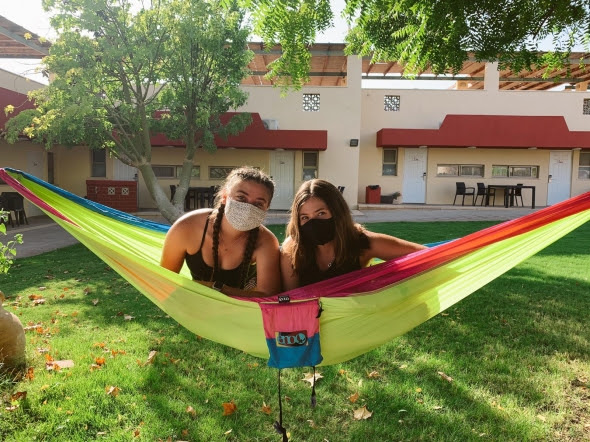 On Tuesday, we went out to volunteer picking clementines.  Lauren Breakstone described the experience:
"People sometimes associate volunteering with charity work. They create theoretical scenarios in their heads about how dreadful it is going to be… I can admit sometimes I am that person. We are teenagers on a gap year, just wanting to be outside, but considering lock-down, obviously our outside life style just looks different. Little did I know, I fell in love with being in nature, on farms, surrounded by fruit and sunshine. Helping farmers like we did this past Tuesday, was beyond rewarding. We heard about what Hashomer Hachdash does, and how meaningful it was to them, that a group of teen strangers were helping them. I am a person who believes the little things count. A few hours of cutting branches on these orange trees, cut weeks of work for these farmers. I grew up loving nature, but with corona and living in Arizona… it was too hot to hike or pretty much just be outside. I have come to Israel, and have fallen in love with mother nature once again. Aardvark told us we would have these trips to learn and fall in love with Israel's agriculture, and that is what is happening for me, I am appreciating G-d's creations each time I step outside.  Please help our planet. Volunteer, take a hike, start a garden, compost, eat an orange!"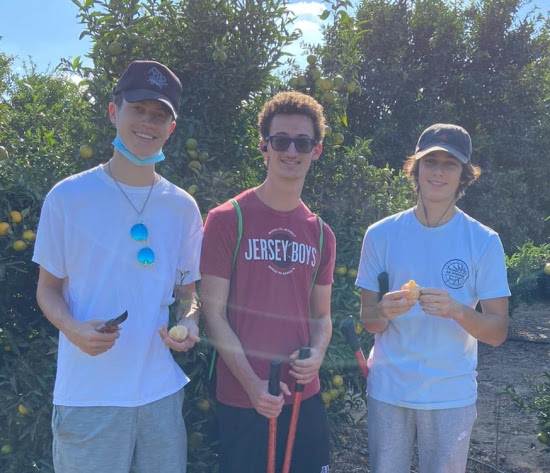 Dani Starr described her experience on the Kibbutz:
When I first heard that we were going to be coming down to Kibbutz Ketura for a couple of days, I honestly wasn't super excited. I love being on Kibbutzim, but we would be separated from our friends in the other building and I knew it would be REALLY hot. Once we got down here however, my attitude totally changed. It was still very very hot, but it was also incredibly beautiful. Being able to wake up and go sit outside to do class with a gorgeous view of the Israeli and Jordanian mountains was magical. I also think being down here gave my building a chance to bond. I found myself having really wonderful conversations with people I had never really spoken to before. I also found that I was really able to bond with the Aardvark staff members that were here with us. Overall, I am so thankful for the opportunity to be at such a special little oasis in the desert and will cherish it for the rest of my life.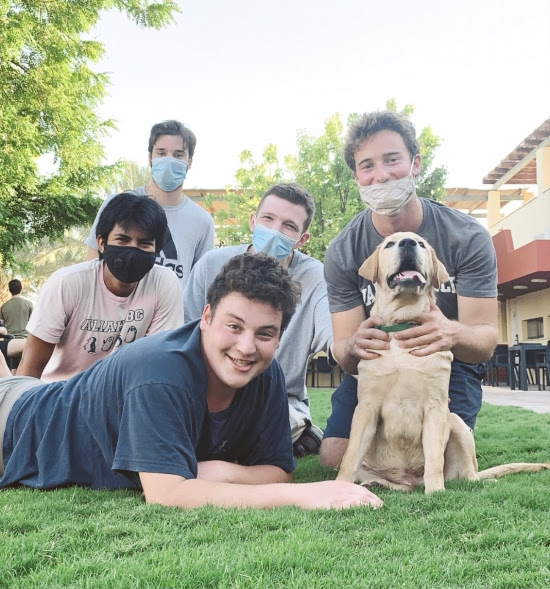 Aardvark students enjoy hanging out with Atlas. Atlas is in training to be a seeing eye dog under the care of Shay-El Tamir, our Assistant Director.
This week with (th)INK!, we were so excited about our first in-person (th)INK! exerience that we actually had three sessions! Rabbi Fivel joined the Ussishkin students on Kibbutz Ketura, where they explored some "Secrets of Creation" through a close reading of the opening verses of the Book of Genesis. On Tuesday night, the JTower students participated in a similar discussion with Rabbi Fivel, and then by popular demand, the JTower students met with Rabbi Fivel again on Wednesday evening for an important discussion on Jewish views on abortion and birth control.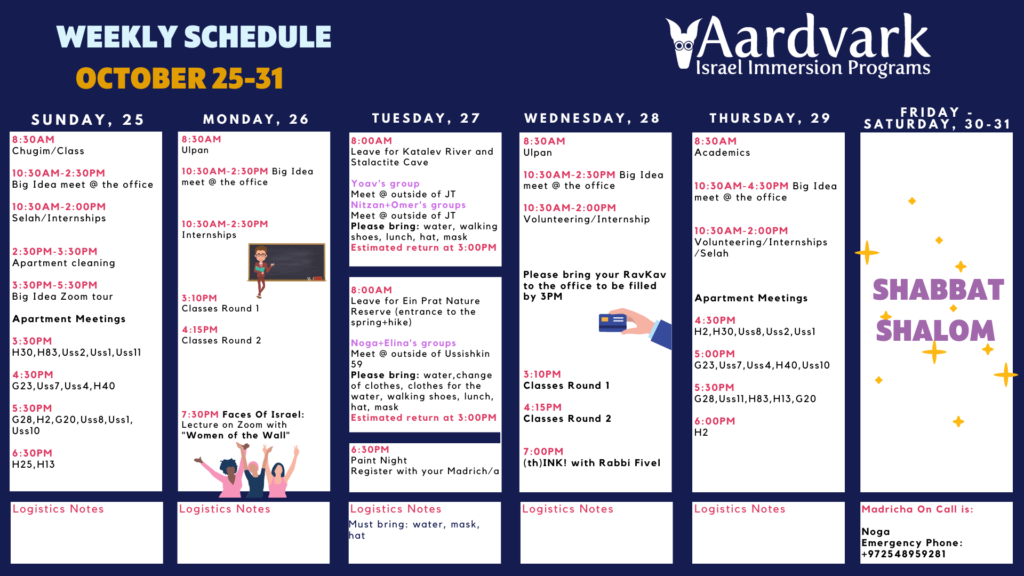 Schedule for the upcoming week
This Saturday night, Israel changes our clocks back an hour. That means our students will receive an extra hour of sleep!
With the restrictions easing up, our students are now able to visit friends and family on the weekends. We encourage students to ask questions if there is anything which is unclear so that we will all have a safe and enjoyable weekend.
Our counselor on call this weekend is Omer.
Shabbat Shalom,
Natali