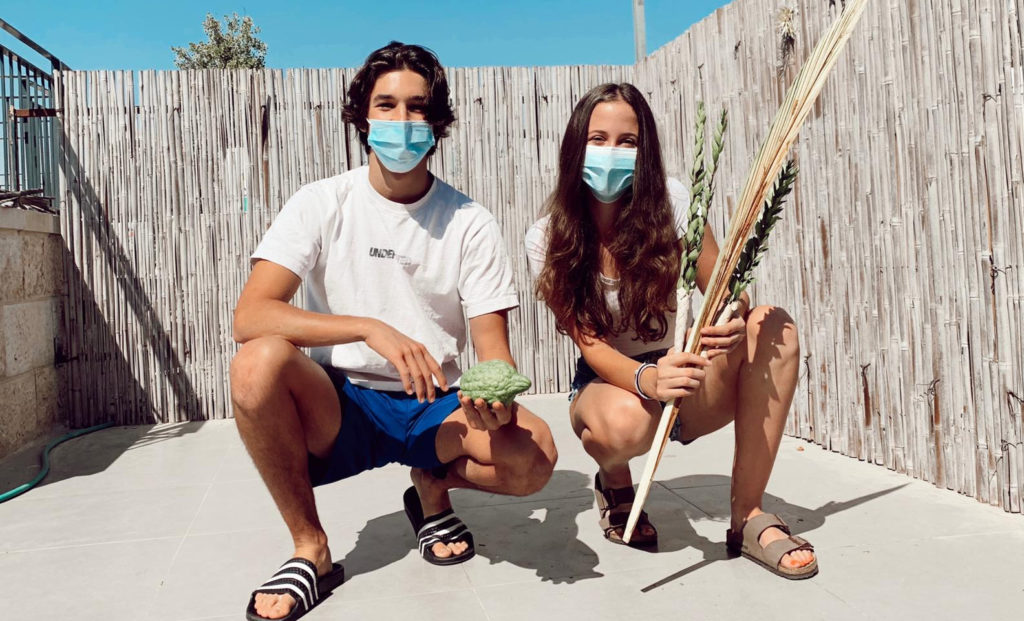 Happy Sukkot everyone! Rabbi Fivel, our Jewish Life Director, has these words to share with you:
"Shalom Aleichem Aardvark Family! Moadim L'simcha! I'm writing from the shade of my sukkah and wanted to share a few thoughts about this special time of year. The holiday of Sukkot teaches us two major ideas that on the surface seem radically different, but can actually be understood as two sides of the same coin. On one side, Sukkot is called in Hebrew, "zman simchateinu" (the time of our joy), and it is an especially joyous time, full of celebrations, family, community, music and dancing. This is all connected to the joy of completing the High Holidays with a favorable judgment. At the same time, the fact that we are instructed to leave the comforts of our own home and live outside in rickety huts which leave us exposed to the elements, emphasizes the instability and precariousness of our own lives. During this year in particular, it is easy to feel the instability and lack of surety about the future as we deal with a lockdown here in Israel and the lead-up to a pivotal election in the US. I want to suggest that these two emotions of joy and vulnerability do not necessarily contradict each other, rather they can be an invitation to explore the extent of our ability to impact the world around us. The acknowledgment of our responsibility to act coupled with our inability to solve everything can be a source of joy and faith while embracing vulnerability".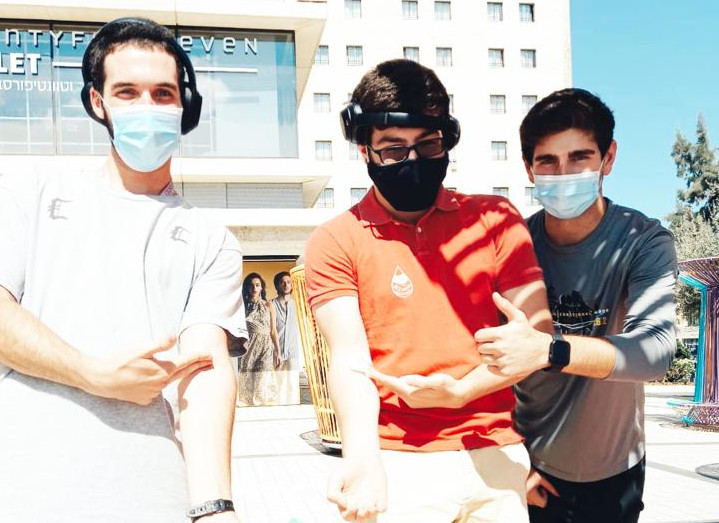 On Sunday, a group of our amazing Jerusalem students went to a local blood bank to blood. Here is what Avi Shapiro shared about the experience.
"We began the week with a noble cause. Fellow Aardarkians and I assembled and went to the Magen David Adom blood drive center where we gathered (with two meters apart) and learned about the blood drive program. As I sat there listening to the gentleman, I was astonished to hear about the effects that our donations could make. Every person that donated a pint of blood would be able to save three lives. That really stuck with me. My simple act of going to a blood center and giving blood, a total of three hours of my day, was able to prolong some else's life potentially indefinitely. Some of us had given blood before, while for others this was their first time. It was only my second time, but as I sat there listening to the stories of the more veteran donors, I began to better understand the mentality of donating blood as often as possible.
Finally, it was my turn, and I went in for the pre-donation checkups and then the donation itself. It was a peculiar feeling, but the overwhelming sense of humbleness that I felt afterward overwhelmed me such that I didn't feel particularly dizzy. Once I exited after the recovery time, I was astounded to see another group of donators outside waiting to give, people who also took time out of their day to help others. As I walked away, I thought back to a conversation I had prior in the week. There are many levels of Mitzvot that are associated with Tzedakah, but the highest level is not knowing the recipient of your donation, and the receiver not knowing who gave. This simple thought, that I was able to fulfill a mitzvah and save someone's life, that made my day."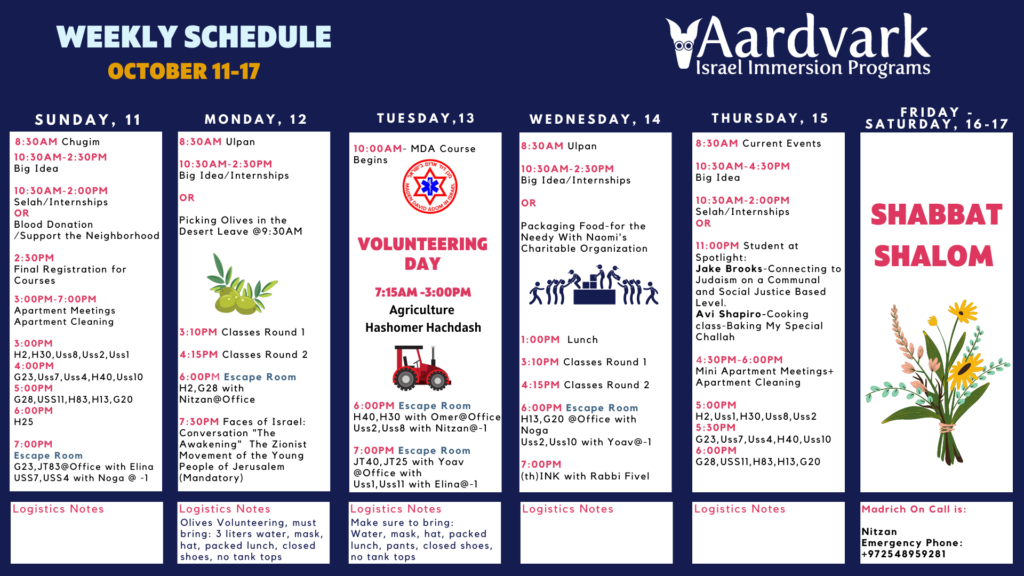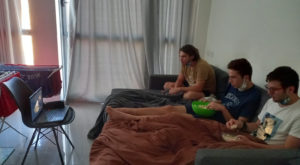 For FOI (Faces of Israel) this week We were honored to meet a guest lecturer by the name of Chaim Elbaum, a renowned filmmaker from Maale Film School. Earlier in the week the students watched his film called "And Thou Shalt Love," a film that examines the challenges of being both an Orthodox Jew and gay in Israel. After Chaim's enlightening presentation, the students asked questions of the filmmaker and learned more about Israeli society through the discussion.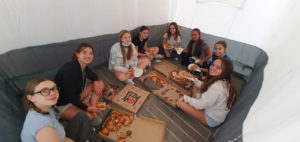 The highlight of our week was Sukkah Court, where each counselor met with students from other apartments in the Sukkah for Pizza and Discussion about Current Events. Some of the topics discussed focused on Israeli Politics including the dilemma of allowing civil protests during lockdown and the closing of synagogue buildings (currently only holding a minyan outside is allowed.) The students openly discussed their opinions and respectfully debate with each other on these topics.
This week in Selah, we had a fascinating guest presenter. On Sunday Ricki Silber, an accomplished teacher and guide, led us through a workshop of creative writing and energy healing based in the teachings around Sukkot and welcoming the Ushpizin –"guests" from our history that represent different character attributes. On Thursday, musician and educator Rabbi Akiva Gersh gave a session about the unique expression of "Israeli" Judaism through current popular music and then led us through a brief music workshop.
On Monday, our Jerusalem Aardvark Israel community took part in a "Scavenger Hunt": "Who are the Sukkot in Your Neighborhood?" The students divided into small groups and (socially distanced and within the 1km!) explored their surroundings looking for all sorts of Sukkot and completing missions in order to win the coveted grand prize of a new blender for their apartment! There were points for creativity as they hurried through the alleys of Nachlaot, deepening their familiarity with the neighborhood and learning a little more about Sukkot! Congratulations to Apartment 10 on winning the blender!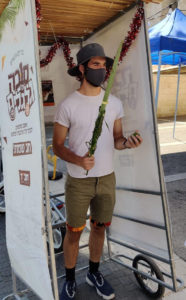 Joshua Glucksman – Celebrating the mitzvah of shaking a lulav in a mobile sukkah that took to the streets of Jerusalem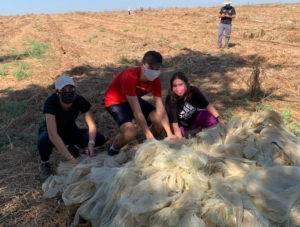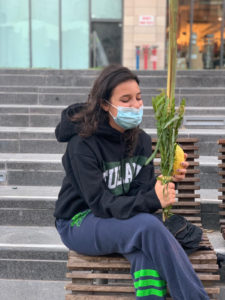 Gefen Finn- Shaking the lulav for the first time this year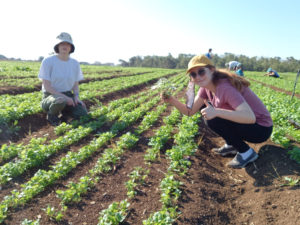 On Tuesday, we volunteered with local farmers by helping to preparing the fields for this season's spices and pumpkins crops in collaboration with the Shomer Hachadash. This organization provides grassroots efforts to mobilize Israelis around the country to support agriculture and the local economy.
One of our memorable activities of the week was dynamic encounters. The students were divided into groups of three with others not from their apartment and were given a list of questions aimed at helping them to get to know each other even better and learn new things about the students in their building. They sat on the grass in the park eating cookies and pretzels and enjoying each other's company.
Chag Shamech and Shabbat Shalom,
Natali