On Monday, 13 students chose to donate blood at a local blood bank. Lexi Aronin wrote beautifully about her experience.
"I never fathomed the idea of waking up one morning and willingly wanting to go give up blood… My blood of all things.
It was during an apartment meeting above the streets of Florentine where my counselor, Maya asked me if I'd be interested in going to a medical center to donate blood . When I had first heard of the idea, I abruptly laughed thinking of myself doing such a thing. I hate needles and even more so, blood.
But then I started to perceive the spot I was in. I realised how truly grateful I am to be in this position where I can be that healthy individual going to give something that could potentially save a life.
And at that moment I had decided to sign up.
The experience of donating itself was nerve racking. But, with the moral support from my roommate Shoshana Sor, reassurance from our counselors, Maya Carmi and Shai Tahan , and most importantly the motivation from every other person who also donated today, I was able to push through an internal fear of mine and be a part of the difference."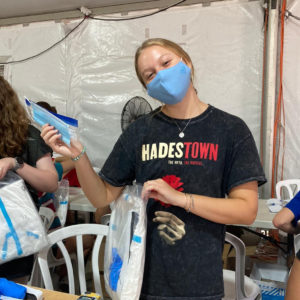 Also this week, half of our Tel Aviv Aardvark Israel community volunteered at a vineyard, picking grapes while the other group were volunteering with Magen David Adom, Israel's Emergency Services. Both of the groups provided invaluable help to Israeli society at this challenging time.
Here is what Micah Derringer and Jacob Greene wrote about their experience:
"This past Tuesday, we had the special opportunity to volunteer for Magen David Adom, an organization playing a pivotal role in helping Israel fight the COVID-19 pandemic. Upon arrival, we were greeted by an amazing group of committed volunteers who we were excited to help for the day. We were tasked with creating Personal Protective Equipment (PPE) kits for COVID-19 testers across the country. Not only did it feel great to make an immediate impact, we also made meaningful connections with the volunteers who were hosting us. After packing nearly 5,000 kits, complete with hazmat suits, gloves, face masks, and face shields, we shared a nice meal with our new friends. We are grateful for the weekly volunteering excursions—both as chances to explore other areas besides Tel Aviv, as well as help the country that we are now living in"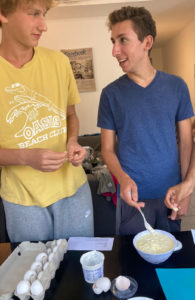 This week the Madrichim ran different workshops in the apartments. One was a cooking class on how to make the classic Turkish/Israeli comfort food – Burekas.
While some apartments chose to cook, other chose to discuss and analyze the effects of social media on our society, by signing up to the Black Mirror workshop.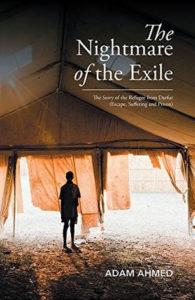 On Wednesday night's Faces Of Israel program, we had the privilege of of hearing the fascinating story of Adam Ahmed, an asylum seeker from Darfur who is an author and an activists. Adam shared with us what it was like back in his home country, his journey to Israel and what it was like to arrive and become a part of the Israeli society. After hearing his story, students had a chance to ask him questions and hear more about his past, present and hope for the future.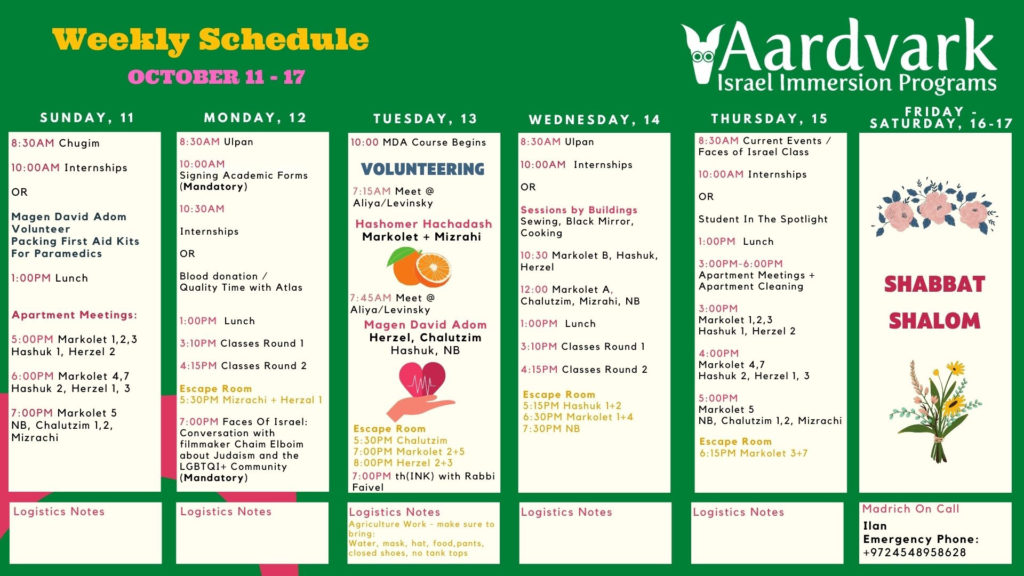 Thoughts from Rabbi Fivel:
Shalom Aleichem Aardvark Family! Moadim L'simcha! I'm writing from the shade of my sukkah and wanted to share a few thoughts about this special time of year. The holiday of Sukkot teaches us two major ideas that on the surface seem radically different, but can actually be understood as two sides of the same coin. On one side, Sukkot is called in Hebrew, "zman simchateinu" (the time of our joy), and it is an especially joyous time, full of celebrations, family, community, music and dancing. This is all connected to the joy of completing the High Holidays with a favorable judgment. At the same time, the fact that we are instructed to leave the comforts of our own home and live outside in rickety huts which leave us exposed to the elements, emphasizes the instability and precariousness of our own lives. During this year in particular, it is easy to feel the instability and lack of surety about the future as we deal with a lockdown here in Israel and the lead-up to a pivotal election in the US. I want to suggest that these two emotions of joy and vulnerability do not necessarily contradict each other, rather they can be an invitation to explore the extent of our ability to impact the world around us. The acknowledgment of our responsibility to act coupled with our inability to solve everything can be a source of joy and faith while embracing vulnerability. This is the challenge and blessing of Sukkot–to find joy in our own insecurity! Chag sameach!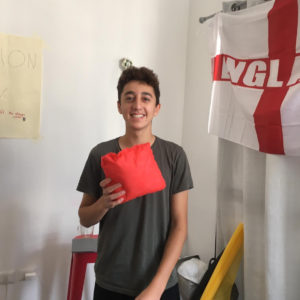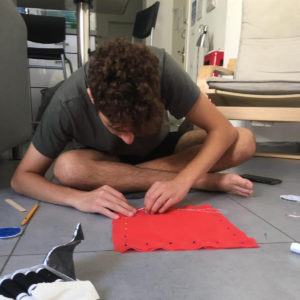 First session of sewing course
Our Madricha on call this weekend is Danielle. In case of emergency she will be available on the Tel Aviv Emergency Line +972-54-895-8628
Shabbat Shalom and Happy Simchat Torah,
Etai