Selah "Adopted" Families – As a special part of the Selah program, each student will be matched up with a family with whom they can get to know personally. The families will be within walking distance from the Aardvark building in Jerusalem and students will be invited for occasional Shabbat and holiday meals. It will be a great opportunity for students to get to know local families and establish a relationship that may last their entire lives. Here are some of the families who serve as adopted families: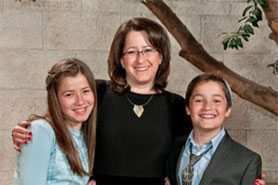 The Blok Family
My name is Shari Fisch Blok, and I'm a divorced mother of 2 children, Rivkah (12) and David (11). I am originally from Long Beach NY and attended Jewish Day Schools (HALB then HAFTR), but graduated from Long Beach Public High School in 1986. I participated in Bnei Akiva's year in Israel program on Kibbutz Maale Gilboa and spent 1 and a half of my junior year in the UK before graduating from SUNY Binghamton in 1990. My master's is from NYU's Wagner Graduate School of Public Service. I made Aliyah in 1996 and have worked for a few companies, the last and longest being Koren Publishers Jerusalem, which publishes books of Jewish interest; we distribute the following imprints: Koren (Tanakhs, Siddurs, etc.), Steinsaltz (Talmud), Maggid (contemporary Jewish thought), and Toby Press (Jewish Fiction and Non-Fiction). Religiously, we are Modern Orthodox (Shabbat and Kashrut are observed!).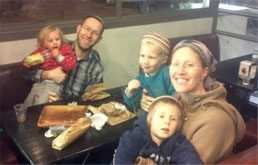 The Skedi Family
Our names are Cassia and Meir and we have 3 children: Akiva – 4 1/2, Hillel – 3 & Tzofia -2 I'm originally from London and my family made Aliya to Raanana when I was 6. Meir learns Dayanut in Collel Eretz Chemda and is the Rabbi of Kehilat Gonenim (in the Bet Avot) Cassia is a Speech Therapist and she works here in the Bet Sefer Ilant neighbourhood. The picture

The Fein/Kovalski Family
Deana Fein and Nahum Kovalski have three children who are called Shlomit, Yaniv, and Ilanit. Deana made Aliya from NY in 1979 and is a practicing attorney. Nahum made Aliyah from Montreal in 1991 and is Assistant Medical Director and Director of IT for Terem medical clinics. Shlomit is doing her National Service. She has an interest in theater and music, appearing in amateur English community theater in Jerusalem. Yaniv is graduating High School and will attend a pre-army program starting September. He plays American Football for the Judean Hills Rebels. Ilanit is finishing 11th grade. She shares her sister's interest in theater and music, performing as well. The family is modern Orthodox. (Photo not available)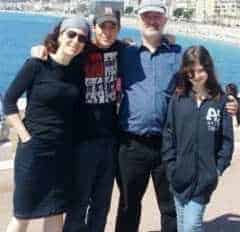 The Normi Family
Claudia is from Regensburg Germany and Lawrence is from Manchester, UK. They have been in Israel over 20 years. Their two kids Raphael (14) and Yarden (11) study at local schools. Claudia is a social worker, working for the Claims Conference's educational programs. Lawrence is an engineer at non-profit research institute which develops technology for older people. The two non-human members of the family are Ali the dog and Floppy the rabbit. Their local synagogue is the "Rimonim" minyan at the local old people's home.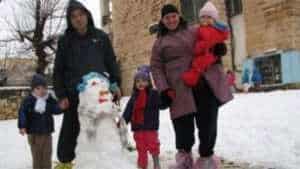 The Ben-Meir Family
We are an Israeli Modern Orthodox family living two minutes from the Aardvark apartments. Dudi is a Social Worker who is helping people with disabilities lead self-sufficient lives. He specializes in the immigrant community. Noa is a Drama Therapist who works in a special needs school as a Sensory Therapist. They have 3 kids: twins Yuval and Shira who are aged 4 and go to the Kindergarten which Aardvark's participant volunteers in and Tamar is 1. We are a Modern Orthodox family who daven in the Shul based in the school that Aardvark volunteers in.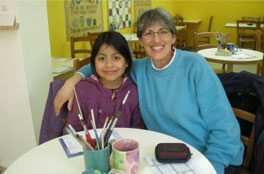 Markowitz Family
Rena and Elianna Markowitz. I (Rena) am a single mom (won't give away my age just yet) – my daughter Elianna is 7 1/2 years old and in the second grade. I made Aliyah 20 years ago from the Boston area and I work as a social worker for the elderly. Elianna and I love to have guests come to our home in Jerusalem.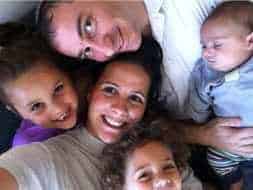 Shoresh/Wolfe Family
The Shoresh/Wolfe clan is your typical run of the mill Jerusalem family. The parents; Yedida is a policy consultant originally from the US and Dave is a Major in the IDF originally from Australia. They could not be prouder of their three children. The children: Shalhevet, (entering first grade) is a born actress who will be happy to regale you with her dramatic solos and theatrical performances for as long as you can sit still. Her sidekick, Aviad, (entering kindergarten) is an aspiring superhero with remarkable athletic capabilities, so make sure you take him out to play soccer and you'll have a friend for life. Amiel, (the newest addition) is a diabolical mastermind carefully plotting his plan of world domination in between naps.