STAFF
Debbie Goldsmith, Director and Co-Founder of Aardvark Israel, has worked in the field of Jewish and Zionist education for the last 20 years. She served as Aardvark's Assistant Director from its establishment until becoming Director in November 2014. Previously she was the Assistant Director of Young Judaea/FZY Year Course program in Israel. Debbie grew up in Cleveland, Ohio, and after spending her gap year in Israel on USY's Nativ program, she completed her B.A. at Columbia University in Religion and at the Jewish Theological Seminary in Talmud. She also earned an M.A. in Jewish Education from the Jewish Theological Seminary. Before making aliya to Israel in 2001, Debbie was a Jewish Family Education coordinator, youth professional, and worked in Jewish summer camps. She also has led Jewish educational tours to Ethiopia, China and Holland. Debbie lives in Yishuv Alon and has three children and an "adopted" 25 year old son.
---
Simon Cohen, Director of Admissions and Co-Founder of Aardvark Israel, has worked professionally in the field of Jewish and Zionist Education since 1999. He grew up in England as an active participant in the Federation of Zionist Youth (FZY) and served as FZY's National Director of Education prior to moving to Israel in 2000. In addition to participating in Young Judaea/FZY's Year Course in 1994-95, he dedicated a decade to working for the program as a senior staff member. Among his accomplishments is having founded and directed the Shevet Program which provided participants a structured venue for religious exploration and growth. Simon is also an experienced guide for Jewish educational tours to Poland. He earned his B.A. in Economics and Economic History from Manchester University and his M.A. in Jewish Education from the Hebrew University. Simon lives in Tzur Hadassah with his wife and their three children.
---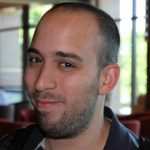 Shay-El Tamir Assistant Director of Aardvark Israel, was born and raised in Israel. As a teenager, he began volunteering in his local community center, where he gained the ability to connect with people of all ages and acquired leadership skills. While in the IDF, Shay-El served as a tank commander in the Armored Corps. Immediately after his army service, his passion for Zionism and Jewish culture led him to work at Wilshire Boulevard Temple Camps. He soon realized that his life goal would be to make Jewish youth worldwide more enthusiastic about their roots, and aware of how important it is to cherish their heritage from one generation to the next. Shay-El eventually joined the leadership team of the Summer Shlichim Program in the Jewish Agency for Israel and served the organization for 6 years. He holds B.A in 'Leadership and Management of Educational Systems' and Political Science from Bar-Ilan Univeristy. After working with Jewish youth for more than 15 years, Shay-El noted that joining Aardvark Israel is a natural "next step."
---
Natali Basel, Jerusalem Community Manager, comes from a small village in the Samaria Region of Israel. Her father is originally from Yemen and her mother from Russia. Currently, Natali is completing her studies towards a B.A. in Education and Psychology. Natali has worked with many groups of students including USY Israel Pilgrimage, Solomon Schechter schools from Westchester, New Jersey, and Long Island, and Chicagoland High-School. Natali loves to hike, has traveled to India, and dreams of going on safari in Africa someday. Natali currently resides in Jerusalem
---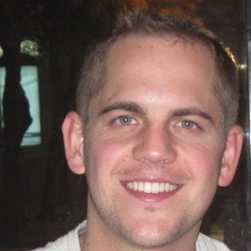 Nick Lees. Communications Coordinator. Nick is a veteran press officer in the IDF Spokesperson Unit and has worked for years in private sector digital marketing. During university, Nick participated in numerous volunteer and study abroad programs in Israel. These experiences had a profoundly positive impact on his life and Jewish identity. He joined as Marketing Director of Aardvark Israel in order to help other young Jews also have enriching educational experiences and deepen their relationship with Israel and Judaism. An alumnus of Cleveland State University's Honors Program, Nick graduated with a B.A. in Journalism and PR. He was awarded Hillel's Outstanding Leadership Award and studied abroad at the University of Haifa as a Presidential Merit Scholar. Nick lives in Petach Tikva with his wife. When he's not getting students excited about Aardvark's Gap Year Programs, he enjoys playing blues piano, hiking and spending time with family.
---
Gal Badash is an Admission Coordinator on our recruiting team. She was born in Tel- Aviv and moved with her family at the age of 11 to Dallas, TX, where she was heavily involved in BBYO and the JCC. At the end of her senior year in high school she decided to return to live in Israel and joined the Israeli Air Force as a lone soldier, serving as an air traffic controller. After finishing her service, Gal completed a B.A in communications at IDC. Outside of her job for Aardvark, you can find Gal hanging out in different restaurants, theatres and concerts all over Tel-Aviv and laying out on the beach on the weekends.
---
Shani Pereg is an Admissions Coordinator on our recruiting team . Shani was born in Melbourne, Australia. and made Aliya with her family when she was 6 years old. As a teenager, she participated in the first Boston -Haifa delegation from her high school to enhance the connection between both Jewish communities. Shani served in the intelligence unit in the Israeli army and during her army service was sent to work in URJ Greene Family Camp where she realized her great passion for representing Israel and getting in touch with her Jewish roots. She eventually joined the returning summer shlichim program by the Avi Chai foundation and the Jewish Agency and continued working at the summer camp for 3 years as a counselor and admin staff. Following her passion she continued participating in different Jewish oriented programs such as the Birthright Excel program and was a marketing intern in Hillel Ben Gurion Campus. Shani holds a B.A in Business management and marketing from Ben Gurion University.
She currently lives in Tel Aviv and loves nature, the beach and attempting to play her guitar.
---
Moshe Levi began his career in Jewish education straight after completing his military service in the IDF. In the past, Moshe worked with USY, both on summer programs and on gap year programs. He has extensive experience in Jewish and Israel education. For two years he served as a shaliach for the United Synagogue Youth in Minneapolis, Minnesota and he has worked with the Avi Chai Foundation and the Shalem Center on a variety of educational initiatives. After returning to Israel after Minnesota, Moshe served as The Jewish Agency's coordinator of Youth Movement Shlichim. In the summer of 2017, Moshe finish his service of four years as the community Shaliach for the Greater MetroWest Jewish Federation in New Jersey, where he was the senior Shaliach and Israel education specialist. Most recently, Moshe joined the Aardvark educators team and taught a class about the History of Zionism. Moshe has also worked with different Jewish summer camps in North America. Moshe was born in Israel and he grew up in Jerusalem. He served for three years as a medic in an infantry unit in the IDF and he holds an MA in Comparative Religion from the Hebrew University. Moshe looks forward to bringing his passion and knowledge of Israel and Jewish education to the Aardvark participants as the Director of Education.
---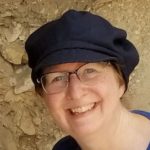 Carolyn Reiffman, Registrar and Admissions Assistant, made Aliyah to Ma'ale Adumim with her family in 2018, following a 13-year teaching career in a Jewish day school in Denver, Colorado. With a B.A. in communications and an M.Ed in secondary education, her career path has included sports writing, dance instruction, cake decorating, and teaching gym, social studies, and English classes. When she isn't busy supporting Aardvark students and staff, Carolyn enjoys spending time with her husband and three children, scuba diving, geocaching, and working on jigsaw puzzles.
---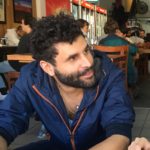 Etai Ben Simhon Born and raised in Israel, Etai has always been passionate about informal Jewish and Zionist education. He started his journey by taking part in the Bnei Akiva Youth Movement at a young age, he went on to spend his IDF service working with at risk youth and before joining the Aardvark team, he spent three years as the Head of Curriculum and as a member of the Jewish Informal Education Department at Bialik College in Melbourne, Australia.  He also served as a shaliach and Rosh Tzevet at the Zionist Seminars through the Jewish Agency in Australia, he worked as an educator and a coordinator of the Tsofim (Israel Scouts), and he spent two summers working at Jewish camps in America and Canada. Etai brings enthusiasm, creativity, and a deep knowledge of Judaism and Israel to his work.
---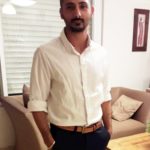 Yair Berkovitch comes from a small settlement in the Benyamin region called Alon. Growing up, Yair enjoyed traveling and hiking all over the country and it is from his childhood that he learned to love the land of Israel. Yair served in the paratroopers unit in the army. Upon his release, he was involved in a project to build ecological homes as well as support troubled youth. Today Yair is a real estate entrepreneur taking classes at the Hebrew University to broaden his understanding of the field. Outside of Aardvark, you can find Yair, hiking, spending time with his family, and trying out new recipes in the kitchen.
---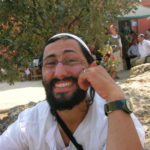 Rabbi Fivel Yedidya Glasser, MTS. Fivel was a member of the original Aardvark team back in 2010 and he is glad to return in an expanded role. He was one of the Directors of Youth and School Programs at Keshet Educational Journeys from 2013-2020 and he began working in experiential education with the Nesiya Institute in 1999. Fivel taught for several years in pluralistic Jewish programs for teens, college students and young adults, including Camp Yavneh, Brandeis Collegiate Institute, and Colgate University, where he worked as campus rabbi and as a lecturer in the Department of Philosophy and Religion. He also directed the outdoor program at a gap-year Israel program for delinquent English-speaking youth. Fivel was the Executive Director of Nesiya when it moved to Keshet in 2013. Fivel holds a BA from Dartmouth College and a Master of Theological Studies from Harvard University, and he received rabbinic ordination from Rabbi Shlomo Riskin in Israel. He is also a licensed tour-guide. Fivel has been living in Israel for 19 years. He grew up in a Reform Jewish household in New York State, not knowing too much about Zionism, and is now an Orthodox Rabbi living in Efrat with his wife Dorit and their 4 children.
---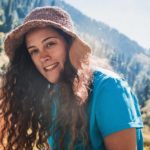 Gili David was born and raised in Haifa, Israel. Growing up she took part in many Jewish and Zionist oriented programs around the world like JCC Maccabi Games, Genesis at Brandies university, Szarvas Summer camp and more. Before and while going to university she worked at URJ Camp George in Canada, first as a sports specialist and then as the Head of the Israeli Delegation and CIT unit head and also was a Shlicha to Melbourne Australia as part of The Jewish agency's Zionist Seminars Program. She studied International relations and Political Science in the Hebrew university of Jerusalem and during her studies she worked both at the Jewish agency and at Israel's National Security Council. In her free time, she enjoys Photography, Music Production, Graphic Design and traveling.
---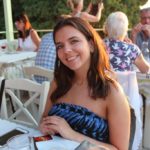 Natasha Packter is an admissions coordinator. Natasha was born in London , England and just made aliyah. Natasha went to JFS school and then studied geography at Brighton University. After university Natasha went on the Masa Israel Teaching Fellows Programme in Bat Yam. Following this Natasha worked as the U.K. Masa events and recruitment coordinator for 2 years. Natasha is currently studying ulpan in Jerusalem.