Starting The New Jewish Year In Israel – JLM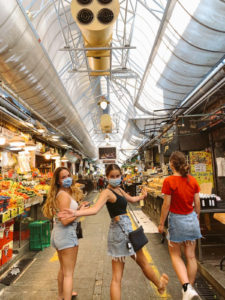 Monday, after we celebrated Rosh Hashanah,the students had Ulpan classes then they join Charlee to a Postine News Daily Update , which is the best way to start every morning. It has news, jokes, music and more. The students then had an apartment meeting activity with their counselors, in the activity they built an Apartment Guide to Co-exsisting, a kind of pact for all the roommates for how they want to live together this semester in harmony.
We ended the day with an Israeli Folk Dancing Workshop with Silvio Berlfein. It was educational, physical and just a lot of fun!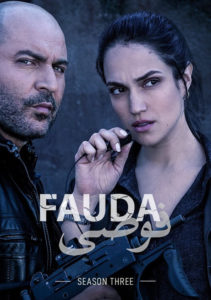 On Tuesday evening, we heard a wounderful presentation by Galit Roichman. Galit is a screenwriter and a lecturer in the Israeli film and TV industry. In her presentation, she talked about the concept of Hesbon Nefesh, Soul Searching in Israeli TV. She shared clips from different shows and explained how the discourse in Israel changed in the last few decades towards different minority groups in Israel. It was a great opening for our Faces of Israel evening series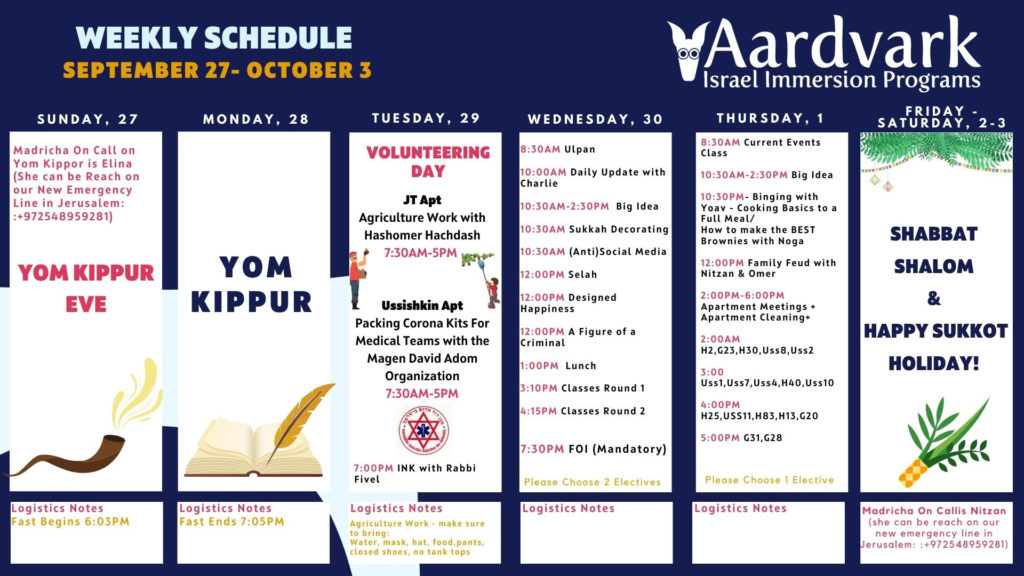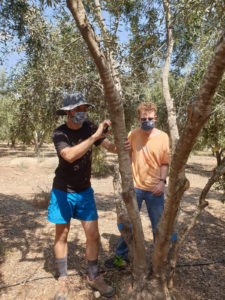 On Tuesday, We spent the day volunteering with both Magen David Adom & Hashomer Hachadash!
Israel is fighting the coronavirus and our students wanted to do their part to help!
We divided the community into two, one group help the farmers in Israel in the fields,and the second group help packing medical supplies for frontline doctors and nurses with Magen David Adom.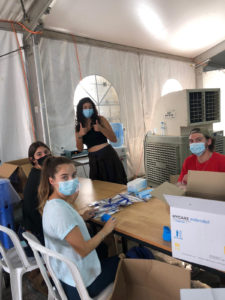 This was an incredible opportunity to support Israeli agriculture and our doctors and nurses, and to remind ourselves how rewarding it is to experience the hard work and togetherness, all while helping someone else.
Thank you to HaShomer HaChadash & Magen David Adom for giving us the opportunity to participate in this Mitzvah between Rosh Hashana and Yom Kippur.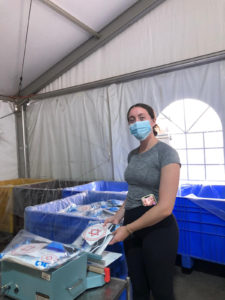 Jacyln Josephsonhelped package medical supplies for first responders, doctors and nurses with Magen David Adom.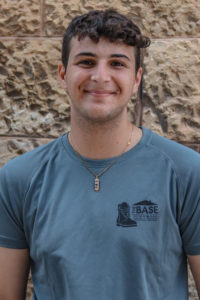 Some of the students started their internship this week, one of them is Josh Moussa, who started at The Michael Levin Base, a center for lone soldiers.
Over the next few, weeks, all of our students will be beginning their internships or volunteering.
Next week are going to celebrate Yom Kippur for the first time in Israel. The students will see how the city comes to a complete stop. In addition, we will start preparing for the Holiday of Sukkot, by decorating the Sukkah that the students built, continue to volunteer with Magen David Adom and Hashomer Hachadash, and particiapte in more workshops together.
Gmar Chatima Tova and Shabbat Shalom
Natali