Gap Year in Israel: Core Program
We offer post-high school gap year programs in Tel Aviv and Jerusalem. Our students live in fully furnished apartments, explore their passion through internships or volunteering, take fascinating courses for college credit, interact with Israelis, learn Hebrew and more…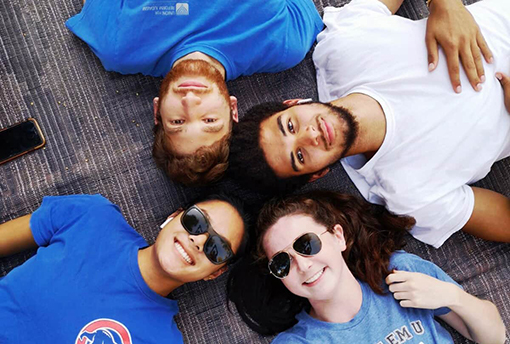 International Add-Ons
Students have the option to participate in our Israel gap year program while also traveling to different countries around the world. Visit the main tourist sites and experience the local culture while learning about the country's Jewish narrative and its relationship to Israel. Learn more…
Special Interest Add-Ons
We offer add-on options to further enhance students' experience, such as Aardvark Extreme, Sea Sports, Entrepreneurship, Marva (Israeli army program), Magen David Adom (volunteer on an ambulance) and more.
Additional Information
Everything else you want to know about our Israel programs, including weekly schedules, FAQ's and much more.
Hear from the parents and former participants
Hear from the parents and former participants:
Thank you. For having such a terrific program for Yoni. He choose Aardvark over so many other options because of the word on the street and the reputation. We did our due diligence and meeting you sealed the deal. He wrote us the type of text that expressed profound gratitude to us for "the trip of a lifetime. It hasn't even really begun yet and I'm having so much fun. I just wanted to let you know that I am very thankful that you sent me to my home to grow up." So hard for us that we won't be giving him his Shabbat blessing… but we know he is blessed many times over with his new Aardvark family. Shabbat shalom,
-Rabbi Elissa Ben-Naim, mother of Yoni Ben-Naim, LA, CA, USA
Hear from the parents and former participants:
I have been very happy with the program and enthusiastically endorse it. I am so pleased with the quality and kinds of activities you offer on weekends, the group experiences, and the supervision. There's enough space for the participants to feel independent and enough supervision for parents to feel their children are safe.
-Jesse Lyn Stoner, mother of Ari Stoner, Indianapolis, IN, USA
Hear from the parents and former participants:
While I have missed him so much, it has been of great consolation to know that he has been having such a wonderful time. Every time I have spoken to him he has sounded so happy and I know he will take home with him a life-time of happy memories. Thank you to you and all your staff for making it all happen for him.
– Diana Bronson, mother of Spencer Bronson, London, UK
Hear from the parents and former participants:
It is not only so wonderful to have her back home, but to hear about all her amazing experiences and to see how she's grown. Our children (especially in South Africa), are very 'protected'. Due to circumstances they do not have the freedom that other children or teenagers enjoy. This was the first thing she loved about Israel. Being able to catch a bus from Tel Aviv back to Jerusalem at night and to walk freely in the streets. The experience of living independently in a different country with peers from different countries was an amazing opportunity, but all of this would not have been the same without your care and guidance. Thank you so much for making sure that while Jess was growing, learning and experiencing – she was happy!!
Laura Kallenbach, mother of Jessica Kallenbach, Johannesburg, South Africa
Hear from the parents and former participants:
We all thought that the bar mitzvah was the transition to manhood. In our case it was James' gap year in Aardvark! Thank you to all of you. It was a great program!
Henry Sopher, father of James Sopher, West Orange, NJ, USA
Hear from the parents and former participants:
We've been everywhere. We've partied with the chassids during Simchat Torah in Tsfat. We went to understand what settlers went through in Hevron. We saw what it was like to live in a development town. We've visited Sderot and we've seen the security fence. Wherever we are politically, it's no longer just a story. It's real. We've heard all their stories. And from their stories we've added to our own.
– Ethan Rosenfeld, Cleveland, OH, USA
Hear from the parents and former participants:
I just wanted to say thank you again. I literally had the best year of my life. I hope you are successful in the years to come.
– Eliot Silverman, West Newton, MA, USA
Hear from the parents and former participants:
I grew up in a town with barely any Jews. Being able to spend the year in Israel was an amazing experience that made me understand my background so much better. And of course, I had a great time as well.
– Alex Moliver, Newtown, CT, USA
Hear from the parents and former participants:
The way you guys know how to get into these kids hearts is amazing. Each and every year we participated in events for Israel here at LA and when Doreen used to come with us, she couldn't wait for them to finish so she could get out of there. After all the ceremonies that Doreen attended this week, I asked her how she feels, and she said that it was the best experience of all!!! The powerful way of celebrating these holidays are only in Israel. And from this perspective, I feel that I've earned my Jewish daughter back, and you guys have a big part of it.
– Hana Abargel, mother of Doreen Abargel, Los Angeles, CA, USA
Hear from the parents and former participants:
As the year "For Rachel" is winding down, I want to take a brief opportunity to thank you and your entire staff for the incredible year my daughter had. It was a tremendous growing experience for her; she learned more about herself, learned more about getting along with others and most importantly, got a larger understanding and became more "in touch" with her Jewish Identity. My heart is full for her as she is so so sad to leave and move on, but seeing Israel the way she did and doing the international travel like she did gave her a thirst for travel and discovering new things – which ALL people need I think!
– Evalyn Cohn, mother of Rachel Cohn, MD, USA
Hear from the parents and former participants:
I cannot express enough the gratitude I have toward the Aardvark staff for giving my son "the ultimate" year in Israel experience. I sent two of my older children to Israel on two separate programs. By the time those years came to an end, I always felt like their programs could have shown or taught them more about Israel. As I watched Aardvark's year end slideshow, I reflected back on the year my son had in Israel thanks to you. Each week their schedule activities that were fun, exciting and educational. On the "down days" I knew he was living life in Israel, working, volunteering, shopping, taking buses etc, all the while making new friends, both inside the program and out. This was the immersion experience I had hoped my other children would have had, but sadly did not. My only regret is that this Aardvark experience like all 'good things', has to come to an end.
– Steven Fisher, father of Oscar Fisher, Monsey, NY, USA
Hear from the parents and former participants:
Thanks so much for your updates. It's comforting for me to know what kinds of activities Andy is participating in. We signed up with Aardvark based more or less on instinct/hunch. So far the program has exceeded our expectations.
– Bari Bogart, mother of Andrew Bogart, Beverly Hills, CA, USA
Hear from the parents and former participants:
Our daughter, Dana, just came back from her Aardvark year in Tel Aviv and Jerusalem, and we couldn't be happier. She is ready for college – her Hebrew, Jewish development, and sense of self is all out there. And she had an incredible time – with adventures, making friends, travel throughout Israel – and even side trips to China and Germany. What a great way to spend a year.
– Ben Bederson, father of Dana – Brooklyn, NY USA
Hear from the parents and former participants:
Thank you for the fabulous updates and pictures and for an incredible Aardvark experience for Mia. She has really loved it and thrived! The communication from Aardvark for parents has been brilliant and is just one of the many elements that really sets the programme apart from any other gap year offerings.
– Elli Cohen
Hear from the parents and former participants:
I want to thank you and all the team at Aardvark for providing Gina with the most amazing Gap Year which exceeded our expectations.
She knows how lucky she was to have participated in the Aardvark experience. The caring environment together with the independence that the students have is really unique. She has formed some great friendships with students from around the world. She has so many wonderful lasting memories.
She had great interaction with the staff who were all supportive of her during the year.
– Jonathan Lewis, father of Gina Lewis, London, UK