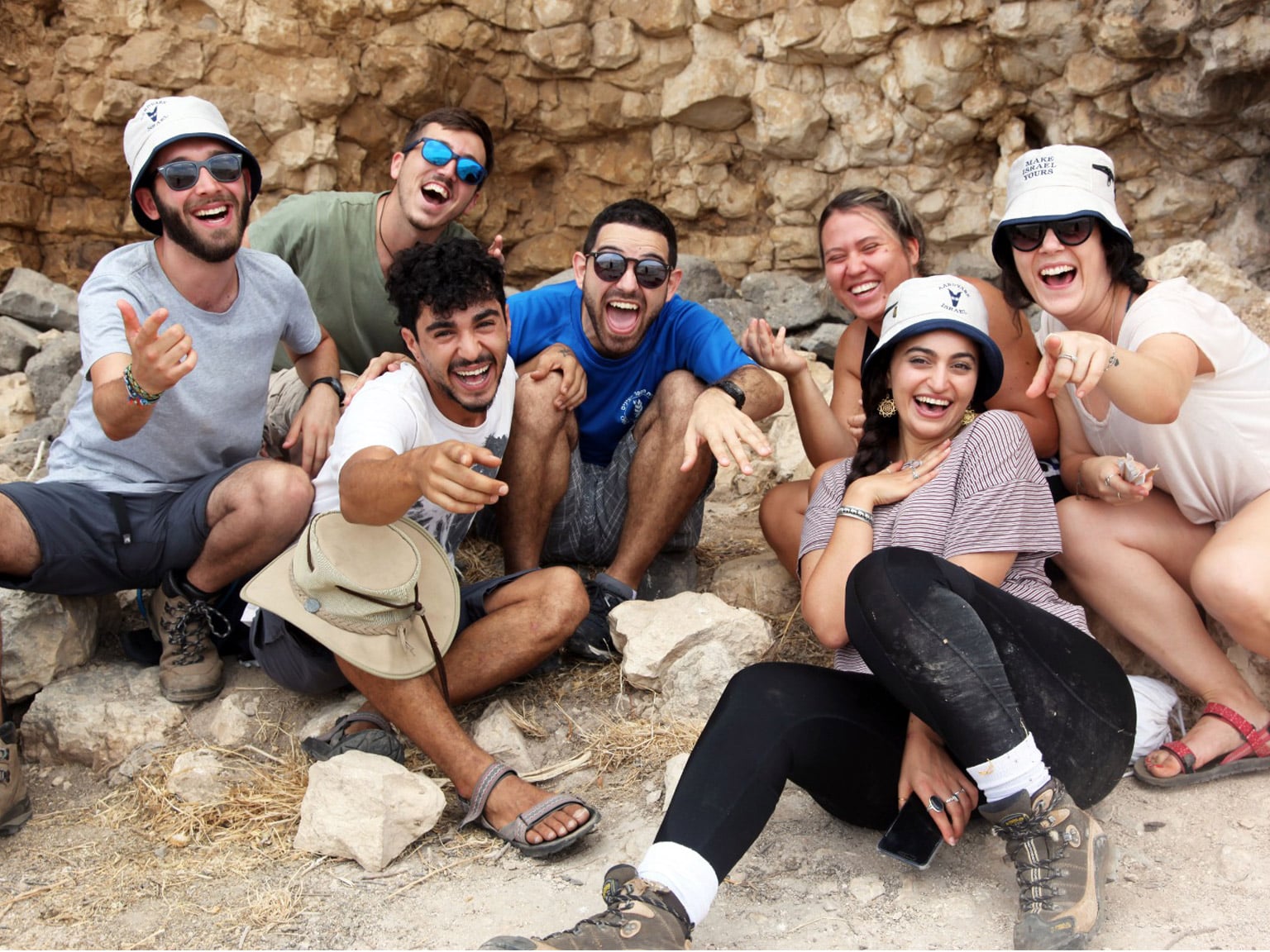 We're passionate about Israel and are committed to delivering custom, world-class programs and experiences.
Letter from the executive director​
Dear Prospective Participants and Parents,
If you had an entire year to do anything you wanted, what would you do?
Perhaps you'd travel. Maybe you'd learn a new skill. You'd probably welcome the chance to meet interesting people, to experience things you've never tried before, to reduce the stress and pressures of today's world.
This is exactly what awaits you on Aardvark Israel.
No one ever regrets having taken a gap year, but plenty of people regret not having taken one. The world is your classroom and spending a year abroad opens the door to personal growth, developing independence, defining your values, and figuring out who you are as an adult. With Israel as the unique landscape for this adventure, you will explore how you fit into the larger Jewish Community and connect with Israeli society as well.
Within Aardvark Israel, we pride ourselves on providing students with individualized attention, opportunities, and guidance. Each student will discover a year filled with challenges, fun, fascination, learning, volunteering, self-discovery, maturity, and joy. Parents will find a partner in their child's development and our staff will take care of your children as if they were our own. At the end of the program, students will return home more mature, better prepared to cope with the challenges of university life, and more dedicated to the future of the Jewish People and the State of Israel.
We look forward to working together with each of you on this incredible journey.
Sincerely,
Executive Director and Co-Founder
Debbie has worked in the field of Jewish and Zionist education for almost 30 years. In honor of International Women's Day 2021, she was recognized as one of Masa's Inspiring 12 Jewish Women Working to Make a Difference. Debbie grew up in Cleveland, Ohio, and after spending her gap year in Israel on USY's Nativ program, she completed her BA at Columbia University in Religion and at the Jewish Theological Seminary in Talmud. She also earned an MA in Jewish Education from the Jewish Theological Seminary. Prior to co-founding Aardvark Israel, she was the Assistant Director of Young Judaea/FZY Year Course in Israel. Debbie lives in Yishuv Alon with her three children. Her oldest is currently serving in the Israeli army after having taken a gap year and her middle child is exploring gap year programs for next year.
Simon grew up in England as an active participant in the Federation of Zionist Youth (FZY) and served as FZY's National Director of Education prior to moving to Israel in 2000. In addition to participating in Young Judaea/FZY's Year Course in 1994-95, he dedicated a decade to working for the program as a senior staff member. Simon is also an experienced guide for Jewish educational tours to Poland. He holds a BA in Economics and Economic History from Manchester University and an MA in Jewish Education from the Hebrew University. Simon lives in Tzur Hadassah with his wife and their three children.
Moshe, born and raised in Jerusalem, began his career in Jewish education straight after completing his military service in the IDF, where he served for three years as an infantry medic. He holds an MA in Comparative Religion from the Hebrew University of Jerusalem and has extensive experience in Jewish and Israel education. Moshe has worked with different Jewish Summer Camps and as a community Shaliach across North America and served as The Jewish Agency's coordinator of Youth Movement Fellows. He looks forward to bringing his passion and knowledge of Israel and Jewish education to the Aardvark Israel participants.
Yifat was born in Canada, made Aliyah when she was 15 years old and currently resides in Tel Aviv. Yifat earned a BA in Political Science and Anthropology from Tel Aviv University and an MA in Nonprofit Management from Hebrew University. She has been passionate about education ever since her army service in the Educational Corps and has worked for various Jewish organizations including The Jewish Agency, Masa, JDC Lauder Camp Szarvas in Hungry, and Diller Teen Fellows. Prior to becoming Program Director, she was a Tel Aviv Community Manager with Aardvark Israel.  In her free time, Yifat loves to read books and enjoy nature.
Eeris was born and raised in New York City, and currently lives in Jerusalem. Before moving to Israel in 2012, Eeris spent over 10 years as a madricha (guide) for Taglit Birthright and continued to bring groups to Israel and worked with the Jerusalem municipality to educate foreign visitors about the complexities of the Arab-Israeli conflict. Eeris is passionate about sharing her love for Israel, and in her free time, she enjoys painting and spending time with her family.
Shabtai was born and raised in Efrat Israel and currently resides in Lod. He studied in Yeshivat HaKotel for 6 years while serving in the Golani brigade in the IDF. After Yeshiva, he was a Jewish Agency Fellow in Cape Town, South Africa. He has a B.Ed. in Israel and Jewish studies and is currently pursuing his MA in International Relations. Last year, he taught 8th graders and decided to follow his passion and move to working with overseas Jewry.
Rachel grew up in Afula and currently lives in Holon. She holds a BA and MA in international relations and communications; she found her passion for Israeli education during her work in Hillel Israel. Rachel was a Jewish Agency Fellow at Cal Poly University in San Luis Obispo, a lovely small town in Central California. She's into everything that involves nature and good music.
Ra'anan was born and raised in Rehovot, Israel. He served in the Israeli Navy as an officer and has a background in technological education through an organization called FIRST. He also was a part of NOAM, a 'Masorti' youth movement, both as a camper and a counselor. He spent two years as an Israeli Emissary for the Jewish Agency in New Hampshire where he found his passion for Jewish/Israel education. Ra'anan is an avid soccer fan and loves music, traveling, and movies.
Yakir was born, raised, and currently lives in Kvutzat Yavne, where he is fourth generation to the founders of the kibbutz. After his military service in the Givati Brigade, he worked in various positions in the fields of education, music, and agriculture. Yakir studied music professionally and later on, earned his BA in Education, specializing in teaching music. He believes in experiential education in conjunction with practical experience. Yakir's first experience with the Masa program was as a Madrich in the Garin Tzabar program of the Israeli Scout Movement.
Fentanesh was born in Ethiopia and moved to Israel with her family when she was 2 years old. She was always passionate about experiential education and has worked in different organizations and programs in this field for more than 10 years. She graduated from Hebrew University in Jerusalem with a BA in Political Science and Sociology Anthropology. She was a Jewish Agency Fellow at Michigan State University for 2 years.
Roni was born and raised in Ra'anana and now lives in Herzliya. She was a counselor at Hamachanot Ha'Olim youth movement.
In her military service, she served as a Military Social Worker in Judea and Samaria and was in charge of the welfare of soldiers. She studied radio and ran a small business selling handmade jewelry. She has a great passion for music, arts, food, and traveling.
Hailing from New Jersey, Jodi Taube graduated with a bachelor's degree in Environmental Sciences from Rutgers University and a master's degree in Public Health from the Hebrew University of Jerusalem. After moving to Israel, she worked at Masa Israel Journey many for years, assisting Jews from all over the world in applying for post-high school programs in Israel, and then at the Israel Experience as a Recruitment Coordinator for the Career Israel Program. She lives in Jerusalem with her husband and their two children.
Dganit grew up in Herzliya and now lives in Jerusalem. During her high-school years, she beacme very active with Bnei Akiva, first as a participant, and later as a counselor and Program Coordinator. She has a BA in Communications and Political Science and previously worked in operations with 'Taglit' (Birthright) and at the Museum of Tolerance and as an Event Producer. Dganit is passionate about music and is always looking for a great rock concert!
Carolyn grew up in Kansas City and made Aliyah to Ma'ale Adumim in 2018, following a 13-year teaching career in a Jewish day school in Denver, Colorado. With a BA in Communications and an M.Ed in secondary education, her career path has included sports writing, dance instruction, cake decorating, social studies, English classes and more. When she isn't busy supporting Aardvark students and staff, Carolyn enjoys spending time with her family, scuba diving, geocaching, and working on jigsaw puzzles.
Revital was born in Milan, Italy. She made Aliyah when she finished high school and currently resides in Tel Aviv. Growing up, Revital was a participant and counselor in Bnei Akiva. She took a gap year at the Hebrew University in Jerusalem, earned her BA in Communication and Sociology at Bar Ilan University and her master's from the University of the Arts In Television in London. She loves meeting new people from all over the world and visiting her family abroad and in Israel. She speaks 5 languages fluently – Italian, French, Spanish, English and Hebrew.
Liat was born and raised in Rio de Janeiro, Brazil, where she stayed up to the end of high school and prior to her aliyah. Liat was part of HaShomer Hatzair Youth Movement for most of her life. She decided to come to Aardvark Israel for her Gap Year, and by the end of the program, Liat decided to stay in Israel and join the army through Garin Tzabar where she served as a Search and Rescue Instructor. Liat now lives in Herzliya, and in her free time, she likes going to the beach, hanging out with friends, and doing sports.
Emma was born and raised in New York City. Emma studied Theatre Management and Education at Northwestern University, where she produced the largest student-produced musical in the United States. She was also a Development Intern at Batsheva Dance Company in Tel Aviv and the LGBT Center of New York. Upon graduation she was a Masa Israel Teaching Fellow, teaching English in the Bedouin city of Rahat and in South Tel Aviv, where she now resides. Emma enjoys hiking the trails of Israel and cooking for her family and friends.
Grace grew up in London, UK. She came to Israel for a gap year and then went back to the UK to study Business Management with Marketing at Leeds Beckett University. After graduating, Grace worked at the Union of Jewish Students, where she ran sessions and mentored Jewish students on university campuses across the UK. She is now in the process of making aliyah and plans to live in Tel Aviv. Grace enjoys traveling, cooking, and hiking and loves meeting new people.
Hadar was born and raised in Ra'anana, and now lives in Tel Aviv. She has taken part in Youth Movements as a counselor and coordinator and was always passionate about Zionist education, taking part in Birthright, Birthright Excel, the Jewish Agency Summer Camps, and Masa. She has a BA in Communications and Public Diplomacy, and previously worked for an advertising firm in Israel. She is an avid Yogi and a foodie, who loves traveling and going to festivals.
Nick was born and raised in Akron Ohio, and made Aliyah in 2010. He is a veteran press officer in the IDF Spokesperson Unit and has worked for several years in private sector digital marketing. He joined as Communications Coordinator of Aardvark Israel in order to help other young Jews also have enriching educational experiences and deepen their relationship with Israel and Judaism. He currently lives in Petah Tikva with his wife and son.
Ofir was born and raised in Jerusalem. He graduated from high school with a specialization in electronics and computer studies. In the IDF, he served in the Israeli Air Force, and later on, learned Music Production studies at BPM College in Tel Aviv. Later on, he worked in the Security Industry in Israel, for more than 12 years. In his free time, Ofir enjoys working out, traveling, and cooking.
Dan was born and raised in Nof Ha'Galil. During high school, he was a part of The Israeli Scouts youth movement, and afterward, he did a 'SHNAT Sherut (Year of Service) in Bat Yam. In the IDF, he served as a 'Marva' commander. After his army service, he worked as a counselor at Heller High School in Kibbutz Tzuba. Dan is passionate about arts and design.
Etai was born in Ramot Naftali, in the Upper Galilee region. Later on, he moved with his family to Nairobi, Kenya. He returned to Israel as a Lone Soldier as a Combat Engineer. Up until he joined Aardvark Israel, he was a hotelier and has an extensive experience with hotel management. He is passionate about fixing, repairing, and providing top service.
Liad was born in Johannesburg, South Africa and spent many of his formative years in San Diego, California. Liad made aliyah in 2006 while working on Semicha as an ordained rabbi. Liad graduated from the University of California at Santa Barbara with his B.A. in Political Science. For the next year, he made his way around Asia and South America, studying with spiritual leaders of various faiths in the region and working in local synagogues. He completed his semicha certification with Pirchei Shoshanim in 2018. In 2020, he graduated with his M.A. in Jewish Education from the Hebrew University. Liad has been working in yeshivot and gap programs in Israel for the past five years.
Allison Hartman was born and raised in New Jersey, recently made Aliyah, and currently lives in Jerusalem. In 2008, Allison received her Master's in Social Work from Hunter College and has been working as a Clinical Social Worker in various settings, including both private practice and school-based services. Working with school-age youth, provided Allison the opportunity to work with families at large. Allison is passionate about supporting young people by helping them find & develop their voices, and in turn, empowering them to communicate their wants and needs. In addition to working with high-achieving teens across the Greater New York region, Allison has worked with survivors of domestic violence and those afflicted with addiction.
Moshe is Aardvark Israel's Director of Education. Moshe began his career in Jewish education straight after completing his military service in the IDF. In the past, Moshe worked with USY, both on summer programs and on gap year programs. He has extensive experience in Jewish and Israel education. For two years he served as a shaliach for the United Synagogue Youth in Minneapolis, Minnesota and he has worked with the Avi Chai Foundation and the Shalem Center on a variety of educational initiatives. After returning to Israel after Minnesota, Moshe served as The Jewish Agency's coordinator of Youth Movement Shlichim. In the summer of 2017, Moshe finished his service of four years as the community Shaliach for the Greater MetroWest Jewish Federation in New Jersey, where he was the senior Shaliach and Israel education specialist. Following his return to Israel, Moshe joined the Aardvark educators' team and taught a class about the History of Zionism. Moshe has also worked with different Jewish summer camps in North America. Moshe was born in Israel and he grew up in Jerusalem. He served for three years as a medic in an infantry unit in the IDF and he holds an MA in Comparative Religion from the Hebrew University. Moshe looks forward to bringing his passion and knowledge of Israel and Jewish education to the Aardvark participants. Moshe currently lives in Jerusalem.
Calev Ben-Dor is an analyst and educator focusing on Israel, the Middle East, and the relevance of contemporary and traditional Jewish texts. He grew up and was educated in England, where he gained his BA from Leeds University in International History and Politics and an MSc from LSE in the History of International Relations. Following his academic studies, Calev worked in the Public Affairs Department of the Israeli Embassy in London before making Aliyah in 2005. He has subsequently spent over a decade in policy circles both inside and outside government – as an analyst in the Reut Institute's National Security team, the Policy Planning Department of Israel's Foreign Ministry, and Director of Research at BICOM, an independent British research centre producing analysis on Israel and the Middle East. He formerly wrote a monthly column for the Jewish Thinker in the Ha'aretz online edition and his articles have appeared in a number of other media outlets. He is currently deputy editor of the Fathom Journal, teaches for the Masa Leadership and Impact Center's Israel Education Initiative (IEI) and lectures on Jewish and Zionist thought to a variety of audiences.
Originally from Washington, DC, Jay Rosen is the founder of Ḥayyati, a cross-cultural communications consultancy to better prepare local talent for international exposure and investment while empowering them with the tailor-made skills needed to become their own best salespeople. A trained mediator since high school, Jay previously served as the director of an international graduate degree on conflict resolution; the CEO of an international public relations agency and COO of its media parent company; and several other professional leadership positions to promote a nuanced and accessible understanding of Israel and the Middle East. Jay has founded several award-winning social venture projects including The Here & There Club, a series of salon gatherings for fellow immigrants and internationals to discuss current events and promote civic involvement, and Sheik It Up, promoting a better awareness of the Middle East through food edutainment. Additionally, Jay volunteers to teach practically-minded Hebrew to new immigrants.
Adena is a Creative Arts Educator for over 7 years and is beyond excited to be teaching in Jerusalem as an Olah Chadasha. She
graduated with a degree in Art & Design with a focus in Education and also in Deaf Studies. Her teaching philosophy is called Choice-Based Art Education which focuses on enabling her students to take the lead in their artistic creation through mediums and themes. Through individualized mentorship, she exposes students to an array of artistic techniques and highlights the power of
using art as a springboard for self-expression.
Jordana graduated with a double major in Political Science and Islamic and Middle Eastern studies and a minor in Social Entrepreneurship from McGill University. Jordana co-founded the Rimon Movement, a student-led Israel organization. Jordana then made Aliyah and completed her master's degree in security and Diplomacy at Tel Aviv University. She is currently working at NGO Monitor in Jerusalem. Jordana has also worked at the Israel mission to the United Nations, Shurat Hadin Law Center in Israel, the Israeli Department of International Relations, and the Kohelet Policy Forum. For Jordana, Israel Education is crucial because she wants students to have the foundation to defend themselves, and their peers, from antisemitism in a confident, passionate, and intellectual manner. She hopes to inspire others with her passion for Israel and Judaism.
Elliot Vaisrub Glassenberg is an American-Canadian-Israeli Queer Jewish educator-activist. Elliot teaches and advocates on many topics relating to Jewish pluralism and inclusion, refugee rights, LGBTQ rights and human rights, and his educator-activist approach focuses on the application of Jewish culture for social change. Elliot has been teaching at Aardvark since 2019. Elliot is also a senior educator at BINA: The Jewish Movement for Social Change and a leading activist for refugee rights in Israel. Elliot is co-chair of Right Now: Advocates for Asylum Seekers in Israel, a blogger for The Times of Israel, and has published in Haaretz, The Jerusalem Post, The Jewish Week, and elsewhere.A native of Chicago, Elliot currently lives in Jaffa and holds a B.A. from McGill University, and an M.A. in Jewish Education and an M.A. in Jewish Literature from the Jewish Theological Seminary.
Emma is a born and raised New Yorker and an Admissions Coordinator at Aardvark Israel. Emma studied Theatre at Northwestern University, where she produced the largest student-produced musical in the United States. Emma moved to Israel in 2021 with the Masa Teaching Fellows, teaching English in the Bedouin city of Rahat and in South Tel Aviv. She made Aliyah in 2023. Outside of Aardvark, Emma is a self-proclaimed "funny girl," performing
standup comedy in Tel Aviv and around Israel.
Misha is a Political Science Master's student at the Hebrew University, a Digital Marketing Expert, a husband, and a father of two amazing boys. He is in love with asking big questions about G-d and the world, and with understanding fake news and how people determine what is right and what is wrong. Misha made Aliyah 9
years ago after studying at the University of Maryland due to his appreciation of Zionism and his love of Israel. He also is a basketball maestro, so don't bother challenging him (unless you don't mind a bruised ego!)
Matthew Lipman has been working in Israel education for over 15 years. He has taught Judaic Studies at Jewish Day Schools in North America and led many innovative programs at those schools. has written high-tech educational materials for U.S. public schools and the IDF and directed the multimedia development of an online Jewish day school. In addition to his teaching work at several gap year programs in Israel; he has trained Day School leaders in North America to create meaningful Israel education programs. Matthew has a B.A. in Politics and History from the University of Liverpool and holds a master's degree in Jewish Education from the Hebrew University. He lives with his family in Modi'in.
Ayo Oppenheimer Abitbol is a born teacher who firmly believes that everyone can benefit from yoga, acroyoga, and hoop dance regardless of level or perceived ability. Ayo has an uplifting positivity to her and is the type of teacher who will take her time with you and break down complicated moves with ease. She has multiple certifications in yoga and acroyoga, 10+ years of teaching experience, and is a trained facilitator of compassionate communication. Ayo leads wellness retreats and workshops around the world in addition to her 10 weekly StudioAYO yoga and acroyoga classes in Jerusalem. Join her!
Mica Pomerantz, originally from Argentina, moved to Israel in 2017. Yoga has been a huge part of her life since 2014, a year after she had become a Personal Trainer. She completed her 200-hour Hatha Yoga training in Argentina and her 300-hour Vinyasa flow advanced training in India, with a deep specialization in Prenatal and Yoga Therapy. Afterward, she completed her studies becoming a Pilates Instructor and Prenatal/Postpartum Trainer specialist. In her classes, she loves combining creative sequencing, a playfulness spirit, and a dose of inspiration to help my students deepen their practice.
Avi Grew up and currently lives with his family in Ginot Shomron. He studied at several yeshiva programs, served in the IDF, and earned a Master of Jewish Education (MJEd) degree in Jewish Day School Education from Hebrew College, as well as a Certificate of Advanced Jewish Studies at the Day School Educators Program of Pardes Institute of Jewish
Studies. He has taught in different educational settings, including camps, high school, and post-high school programs. His hobbies are hiking with his wife and 2 kids, playing music, and coming up with 3 examples.
Ben grew up in West Orange, NJ. After making Aliyah, he served in the IDF and has degrees from the Lev Academic Institute and Yeshiva University. He has served as staff for gap-year and college programs,
including Eretz Hatzvi, MASA, Yavneh Olami, Birthright, and The RRG Bet Midrash at Hebrew University. A Jerusalem resident, he has a private clinical therapy practice specializing in helping teens and young
adults.
Vilena was born in Belarus and made Aliyah at a tender age with her family, embracing new opportunities in Israel. Fueling her passion for communication and marketing, Vilena recently earned her B.A. from The Max Stern Yezreel Valley College.
Beyond her academic pursuits, Vilena is working at a dynamic Marketing start-up in Tel Aviv, where she thrives on exploring the ever-changing landscape of social media and video editing. She recognizes that staying attuned to trends and crafting compelling content is the key to success in this fast-paced world.
Miriam is originally from Madras, Oregon, USA, but has made Israel her home for the past 9 years. During that time she has worked as an informal educator, translator,
and public transportation planner. Like most
immigrants, she's also done many other odd jobs including calf carer, baby whisperer, Moroccan waitress, and TV extra. Unlike most immigrants, she's played Israeli professional women's soccer and still occasionally moonlights as an art model. This penchant for weird jobs has given her a broad understanding of Israeli culture, and anecdotes you'll hear nowhere else.
Avi Rose is a visual artist, psychologist, Secular-Humanist rabbi, and teacher. He lives in Jerusalem with his husband and their twin children. He teaches about Jewish art and culture wherever he can—with high school students, gap year programs, and even Holocaust survivors.
Omri is an Israeli director and screenwriter, raised in Kfar- Saba and currently based in Tel Aviv. He holds a BFA and MFA in film studies from the Steve Tisch School of Film and Television at Tel Aviv University, both graduating with honors. Omri is an experienced teacher, specializing in history, screenwriting, and story telling.
Maya Glaser, Graduate of Bezalel Academy of Art and Design. As a multidisciplinary artist she moves between experimental art forms and classical oil painting. participating in multiple exhibitions, Maya has taught painting techniques and drawing classes in numerous settings, and is a poet, bookbinder, and graphic designer.
Orly was born in Jerusalem and raised in Elazar, Gush Etzion. In high school, she took part in B'nei Akiva and Lev Binyamin youth movement, where she volunteered with children with special needs. She did national service for two years, where she volunteered in an organization called Beit Issie Shapiro, a school in Ra'anana for children with CP and autism, as well as in Sadnat Shiluv, a therapeutic farm in Gvaot for children and adults with special needs and behavioral management issues.
Yair was born and raised in Alon Shvut to a family of Olim from the USA. He spent most of my childhood there, apart from a 2-year Shlichut in Chicago. He was a counselor at Bnei Akiva along with playing basketball for the regional team. Yair was drafted to the IDF serving in the Sayeret Golani combat unit with additional training as a combat medic. Later on, he worked as a medic and security guard for tourists allowing himself to fulfill his passion to travel all across Israel and visit all its hidden gems.
Noam was born and raised in Kfar Sava, Israel. In middle school, Noam relocated with her family to Boston, MA, and lived there for 3 years before moving back to Israel. In high school, she volunteered at the Israeli organization AKIM, which works with disabled people. In the IDF, she first served as a social worker and then as a Welfare and Personal Affairs Bootcamp and Course Commander. After her service, Noam worked as a counselor for Camp Eisner in Great Barrington, Massachusetts. Noam loves art, meeting new people, traveling, and spending time with her friends and family.
Oded was born and raised in a small town called Kochav Yair. As a teenager, he took part in the Israeli Scouts youth movement. in the IDF, he served as a Combat Soldier in the Paratroopers' Brigade. After the army, he worked as a counselor in Camp Ramah Darom and right after that, he continued traveling and exploring different cultures in Central and South America. Oded loves to travel, play and watch sports, meet new people and spend time with his family and friends.
Yuval grew up in Ashdod. After graduating from high school, he served as an airplane mechanic in the air force. After his army service, he understood he wants to work with people, and that led me to a Jewish camp in Texas. He enjoys traveling, and after his military service, he hiked through Israel's National Trail and worked with campers from all around America on a summer trip to Israel. Furthermore, he enjoys creating art and meeting new people.
Tohar was born and raised in northern Israel, in Katzrin, a small town in Ramat HaGolan. As a teenager, she volunteered with kids and youth on the autistic spectrum and attended an international boarding school, where she found her passion for learning about different cultures and stories. After high school, she spent a year of Jewish studies in Midreshet Lindenbaum in Jerusalem and was drafted into the IDF. Tohar loves music and theater, traveling, cooking, and playing board games.
Efrat grew up in Haifa, Israel. When she was 7 years old she moved to Boston, Massachusets, with her family for three years. While living in Boston, she became a member of the Israeli Scouts Garin Tzabar organization. When she moved back to Israel, she became a counselor when she was in high school. During her military service, she was a "Mashakit Tash"- a social worker for soldiers. After her service, she worked for Camp Tevya in New Hampshire as a counselor.
Bar was born and raised in a small town in Israel called Kiryat Haim. In high school, he was a counselor in the Ha'shomer Hat'zair youth movement. Before enlisting to the IDF, Bar did a year of service volunteering with teenagers. In the IDF, he served in the Intelligence Corps. He worked as a counselor for Camp Kimama Half Moon in Monterey, Massachusetts. Bar likes traveling, meeting new people, and spending time with his family and friends.
Daria was born and raised in Ness Ziona, where she was a counselor in the Maccabi Tzair youth movement. In the army, she served as a journalist on the Israeli Navy's website. After her military service, she was a Shlicha on behalf of the Jewish Agency to guide at Rama Summer Camp in Wisconsin, where she worked for the last two summers as a counselor for the Israel Culture Team. She enjoys music, reading, yoga, and traveling.
May was born and raised in her favorite place on earth, Moshav Merhavya in the Jezreel Valley. Through high school, she was a counselor in the Bnei Ha'moshavim youth movement and continued the educational path by being a commander in the IDF. In her free time, she loves sports in almost every aspect, and would always love to go for a run and for a nice hike.
Noa was born and raised in Ahuzat Barak, a small town in the Jezreel Valley. She was a counselor at the Bnei Ha'Moshavim youth movement and after high school did a year of service in the Jewish community of Detroit, Michigan. She was Enlisted in the Navy in the IDF. Noa is a foodie who loves to cook and bake, especially if she has nice music playing in the background.
Yifat grew up in a moshav called Beit Zayt, near Jerusalem. I was in the Israeli Scouts until my senior year of high school year. Before my military service, I attended a pre-military college Hanaton. In the army, I was at Michve Alon teaching Hebrew to Olim Hadashim.
Aardvark Israel was co-founded and directed by Keith Berman z"l until his tragic death in November 2014. Keith was a key figure in the world of Jewish Zionist Education dedicating his career to bringing young adults to Israel for meaningful long-term experiences and encouraging aliya. Aardvark Israel is the actualization of Keith's legacy of passion and commitment to Israel and his values are represented in the students, staff, and activities of Aardvark Israel. In recognition of his contribution to Israel and the Jewish People, a scholarship was established in Keith's memory.
Ready to make Israel yours?