Ethiopia 2020
Dear Parents – Shalom from Ben Gurion Airport!
Following an early wake-up and making our way through the airport, all 30 of us are now just one-step from boarding!
We all are very excited to start our trip exploring the history and culture of Ethiopia and meeting the Jewish community there. 
Below is a picture from the airport – it is a tradition to stop by Shay-El's picture here at the terminal, which is displayed as part of the Jewish Agency 90th celebrations exhibit – enjoy! 
We will be in touch soon from Addis Ababa! 
Best regards, 
Moshe + Tamar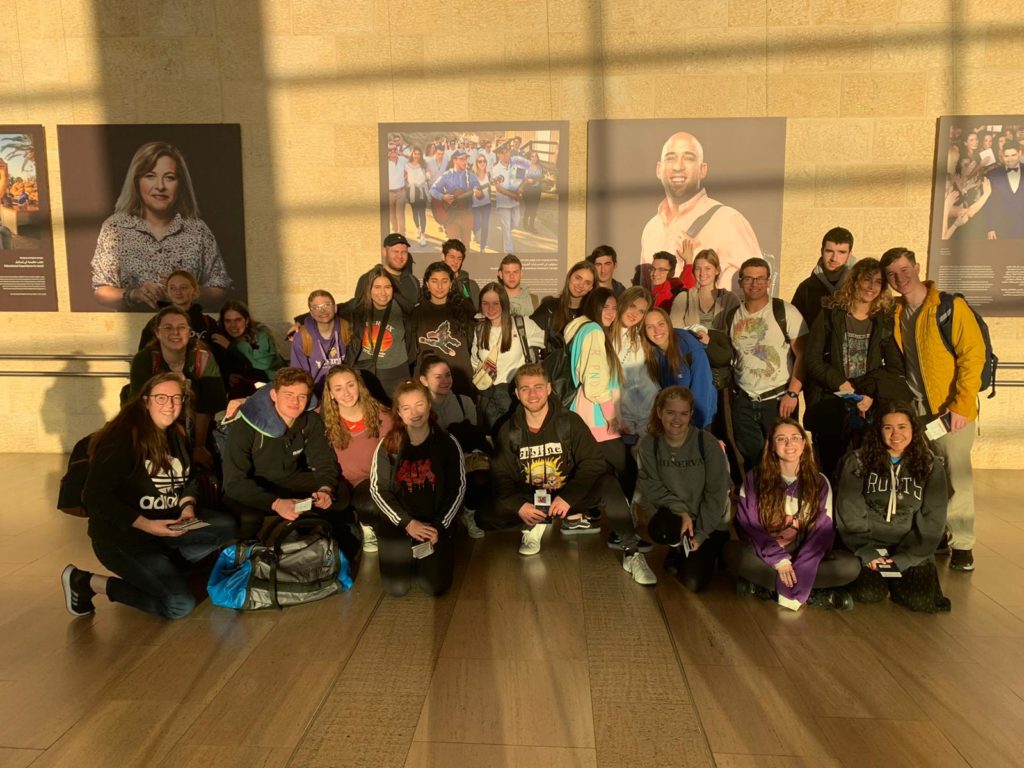 Ethiopia 2020 – Day 1
Shalom Dear Parents,
We started our day early in the morning with a flight from TLV.  We landed in Addis Ababa after a pleasant flight and before leaving the airport, we had the chance to meet our trip organizer Dejene Hodes, who graduated from the program and is now running heritage tours to Ethiopia.
We checked into our hotel and headed over to the palace of the last emperor of Ethiopia, Haile Selassie, which is now the Ethnological Museum. In the museum, we learned about the culture, traditions and different tribes of Ethiopia. We saw some interesting artefacts and had the chance to visit the Emperor's room, where he almost lost his life in a coup.
We concluded our day at Dr. Rick Hodes' house and heard his inspiring personal story. When we arrived, Dr. Hodes was still in his clinic working, so we had the chance to meet the children in his house. There were around 15 children and the students were happy to chat and play with them. Most of them are orphans or their families don't have the resources to take care of them. Dr. Hodes and another local NGO organization help and support them with their needs. After some mingling and eating pizza for dinner, we sat with Dr. Hodes and heard his inspiring story. Before telling it to you, a spoiler alert: it is one of the most inspiring stories you will ever hear. Dr. Rick Hodes is an American doctor who has lived and worked in Ethiopia for nearly 30 years. Since he was a child, he has wanted to be a doctor in Africa. He came to volunteer for a year as a young doctor and stayed, as you know, far longer than that. These days, he is the Medical Director for JDC in Ethiopia and has been in charge of the health of Ethiopians immigrating to Israel. Currently, he is helping to diagnose heart disease, spine disease (TB and scoliosis), and cancer. Dr. Hodes told us about his work through the stories of people whose lives he saved. Some of them were in the house with us, so we did not just hear about the story, we actually saw the story! His life mission contains pure Jewish values and we all looked at him as a Dugmah Eishit (a role model). We really recommend reading more about him by clicking here 
We are now back in our hotel resting and getting ready for another amazing day that awaits us tomorrow as we head to Gondor. 
Stay tuned for more updates and enjoy the attached pictures.
Yours,
Moshe & Tamar
Ethiopia 2020 – Day 2+3
Greetings from Gondar and Shavua Tov!
Early Friday morning we landed at Gondar airport. We could all immediately feel the different environment from the Capital – Addis. We exited the airport, got on our buses and started our journey to Semien National Park. The drive itself was part of the experience. Everyone was excited at the prospect of being able to sleep for a good amount of time on the way up there, but the journey itself was captivating and nearly everyone stayed awake for the majority of the trip. The views were breath taking and we were able to see how Ethiopian agriculture operates. We drove through towns, villages, and countryside. Much of the time we were slaloming our way through people, donkeys, cows, sheep, goats and all manner of other obstacles and 1/3 of the journey was on a dirt road.
Eventually, we arrived at the National Park, one of the most spectacular landscapes in the world and listed by UNESCO as a world heritage site. We started with a good traditional Ethiopian lunch and from there continued to see more of the park and to look for the famous Gelada monkeys. After some time we spotted the monkeys and made our way to see them up close – you can see in the pictures how close we got to them. When we had finished hanging out with the monkeys, we headed back to Gondar to get ready for Shabbat. 
When Shabbat started, we gathered in the dining room for our little community Kabalat Shabbat that was followed by Kiddush and a satisfying dinner. As everyone was exhausted from a very early and long day, we ended our day pretty early. 
On Shabbat morning, when we were all well rested, we walked to the Jewish community in Gondar. We joined Shacharit (morning prayers) and had the chance to see the Torah service and read the Parsha. To see people with such devotion to the Torah and daven with such Kavanah was a very uplifting experience. During our visit, the students connected to the local children by playing and chatting with them. Since it was such a significant experience for us and the prayers were over, we decided to return in the afternoon as well, for a second time, to meet more people and hear their personal stories. It was such a MEANINGFUL experience for us. Please stay patient until the end of the email for more details.  
After leaving the Jewish community, we got back to the hotel for some rest before lunch. We all had the chance to enjoy the pool and relax in the perfect weather. After we had lunch, we headed out to explore some parts of the city of Gondar and we visited the Fasiladas pool, in which pilgrims still take a plunge during the Timket (Epiphany) celebrations. It was a 400-year-old pool with a very clever system of recycling its water. Way ahead of its time. 
From the pool, we walked back to the see our new friends from the Jewish community once again and we had the privilege to hear the head of the B'nai Akiva youth group of the community. He shared with us his desire to live in Israel and how as a youth group, they help to keep the children and youth connected to their Jewish life and to Israel. It was moving to hear the story of the community that is still waiting to make Aliya. 
Following his talk, we heard from a young Israeli volunteer who spends 2 months each year with the community in Gondar. She told us some stories about the work she and her friends are doing and the challenges this community faces. She concluded her talk with a request to spread the word about the community and its condition and help them fulfill their dream and make Aliya to Israel. After the talk, we joined the kids and youth for Mizmor (song). Mizmor is the Shabbat afternoon singing in Hebrew and Amharic. It was extremely moving to hear the hundred-plus people in the room sing Adon Olam or Hine Ma Tov Uma Naim – we all joined them and were amazed by their devotion and love for Judaism and Israel.  When Mizmor was finished, we left the synagogue area and played outside with some of the kids until we had to go back to the hotel for Havdala. Right after Havdala, we drove to a beautiful local restaurant where we enjoyed an amazing dinner.   
We can't wait for more adventures in the next few days. Please enjoy the pictures and stay tuned for more updates tomorrow.  
Yours,
Moshe & Tamar
Ethiopia 2020 – Day 4
Shalom from Addis!
Today we started our last day in Gondar with a third meaningful visit to the Jewish community. We joined the morning service and had the chance to play some more with the new friends we made. We left the community knowing that we will never forget the people we met and the stories we heard.
From the Jewish community, we made our way to learn about Gondar history. Before we reached our destination, we witnessed a Sunday morning special church gathering. It was unique and interesting to see the main religion of Ethiopia in practice. We visited the Royal Enclosure of Gondar, which was the capital city for 200 years and where each Emperor built their own castle within the enclosure. We explored the castles, seeing something different in each one and some stunning architecture and once again, there was Magen David's everywhere (in the Royal Castles). They were pretty spectacular. In one of the castle, we visited an old happening room in which the king celebrated and had parties. We used this opportunity for experiential education and we learned some traditional dancing for our first dinner in the country.
Following the Royal Enclosure, we visited the Church of Mariam (St. Mary) in Gondar, one of the oldest churches in the country. We heard the fascinating story of how the church has survived, even during the Muslim attacks, and about the unique art and special traditions of the Ethiopian Orthodox Church.
From there, we continued on to Wolleka, a Falasha village in Gondar, where most of the Jews lived before making Aliya to Israel. The village that was abandoned by the Jews has been transformed into a center for women's empowerment. Single mothers from all over Ethiopia comes to this center for a training period, where they learn how to master different crafts, so they can make a livelihood back in their hometowns. We met the general manager of the center and heard how donations from all over the world help to maintain this amazing facility. We toured the site and saw some of the beautiful crafts the women produce, such as pottery, textile and more.
From the village, we went to eat lunch in a restaurant located on a beautiful terrace located in the middle of Gondar. After lunch, we headed to the airport to catch our flight back to Addis Ababa.
After a short flight, we returned to the hotel to get ready for a special evening of traditional entertainment. The show we saw celebrated the different regions and tribes of Ethiopia by showcasing costumes, instruments, songs, and dances from each of them. Again, it was a very special night that involved, of course, some traditional food. The students enjoyed the atmosphere and learned some new dances.
Tomorrow is our last day, and we are looking forward to more interesting and fun activities in Addis.
Enjoy the pictures and stay tuned for more updates tomorrow.
Yours,
Moshe & Tamar
Ethiopia 2020 – Day 5
Dear Parents,
We started our last day in Ethiopia with some Addis traffic caused by the African Union Annual meeting, in which many of the continent's leaders meet, taking place in Addis while we headed to the Israeli Embassy. The Embassy is a huge complex, which is used by both the government and the Jewish Agency for Israel. We met Ambassador Raphael Morav for a meaningful conversation. He told us his story and spoke about Israel's relationship with Ethiopia, politically, economically, and also the International Development Cooperation, which is called the Mashav projects.
Mashav is Israel's Agency for International Development Cooperation in the Ministry of Foreign Affairs. It is responsible for the design, coordination, and implementation of Israel's worldwide development and cooperation programs in developing countries. Mashav believes that its greatest possible contribution to developing countries can be made in the fields where Israel has relevant expertise accumulated during its own development experience as a young country facing similar challenges. Israel has a few successful agricultural projects in Ethiopia that are making a huge difference, so much so that the Ethiopian Government has asked them to expand into more projects. The students asked him many great questions about his work and his story. Some students asked about the Alyia situation of the Jews in Gondar, he told us that Israel's official stance is that they are not Jews by Halacha, BUT that there are many humanitarian cases, and Israel wants to help and save their lives, so the government is being more flexible with these cases. He also updated us on the attempts to allow family reunification in the cases where some family members have made Aliya and others are still in Gondar. It was important to hear as it filled in a piece of the story that we were missing. The meeting was very important for us and gave us the opportunity to learn more about Israel's diplomatic relations. It was a very interesting discussion with him and he was pleasant and friendly.
Following the meeting with the ambassador, we headed to do some shopping in a traditional Ethiopian market and to have some lunch before catching the flight back home to Israel.
We write this last email from Addis Ababa airport while waiting for the flight. On a personal note, I would like to say that it has been a real pleasure spending these five intensive days with your children. Ethiopia is a beautiful country and we experienced a lot together.  However, what made it truly special was the group of people – we had a lot of fun and really enjoyed being together.  We learned a lot about the history of the country alongside the story of the Jewish communities and their traditions; met meaningful people and heard inspiring stories. We couldn't ask for more! Your children stayed in such high spirits even in some more challenging situations.
I want to give a special thanks to Tamar for all her hard work this past week – she has been an amazing companion and also to Dejene, our local organizer, who made sure that everything was perfect and that the students had a great time. We all hope he will visit us soon in Israel!
And finally, thanks to the students for being so amazing this week!! 
Yours,
Moshe