First week in the Tel Aviv summer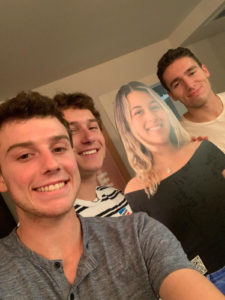 Tuesday, our first full day in Israel, began with a more detailed orientation, a session about taking responsibility for our health, safety and security, and ice-breakers with the Madrichim. In the evening, the students and staff all attended our Opening Ceremony where Debbie welcomed us to Israel, we met all the program staff, and heard a short Dvar Torah from our Campus Rabbi, Yedidia.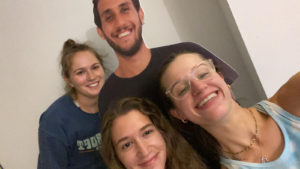 The students began unpacking and getting to know one another in quarantine. Lunch was delivered to the students. After some more unpacking, a special dinner was delivered, the students had some time to really get to know each other better and really settle in for their first night in Aardvark Tel Aviv!
(In the photo: the girls of Markolet 1 with the cardboard cut out of Shai, their Madrich)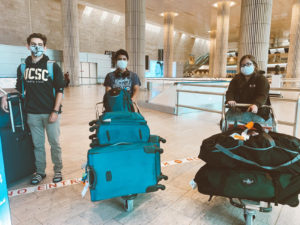 These next 14 days of Quarientation are packed with sessions which will help the students get better acquainted with our program and Florentine, our awesome neighborhood. See below the schedule for the upcoming week: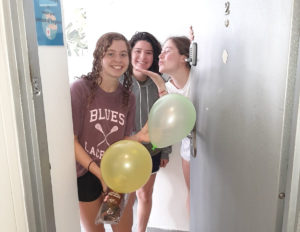 Thursday began with sessions on Internships & Volunteering and our first Israeli Shabbat. After a cooking workshop lunch, the Madrichim led a session on how to clean your apartment and logistics.
In order to conclude the week, our Madrichim had short meetings with all of their apartments. During these meetings, the madrichim check the apartment's cleanliness, go over the weekly schedule, see how everyone is doing, and run an activity for the students.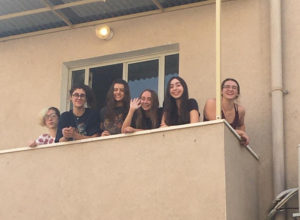 Throughout the week students had different sessions and workshops. From learning how to cook Shakshuka on cooking classes, to Tiktok challenges and Israel 101 sessions.
Next week we will be starting learning (or improving) Hebrew at the Ulpan, as well as many more sessions and activities.
See below next week schedule: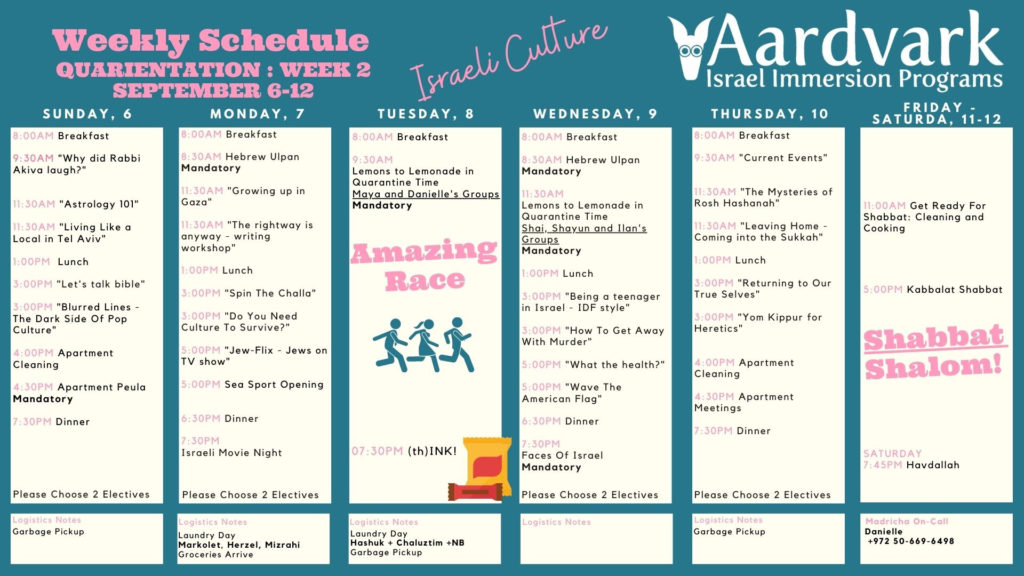 As we welcomed our students into Israel this week, we have highlighted the importance of mutual respect as we build our community together. We may be physically distanced while we are in quarantine, but that just means that all of us must work harder to build the bonds that will form the foundations of this year and semester together.
In the emails I will be sending at the end of each week, we include a few photos, however follow us on Facebook and Instagram to see more photos and videos from the week.
As a final reminder, please remember your Aardvark Israel contact person from now on is your child's madrich (counselor), please call them and not our inquiry phone for an efficient response. If you are sending packages to your kids, please put down their phone number as the contact details. Thank you!
Wishing everyone a Shabbat Shalom,
Etai