Where and When?
Spring Semester in Tel Aviv and or Jerusalem, January to May *Jerusalem is subject to availability
MADA (Magen David Adom) Course
MADA (Magen David Adom) is the main ambulance service in Israel providing emergency care. Participants who choose this option will participate in the MADA training course – a ten day program of learning that gives you a wide range of first-aid skills ranging from bandaging a simple wound through CPR and mass casualty incidents. The course is intense – classes are held from early in the morning until late at night. You will be quizzed daily on the material learned and on the last day of the course you will be given a certification exam on all of the material covered in the training course. The exam consists of a written test and a practical test. You must pass both tests and receive the instructor's recommendation to receive a certificate as a "Certified First Responder" through MADA Israel to be able to volunteer to work on an ambulance in Israel. Any student who does not pass the exam will not be allowed to volunteer for MADA.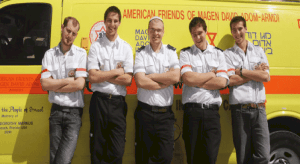 Once you pass those tests, you will be able to volunteer with MADA. Each participant is paired with a MADA Station and is given 4 shifts a week. Each shift is 8 hours long and can be morning, noon or night shifts, so please bear in mind that it can be disruptive of your regular Aardvark schedule. The volunteers will be on the ambulances as much as they are needed. The volunteering period lasts 6 weeks with the option to extend if you are enjoying it and the station likes and needs you there. Aardvark Israel participants must complete a separate application to MADA which will be distributed in Israel. However, it is recommended you prepare the following items for your MADA application before beginning Aardvark:
A recommendation letter from a teacher, instructor, or counselor (NOT from a friend or family member)
A digital passport picture
A scanned copy of a valid passport
Proof of immunity to Hepatitis B – Medical documentation is required showing that you have received at least two hepatitis B injections or a blood test showing proof of immunity.
Medical Forms – The Aardvark medical forms may be submitted to MADA. However, please note that they must be filled out by a physician who has known and treated you for at least three years. If you have ever seen a psychiatrist, psychologist or social worker a letter will be required from the treating mental health provider stating that you are capable of participating in the MADA program, which includes finishing a difficult course and working under intense psychological and sometimes physical stress as an EMT. If you have ever undergone an operation or if you have or have had any chronic diseases, a letter is required from your physician stating that you are capable of volunteering for MADA (see above clause). If you are taking any prescription drugs, a letter is required from your physician stating why you are currently taking this drug and that you are capable of volunteering for MDA (see above clause).
Please note: Acceptance to the MADA course requires a Hebrew evaluation. If the Hebrew level of the participant is not sufficient, they will not be accepted.