Weekly Updates – Tel Aviv May 21, 2016
Shalom Parents!
This week felt slightly different. A lot of the students are beginning to understand that the semester is close to an end and this knowledge affects each student differently. Some of them are happy to go back home to family and friends, some feel nervous about it, some students thought that they would have clear answers about hard decisions they need to make and instead found that they have more (important) questions, some are putting this understanding aside to deal with later… But they all are dealing with the impending conclusion of the program beautifully in their own way.
During this week and the next one we will be guiding the students through the process of putting closure over their experience in Israel and helping them gain some additional tools which will help to deal with the big change and shock they are about to experience.
Here are some important highlights from the past week.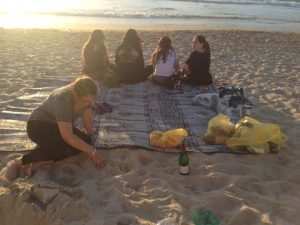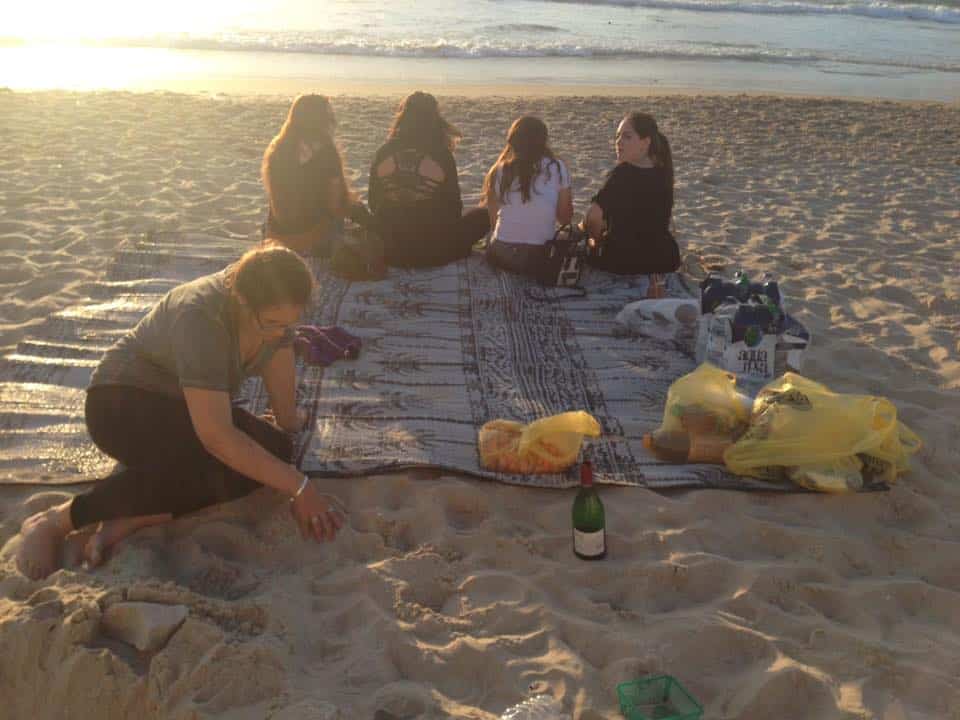 On Sunday the Madrichim met with the students for the last "My Israeli Journey" session. We called this session "Coming back from the mountaintop." The session focused on the "Journey" back home. What do I want to bring home with me? What do I want to leave here? What is waiting for me back home? And other questions… The main thing that came up from all the groups is that so much has changed inside of them over the semester or year and that it will be really weird, exciting, and even a little frightening to return home. I can tell you for sure that you sent us a lot of brave souls and they will come back braver.
On Monday afternoon the students had their final Hebrew test. The Madrichim provided the students with healthy snacks to feed their brains and helped the students study throughout the morning. I haven't seen the result yet but according to the Ulpan staff we have a lot of successes! We'll be able to actually see the students' progress displayed on Sunday in their graduation where they will have to perform a short show or display a video in front of all of us in Hebrew to present what they have learned over the semester.
Later on that day the students met near the beach for a Frisbee workshop. The instructor, Idan, taught them how to throw the Frisbee, how to catch it and some cool games they can play with it. Some also learned how to do some "freestyle" Frisbee play which was amazing!
On Tuesday the group went on a special tour called "Tel Aviv and the LGBT communities." This was the first time we have participated in this particular tour and it was very insightful. The students met the tour guide at Gan Meir (Meir Garden) and from there followed the path of the Tel Aviv Pride Parade, which is the biggest LGBT parade in all of Asia. As they made their way to Rabin Square the students had the opportunity to hear from a member of the LGBT community. We understood from the information provided on the tour that Israel is very supportive of LGBT rights, but there is still a long way to go. One interesting thing we learned is that the majority of Israel is significantly supportive of providing more LGBT rights then those currently provided by the government. The students showed a great deal of interest in learning more about the community in Israel and asked many great questions.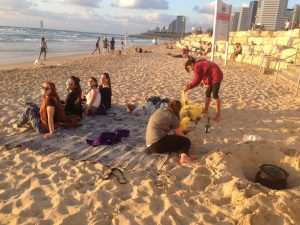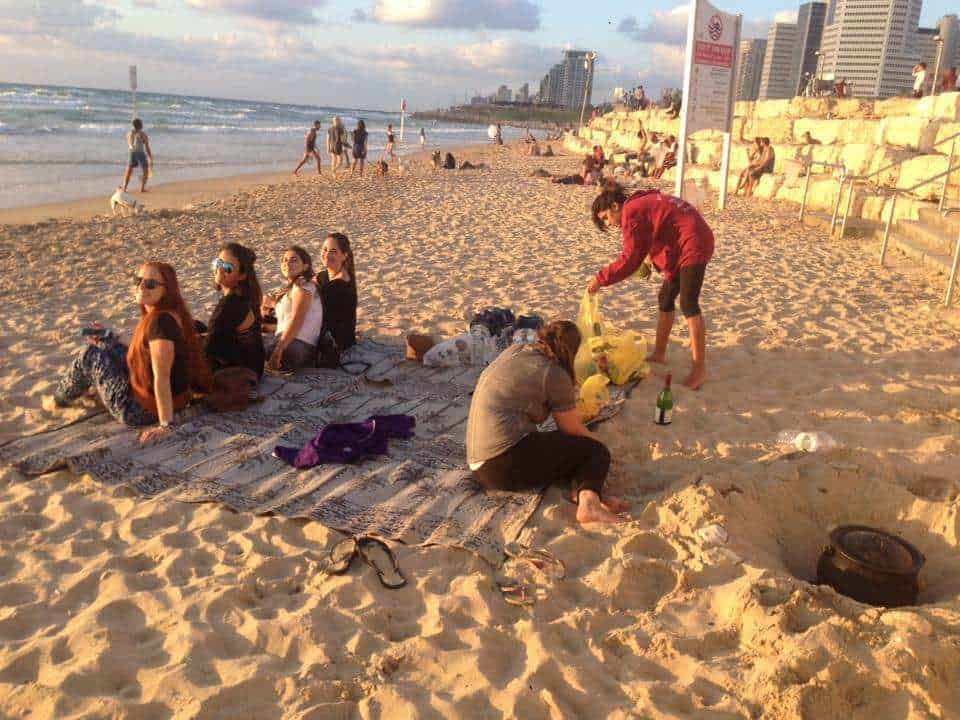 On Wednesday evening the students met to do Poyke cooking on the beach. A poyke is a large cast-iron pot on legs which you put directly into the fire to cook what's inside. But it's not just a way of cooking. It's an activity in Israel. Groups of friends will get together to "do poyke" for special events and while the food cooks everyone hangs out around the fire. Each semester we have a poyke night for the students on Aardvark as well. The madrichim taught the students how to do a proper poyke and everything was going brilliantly until suddenly Avi, the Madrich, noticed that he had lost his necklace. Everyone stopped what they were doing (including the poyke itself) in order to help Avi find his precious necklace! The students were so driven to help Avi they were digging in the sand to find it! After 20 minutes of endless searching, Liora Smith found it and gave it back to Avi! Thank you so much Liora! I don't want to think what would have happen without you…
On the Entrepreneurship Track the students met with Shirli for the last time to do a reflection and summary of the track. Shirli told them about her perspective of what they have done together and her appreciation for their cooperation. The students also shared their feedback and thoughts. Afterwards they went out to a restaurant and Shirli gave them a present as a goodbye, a book called "The Start-Up Nation". They all were very excited to receive it, mainly because every entrepreneur they have met has asked them if they have already read it!
On the Mind & Body Track the students also met in a restaurant for a reflection and summary of the track. They all shared experiences and showed a lot of gratitude to Idan. We are very proud of these students for their hard work all semester in learning about how to live healthier and how to help others do the same.
That will be all for now,
Shavua Tov!
Adi.