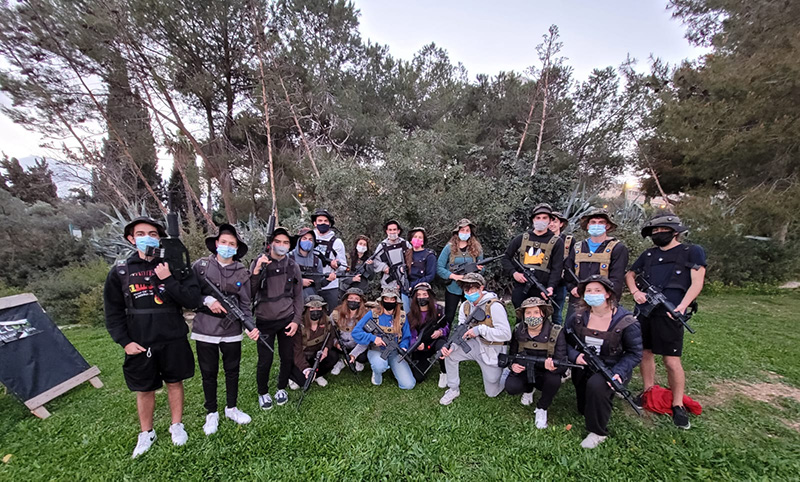 Dear Parents & Students,
This week the weather got warmer, and then got colder, and our students are praying that spring comes soon! But despite the crazy changes in weather, one thing stayed the same: we had a productive, educational, and fun week! Here are the highlights:
In honor of Pi Day on Sunday, students were challenged to make the most delicious pie.
Malcom Condon, the winner, wanted to share his recipe with you.
Ingredients: pie dough, apples, cinnamon, sugar, walnuts
Mix the sugar and cinnamon into the peeled sliced apples. Then make candied walnuts by melting sugar in a saucepan and adding chopped walnuts. Make a streusel and mix the candied walnuts in to top the pie.
-Malcolm Condon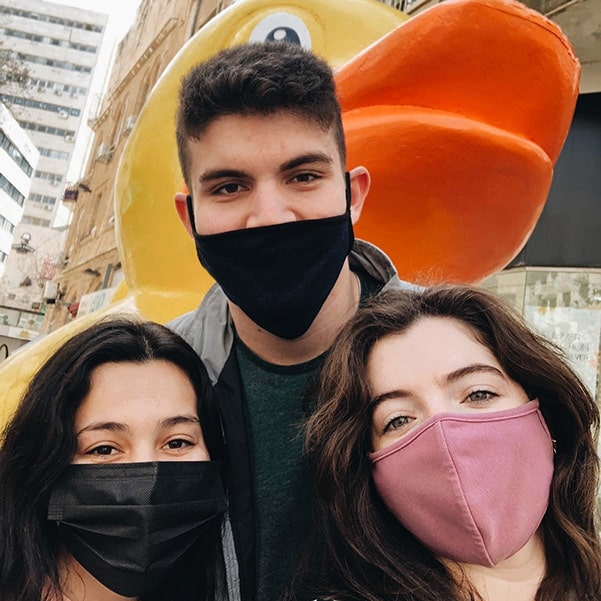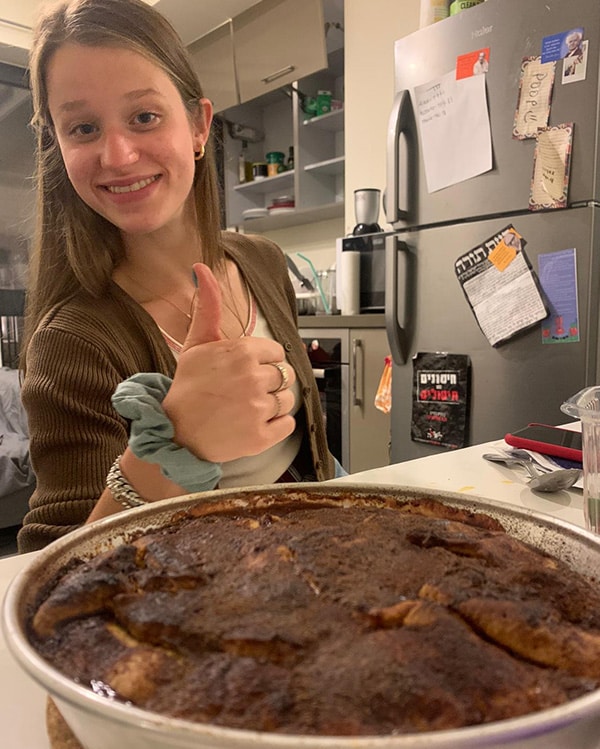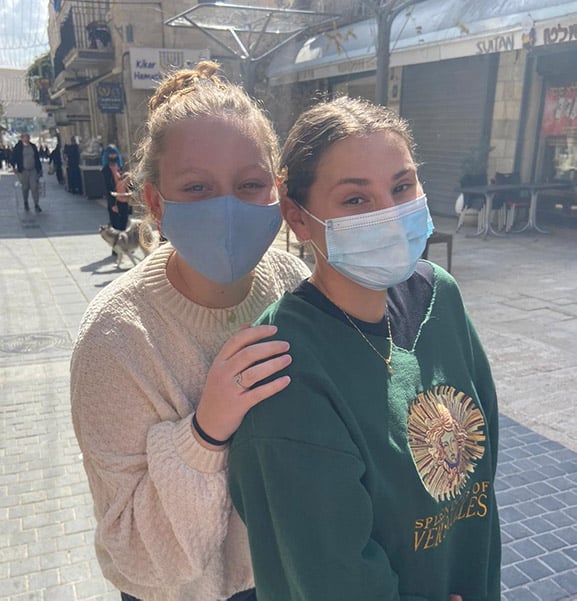 Monday evening, during Faces of Israel, the students learned about Israeli Elections. Elections in Israel are next Tuesday; all of Israel is abuzz, and this was the perfect opportunity for the students to get involved in the political discussion going on in Israel right now.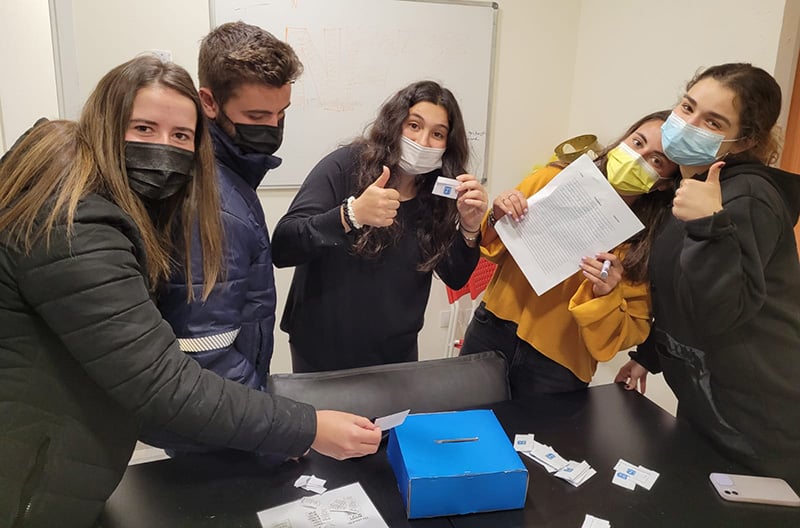 I really enjoyed the election activity last Monday. With the Knesset elections coming up, it was a great opportunity to learn more about the many political parties in Israel. We were split into groups of 3-4, with each group assigned a political party and tasked with creating a two-minute speech to persuade the rest of the students to vote for our assigned party. After listening to all the speeches, everyone voted for the party they hoped to win. My group was assigned the Meretz Party and we spent 20 minutes researching their key ideas in order to create an elegant, well-thought-out, and polished speech that my group presented to our peers. The Meretz party received the most votes by the Aardvark Israel students, so my group earned a prize!
– Josh Cooper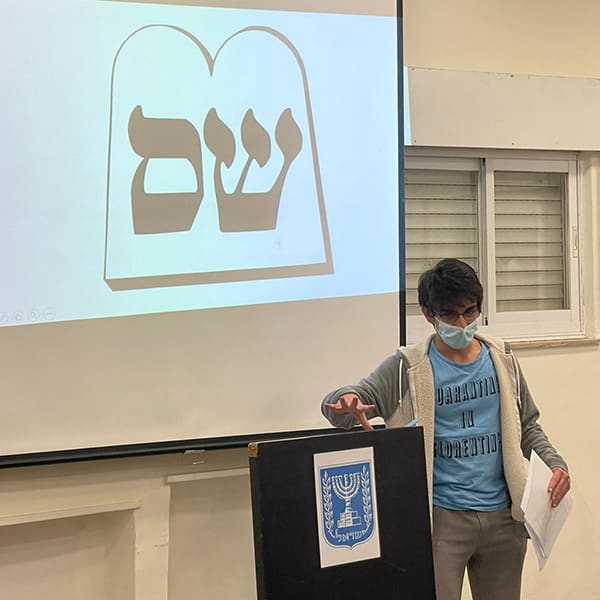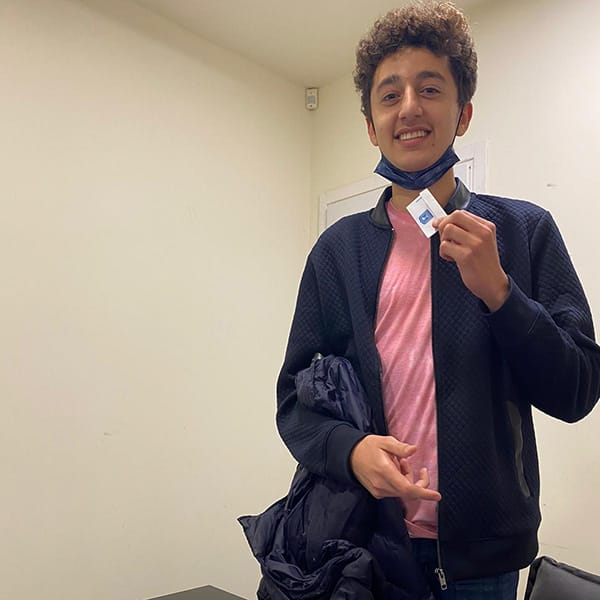 On Tuesday's Tiyul, we toured the Menachem Begin Museum. We started at the ancient burial caves behind the museum, which date back to the First Temple period. The juxtaposition between ancient history and modern history is everywhere in Jerusalem. We continued our tour inside the museum. Some of the exhibits we enjoyed the most were the collection of old videos and the model of Begin's old safe house and apartment. The tour was led by a terrific guide who taught us about Begin's life and the events that shaped his ideas. We learned of his interesting journey from Russia, to Poland, and to Israel where he lead the underground organization, the Irgun (also known as the Etzel), prior to the establishment of the State of Israel, and finally his work as the sixth Prime Minister of Israel. It was fascinating to learn about Begin and his legacy.
After a break for lunch, we headed to the Herzl Museum, dedicated to Theodor Herzl. The museum gave us an opportunity to take an in-depth look at the life and activities of the founder of the modern Zionist movement. We enjoyed the interactive approach of the museum, including a sound and light show which presents Herzl's vision in relation to the Jewish world. The museum is split into four exhibition spaces, three of them showing different eras of Herzl's life, from his early years in Vienna and the Dreyfus trial, through the Zionist Congresses in Basel until his early death at the age of 44. The highlight of the tour was the fourth room, with its awe-inspiring exhibits of the accomplishments of the Jewish State, despite the many difficulties and hardships. It raises the question of whether Herzl's famous quote, "If you will it, it is no dream," has come to fruition or is still in the midst of coming true.
On Tuesday evening, we played a laser tag! Here are a few word from Oliver Saadia:
When I heard we could participate in a laser tag activity, I didn't think twice before signing up. I have done laser tag before, but this wasn't like anything I have ever done. When we arrived at the site, there were barriers and bushes for us to hide behind, as well as full army gear waiting for us. We put on the hats and vests, learned how to use our heavy guns, and began the first mission. Each mission was more fun than than the last. We were tasked with kidnapping Yossi the dummy and finished the day with a round of every man for himself. At the end of each mission, the players with the most points were announced. To my surprise, I received first place not once, but two times! Beating some of the counselors who are trained IDF soldiers is surely an achievement I do not take lightly. It was so exciting competing with my counselors and friends; it was definitely one of the most fun activities we've had on Aardvark so far!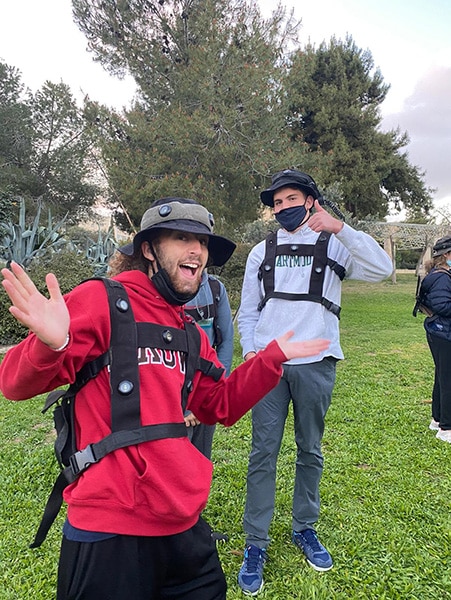 Just before I wish you Shabbat Shalom, here is a short story from Caleb Stutman-Shaw about his experience in Jerusalem:
I had been looking forward to the service since May. The moment I decided to come to Israel, my mom, in her Rabbinic excitement, made sure to tell me to attend Kabbalat Shabbat services with Nava Tehila. Nava Tehila is a group that holds progressive, musical, and often outdoor Shabbat services in Jerusalem. They are famous for their gorgeous original melodies that are shared with musical Shabbat services around the world (including mine back home!). Knowing that I was going to be away from home for so long, I was thrilled at the prospect of attending a service that would remind me so much of my own. Last Thursday, I did my weekly tradition of going onto the Nava Tehila online calendar to see if they were finally having an in-person service, and that week, they were! My friends can attest to my excitement; ten months of waiting was finally over. I would soon get to join in the ever-comforting song and prayer and dance of my home. I couldn't wait.
Excitement built as I waited at the bus stop. My eyes repeatedly glanced down at the bus schedule on my phone, making absolutely sure I would not miss the bus. I had brought two of my closest friends along with me, and I wanted to make sure that everything about the experience would be perfect; this was my opportunity to really introduce them to my Jewish experience. We hopped on our bus and rode it quite far, to an area of Jerusalem I had never been to before. I noticed the beautiful buildings, the green trees, and a lovely bike path that wound through a small park to the side of the road. But that is not what we were there for. When we arrived at our stop, I ran to the entrance of the synagogue where the services were going to be held. I reached out my hand to emphatically open the door, and…it wouldn't budge. "OK," I thought, "the real entrance can't be too far away." I circled the building three times, trying every door that I could find, before I settled on the obvious answer: there were no services being held at that synagogue. Pulling the calendar back up on my phone, my heart dropped at a line, directly after the location of the service, that I had somehow neglected to read: "occasionally at other locations." A quick Google search alerted me that the services were not, in fact, at that synagogue that week, but at a park 20 minutes away. I was so disappointed that I wasn't able to attend the service, but was perhaps even more disappointed that I had lost that opportunity to show my friends. And so I walked, head down, my friends on either side of me, back towards the bus stop, until my foot landed on the logo that I have become so familiar with in my time in Israel: that of the city's bike paths. We had managed to wander back to that gorgeous park, with the trees, and benches, and winding path, and after a few nods of acknowledgement, we decided to take a small detour. I spent the rest of the walk with my head raised, seeing this entirely new part of Jerusalem for the first time. I hadn't gotten to go to my service, but it ended up being as special a Friday night as any other. I walked with my friends, side by side, down the bike path, back home.
I had been looking forward to college for, well, years. I imagined a time of complete independence and freedom, and looked forward to the incredible friends I would make and classes I would attend. Although I did love my high school, I was excited to truly begin my life as an adult. My friends and I were about to begin the next chapter of our lives, and while there was of course an air of fear of the future, we couldn't wait to head off. Just a few more months, I remember thinking, until our lives really begin.
I remember the day I learned that I wouldn't, actually, be going to college in a few months. I remember a feeling of disappointment that I wouldn't be opening a new chapter of my life like I thought I would be. And I remember thinking to myself, "what in the world am I going to do with my life for the next year?" Initially, the plan was to do a big hiking trip down the coast of the United States, but that plan never came to fruition. I thought about road tripping across the country, but that, too, was far too complicated. My mom, one night at dinner, pitched the idea of going to Israel for the year. A gap year in Israel was something that had always been discussed, but I had never seriously considered doing it. I had always been, of course, too excited to go to college. Eventually, though, the excitement of getting to spend nine months across the sea with a bunch of other teenagers won me over. As sad as I still was to not be going to school, as I boarded the giant plane to Ben Gurion Airport, I was thrilled to begin the trip. And, of course, I have had a fantastic time. I am so fortunate that I had the ability to push off college for a year and travel, and that I found such great people while doing so. I was wrong to think that I wouldn't be opening a new chapter of my life; in fact, I am writing one of the most interesting ones to date. I will get to go to another service in a few weeks, and college is waiting for me when I get home. This has been one of the greatest years of my life, and moments like that walk along the bike path are the reasons why.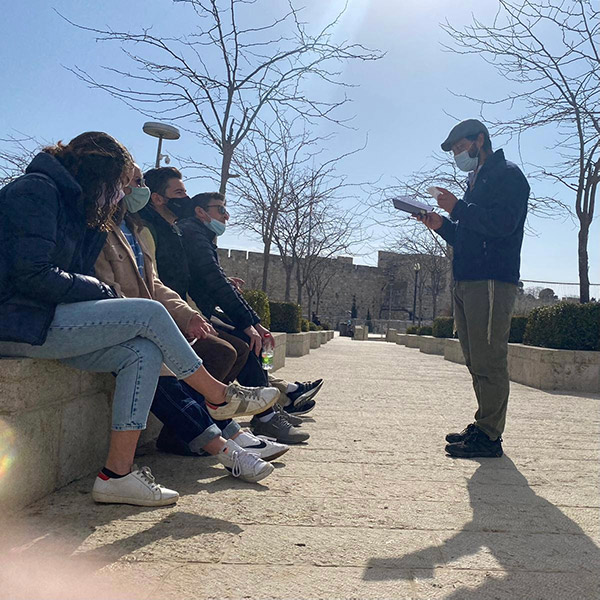 Our Madricha on call this weekend is Nitzan.
Shabbat Shalom,
Natali