Student of the week – Maya Weintraub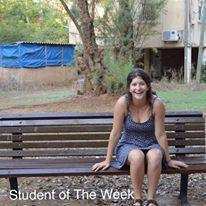 "Hi I'm Maya Weintraub from Los Angeles, California! I decided to take a gap year because I didn't feel ready to go to college. I wanted time away from the pressure of school to explore myself, my interests, and Israel.
Aardvark has allowed me everything I have wanted to accomplish while on my gap year. I started in Jerusalem on the Selah track doing religious learning in the mornings and when we came to Tel Aviv I began my internship at a small business.
I work at the Kendama Israel shop and help with everything from social media, inventory, and learning how to play with the Kendama itself. Along with my internship, Aardvark takes us on the best tiyulim during the week. They are unique and super interesting. My favorite part of the program was my trip to Ethiopia with Avi and Rotem. Our tour guide was an Aardvark Alum who showed us all over Ethiopia!"