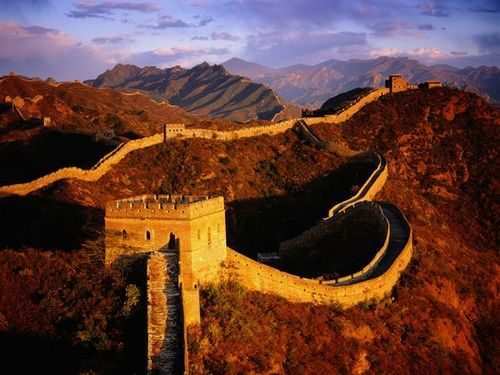 Dear Parents,

Day 1:
Well China is far. Not as far as from the USA/Canada but far nevertheless. But on the way they went to Moscow to switch planes. Hard to believe but Moscow has the old airports like we used to have in Israel when you had to get off the plane on the runway and then take a bus/walk to the terminal. As opposed to Israel where there was this thrill to kiss the ground (though when I was 16 I did it in the June heat on asphalt and it was not fun) they had to walk through snow. Which of course made for an impromptu snowball fight. And as fun as that was I have a strict travel rule. You cannot say you were in a country unless you left the airport. So Russia does not count.

In the Moscow airport while waiting Debbie and Simon led a discussion about Tienanmen Square. Most students had no idea what they are talking about. They had Internet so they were able to show them the famous video/picture of the lone civilian standing in front of the tank.

They had to do this teaching there because it is forbidden to talk about what happened that day in Tienanmen Square while you are standing there. Freedom of speech is not a basic right in a communist country. Apparently lots of people outside of Aardvark were listening to the lecture including several Chinese. They discussed what that man in front of the tank represented that even an average person can be a catalyst for change and get world media attention. That man is an iconic image of the individual standing against the communist system. They compared him to Rosa Parks (and had to explain to many of them who she was). Personally I think the staff overreached since Rosa Parks led to positive change where I don't see that China has changed much and the guy in front of the tank?…probably put in prison or killed. Which is enough of a lesson to teach our students about the inherent evil of the totalitarian communist system in China.

Nevertheless they are also there to see a cool country with amazing history. And cool it is. Or rather cold. They are very cold there. And I mean very.

After actually visiting the square with the huge picture of Mao Tse Tung they visited the amazing forbidden city.

Which apparently is not all the forbidden now since it brings in a lot of money from tourists who want to visit there. They got to climb the very steep and narrow stairs of the Drum Tower. Apparently when building the forbidden city they had to remove a lot of dirt which in turn created two man-made hills. One is the Drum Tower (that had a drum in it) and one is the Bell tour (which has a you-know-what). In olden days they used the drum and bell to signal what time it was.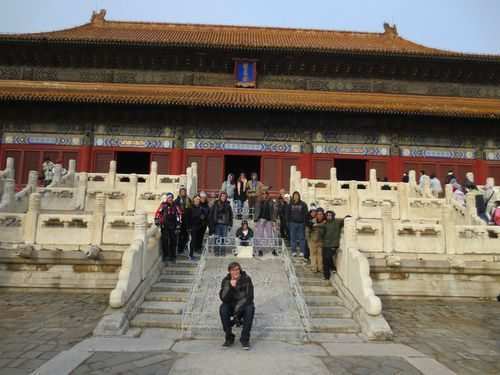 From the top there was a great view of the city. Apparently on the way down Jeremy Rosenblatt was able to demonstrate his gymnastic skills by sliding down the banister. They were also able to see the very pretty Chichahai lakes.

Next it was onto a rickshaw ride pulled by a Chinese man (two people per rickshaw).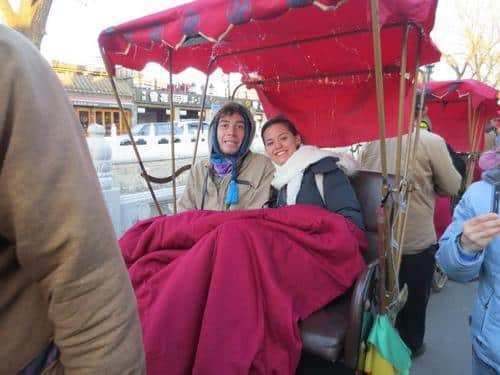 They toured the oldest part of the city called the Huntongs. In one of these complexes that contain an inner courtyard they got to meet an Chinese family. The father showed the students how to do ancient Chinese calligraphy and some of the students got a chance to try writing.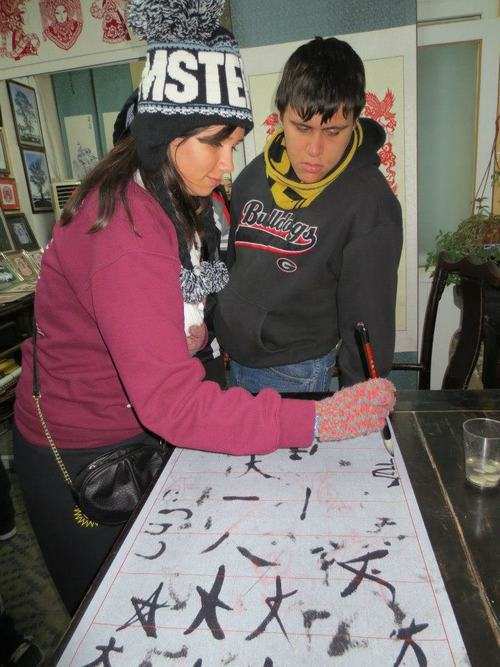 They only had to write the word "big" but apparently even that was difficult to do. So basically everyone just thought "it's all Chinese to me". The father explained that his uncle was an important army general and worked with Mao Tse Tung. The uncle is very old and alive. But the moment he dies, the family believes they will be removed from their homes. There is respect given to the revolutionaries but for this generation, under communist rule, they don't have a basic right to the home they have lived in all their lives.

The group then visited the Chabad Cultural Museum. Well that is what it is officially called. You and I would call it a synagogue. The reason it is not called a synagogue there is officially Judaism is illegal in China. Jews can pray but they get around the rules by having the main space called something else. The Chabad rabbi and rebbitzin talked about the current Jewish community in China. The group also had a very nice kosher dinner. It was a Chinese dinner…but with challah rolls!

The hotel they are staying in is very nice and beautiful. The only problem is that they are on a smoking floor. So many people smoke in China. It is gross. But not much they can do about it. The group was exhausted and just went to sleep right away. There are more adventures to be had tomorrow. I know it is hard to not be in touch with your children but this will just let you appreciate living in a democracy where you have facebook, skype, and easy ways to communicate with your child

L'hitraot,
Keith Berman


Day 2

Dear Parents,
So apparently the top conversation at the breakfast table today was my email yesterday where I wrote that the students were not knowledgeable about Rosa Parks and Tiannamen Square. Apparently many of them did know of these historical events and took offense that I said otherwise. So I apologize China Aardvark students and am happy that you are more aware of history than I wrote.

It was a glorious day for the students in China. First there was the trip to the Juyongguan part of the Great Wall. As we all know the wall is long. Very very long.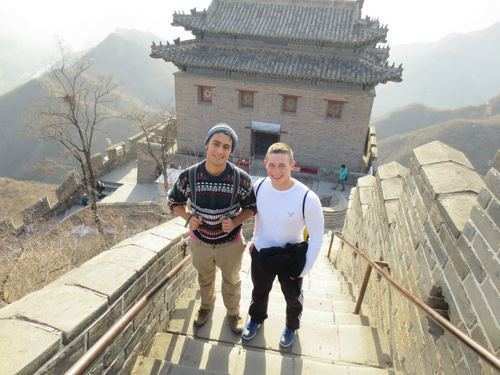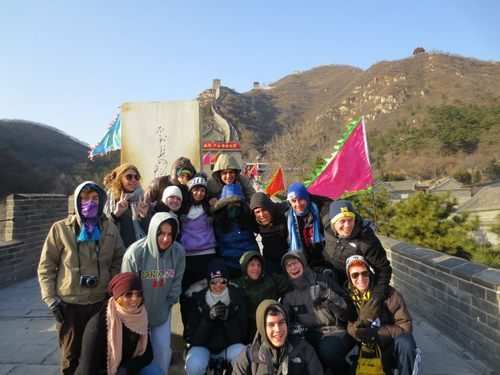 And there are many places to visit. This part is particularly liked since it is physically challenging so appropriate for a young group of travelers. If you parents visit China and are not in excellent physical shape I do not suggest you visit this part. For those who haven't been it is not just a wall. Rather it has stairs and you can climb on top. In this part you can climb to "the end". It really isn't the end since it does continue but it is built on a different level. According to our resident expert of Josh Preuss they walked up 1616 stairs (Debbie is a little suspicious of that exact number but we can all agree it is a lot). And we are happy to say that 14 out of the 19 students made it to the top! Last year, only one student and myself made it to the top. To be fair, we actually didn't know there was an end last year and just kept walking. I was able to tell the staff for this year that there was a challenge ahead and they should go for it. And the winners of the race to the top were…… Josh the counting guy and Ari. Great job guys. I think Simon was with them as well in the first group. It took them about an hour. The last group led by Debbie (with Rachel, Jordy, Jamie, and Max) took another 30 minutes to do it. And while it was still cold outside, they were working hard so they had to take off layers on the way up. There was a sense of awe in seeing and scaling the wall.

And historically interesting to note that the same time the wall was being built, King Solomon was building

the temple in Jerusalem. So what lesson do I learn from this? Perhaps if we spent more time building bigger walls instead of a temple, the Romans would have had a harder time conquering us.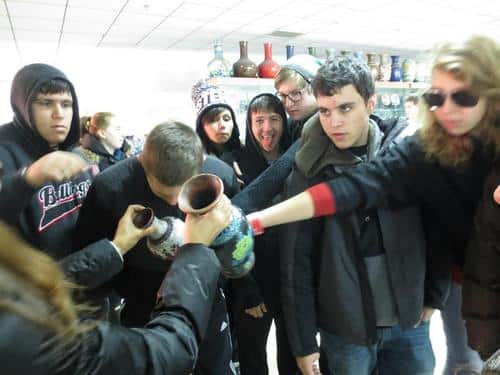 Next they went to the Cloisonne Factory which is a kind of painted metal that the Chinese use in various decorative vases, JEWELRY, pots, etc.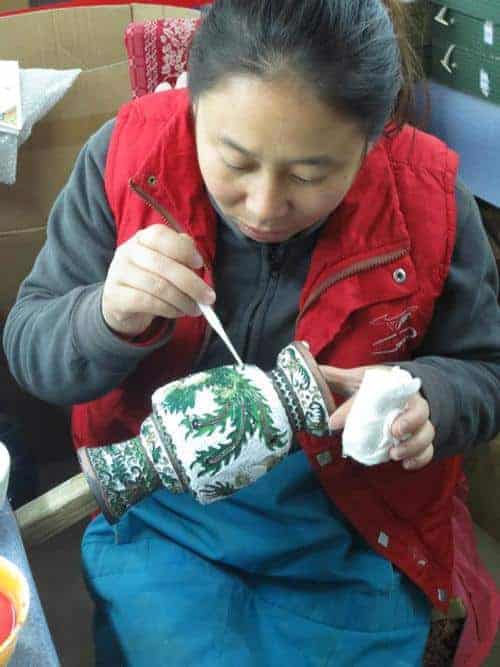 There is also a restaurant there where they ate Chinese food (what else…). From there it was off to the Ming Tombs which look like architecture from the time of the Forbidden City. This was followed by a visit to the Sacred Road where there are a lot of statues outdoors. And being sort-of kids, it is fun to climb on these very old statues. I don't know if that was allowed but I am sure you will see some fun pictures. And hopefully the statues are still standing and they didn't create an international incident.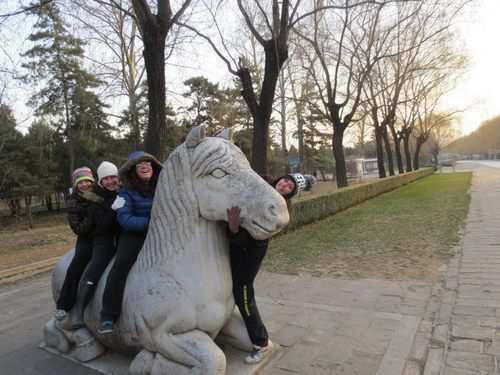 For dinner they went to a cool restaurant called the Hot Pot Restaurant. You sit around tables with a pot of hot boiling water. They bring you raw food and you cook what you want in the pot and eat it.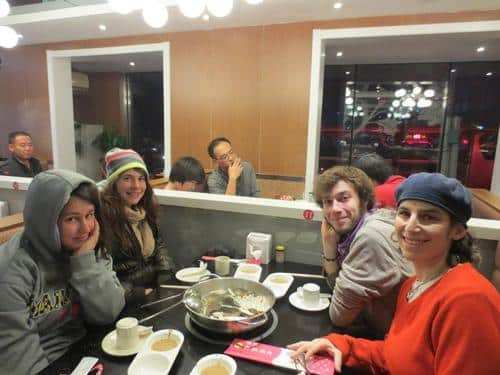 Afterwards they saw an Acrobatic Show and they got to sit in the front. While waiting for the show to start they were playing music. This caused Aardvark to host a spontaneous dance party. Well I am not sure they were "hosting" since everyone else just gawked at them but the students had fun. Some prominent dancers with moves were Rachel, Max, Aaron, and Jordy. Also the last dance was dedicated to Ari since his school did not host a prom. And it was his birthday. Happy Chinese birthday Ari.

The show started with crazy acrobatics people flying around, twisting on ropes and cloth, contortionists, people balancing on each other, jumping through hoops, etc. One couple did a sort of ballet dance in the air using just ribbons to keep them off the ground. The best part was the finale. Imagine a giant metal spherical cage. A motorcyclist rode inside around and around and upside down. That was hard enough. But then they added another motorcyclist at the same time. Then another and another until there were 5 going at the same time. Clearly with the way they drive Israelis would never be able to do this trick. It was shocking that they didn't crash into each other and Katie in particular had a horrified look on her face.

When returning to the hotel some of the students ordered massages which would be a good idea particularly for their legs after their earlier climb.

More highlights tomorrow!

Sincerely,
Keith


Day 3

Dear Parents,
Well it was another fantastic day in China. The day started at the Israeli Embassy which is only 10 minutes from the hotel but takes an hour in Beijing traffic (they knew this in advance and planned for it).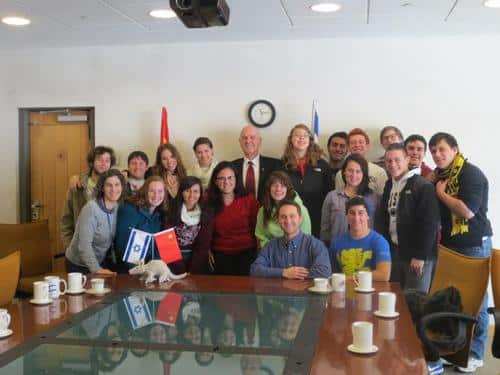 The embassy is a beautiful complex and the the staff was very nice. The first surprising moments of the visit was how easy it was for the group to get into the embassy. The security is very low level. Contrast this to the students who went to Norway and Ireland where it took a long time to get into the embassy with metal detectors, passport checks, etc. Now the reason for this is simple. There is no terrorism there and there also is not concept of anti-semitism. Now that I think about it I found it amazing in Tel Aviv when I took the students' passports to the Chinese Embassy to get their visas and there was no security guard when walking into the building. In Tel Aviv, where there is security in many places, I thought to myself how lucky are these people who don't have to think twice about being a terrorist target.

The Chinese do hold a bit of anti-semitic stereotypes but they are the positive ones. They are in awe of the Jewish people thinking we are highly intelligent and successful. For example up until this year the Chinese have never won a Nobel Prize. They finally did in literature but what they want is something in the sciences. Something like 25% of the winners are Jews. They admire the fact that the USA and Israel have such a strong relationship. Even though Israel is so small and the entire population of Israel is like one district of Beijing. They have a sense of respect for the Jewish people.

The group had a whole hour with the ambassador Matan Vilnai. Aardvark International also got to meet with the ambassadors in Norway and Ireland. I don't want the students to think that it is no big deal to meet with ambassadors since it is a huge deal. And either it is because Aardvark is such a well known prestigious program (not) or we have been very lucky and blessed. In this case we need to thank Guy Gitlin's father who was catalyst for getting us a meeting with the ambassador himself. This despite the fact that Guy is not on the China trip!

Matan Vilnai is also no ordinary ambassador. He is a political appointee who started in August because Israel wanted to send a strong message to China that they want a good relationship. Matan Vilnai is a big military hero. He was second in command in the Entebbe raid and and was in charge of Gaza when we handed it over to the Palestinians. In his words he was the last person there and gave the "keys" over to the Palestinians. He is also an Israeli politician and could very well be back in politics when he is done with his diplomatic mission

He touched upon many issues regarding the relationship between China and Israel as well as telling stories from the various wars in Israel. There is a focus on the relationship on technology and innovation. As he described it the Chinese people are very intelligent and well schooled. However they are concrete, in-the-box thinkers. This compares to Israelis which are highly out-of-the-box thinkers as you can read about in such books as Start Up Nation. Israel is in a position to offer solutions to problems that the Chinese can't solve for themselves. The ambassador also took the time to stress that as American Jews they have a responsibility to advocate for Israel.

The cultural attache also addressed the group. In China they don't have a lot of milk products. The last "president" decided that the Chinese needed more milk for health reasons. This is where Israel came in to help their farmers work with the cows to increase milk production. Israeli cows produce more milk than any cows in the world. Israel and China share issues regarding not having enough water and Israel has contributed technological solutions in this area as well.

The students asked lots of question. One big one on everyone's mind was why did China vote with the Palestinians and against Israel on November 29. The ambassador was not concerned with this fact. It was expected. In Israel the UN is not taken so seriously. Actually in the USA I am not sure they take them too seriously since it is a dysfunctional, antisemitic, anti democratic, corrupt, organization. What is important for the ambassador is that there is a strong connection between the Chinese people and Israel. He is encouraging more tourism between the two countries as a result

Then it was off to lunch. They got to eat at an authentic Chinese restaurant where there were no tourists. The cuisine this time was from North China. It was a family style meal with big common bowls and a lazy suzy in the middle. The group was divided into the vegetarian and non vegetarian tables with lots of yummy food and fresh breads.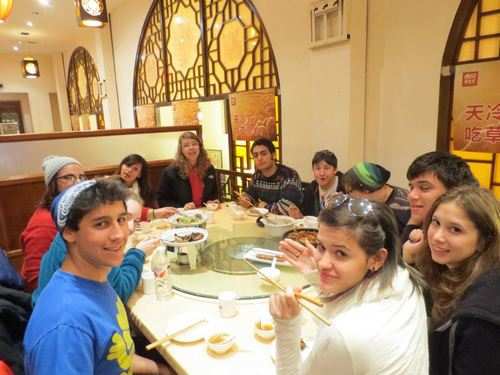 The next stop was the Summer Palace. It is beautiful and has the longest continuous corridor in the world. There is a man made lake where the dirt taken out made the hill that the palace was built on (which as the name implies was used by the royalty in the summer). The lake was frozen over and there were people walking on it (not Aardvark students since they were dubious if it was safe enough). And then there was the coronation ceremony where Tiana and Max were made emperor and empress dressed up in the royal garments.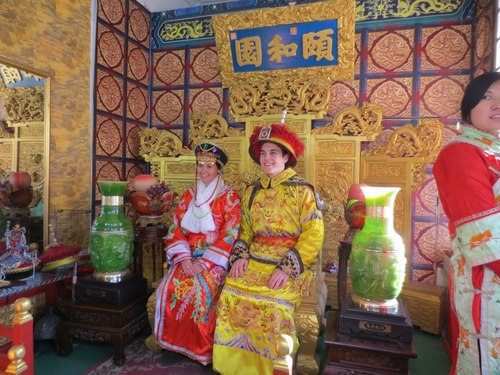 The next stop was the Pearl factory. The students got to open oysters most thinking that there is only one pearl per oyster…but not these kinds. They had like 20 and the students got to keep one pearl each. Then some shopped in the store so some of you may be getting pearls as a present.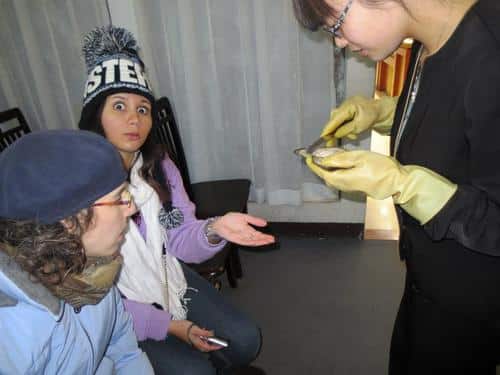 The next shopping experience was the Tea House. The students got to taste 4 different teas and experience a traditional Chinese tea ceremony. Afterwards many bought some real tea to bring home and remember their trip.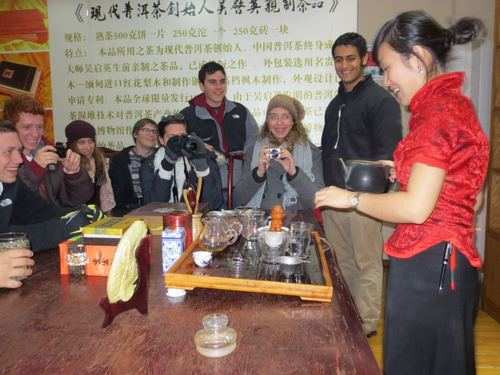 The bus then stopped by two Olympic icons: the Bird's Nest and the Water Cube. It was night already and the place was lit up and beautiful. It was so cold outside that they could only spend a few minutes taking pictures and then it was back on the bus. Also they dubbed the Water Cube the Ice Cube since it was so cold.

And then another highlight…the Wang Fujing Street Night Market. This is the open air food market where you get to see that the Chinese truly eat ANYTHING.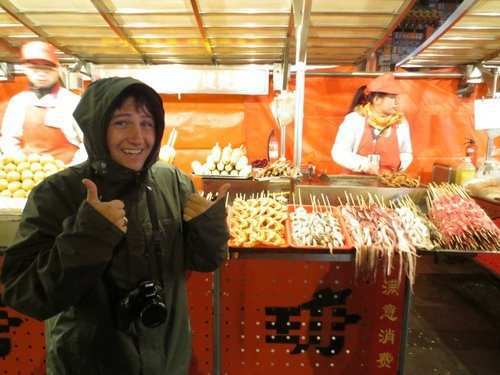 Apparently the students had a great time there and the mood was great. I was with Aardvark there last year and I have to tell you that I had to walk away and came close to vomiting…it is not a place for me. But this group was more adventurous. I will write a list here of all the foods at least one person on Aardvark tried. I am not naming names to protect the innocent because we are talking no kosher hechsher here: sweet hawthorn fruit (which is list a candied apple), fried green tea ice cream, fried pumpkin, dumplings, duck, deer, shark, snake, scorpion, ostrich, mantis shrimp, crab, sea horse, dog, and sheep penis on a stick (I kid you not…5 students tried this one). And in case anyone was wondering the snake was not so good (chewy) but the scorpion was surprisingly tasty. I am nauseous just writing this. These were the appetizers before dinner.

Dinner was in Pizza Hut and was vegetarian. They were in a western-style mall so the contrast between the culture of the street food and the mall was drastic. They were met in the mall by Hannah Morgan. Hannah is an American living temporarily in Beijing because her father works for a multi-national company. Hannah is interested in attending Aardvark next year and she was shocked when I told her that we were sending a group there and she can meet students, ask questions, and decide if she wants the program (she does!). Hannah talked to the group about what it is like to be a westerner in Beijing. She goes to a private school which is officially supposed to be for children of foreigners or that have at least one non-Chinese parent. The reality is that there are only 3 white kids in the school and the rest are rich Chinese that bribed their way into the school. Subsequently her lifestyle and in her school shield her from communism. She doesn't feel it since when you are rich apparently the rules don't apply. For example it is well known that Facebook is blocked in China. However Hannah, and the kids in her school, have it since you can buy a non Chinese IP address and get around the whole issue.

The group then went back to the hotel where 8 masseuses where waiting for them. Apparently not many kids did the massage last night since the hotel was not equipped. But the tour guide ordered privately for tonight and a lot of the students took advantage of the 90 minute massages!

Stay tuned for more fun tomorrow,
Keith


Day 4

Dear Parents
Another fabulous and fun day in China where it is the year of the Dragon. I was born in the year of the Horse so I am clearly a stud….

The day started in the Lama Temple (not the animal but as in Dalai Lama Buddhism).

Like you have seen on tv to free Tibet, think monks in long robes. The place is beautiful and the students were impressed huge gold Buddha statue (and we are talking huge). I had asked Debbie before to get kids to buy incense to burn at one of the temples. But you can all stop gasping and be calm that no Avoda Zara took place since no one burned the incense. In the area there were small Buddhist shops where they could see Buddhist culture and listen to the music.

For lunch they went to a Buddhist vegetarian restaurant. What makes it Buddhist? Maybe all the idol worship going on? But they loved the place since it was all you can eat. Personally I prefer an all you can eat steak joint but when in China do as the Buddhists do… And in this authentic restaurant there were actually monks eating with their full garb on including children which Debbie referred to as monks-in-training.

The next stop was the Silk Market, which has nothing to do with silk. It is a flea market. I guess the silkworm is a better shopping icon than a flea. In the Silk Market there are tons of items to purchase (I say mostly illegal knock-offs of American products). Part of the fun is bargaining like crazy with the workers who say stuff like "you are killing me" when you don't offer them enough money. Students bought things like headphones, tea, paintings, clothing, wallets, ping pong paddles, etc.

From there they were off to the Temple of Heaven which is also beautiful and they enjoyed immensely. It is a sprawling complex of temples and outdoor areas. One fun place is the Echo Wall. It is a large area where the boys stood on one side and the girls on another side far away. It is architecturally designed so that when you stand on one end and whisper you can hear the people clearly on the other side. They also joined onto an exercise class. No we are not talking Zumba here but a bunch of older Chinese women outside. Debbie made everyone participate in the workout which also involved repeating various things they chanted in Chinese. God only knows what our students were really saying as they mangled the language. They also watched old Chinese men playing card games that are unknown to us. And they bought hackey sacs and even played with some local people.

And since shopping is a part of the China experience they continued onto the Pearl Market which also is not about pearls but about fleas. Again the students bargained but since they had experience, they did better in their negotiations.

At some point there was a spontaneous sing-a-long on the bus of American music with the lyrics changing occasionally to through in the word Neehow which seems the only Chinese word they mastered. It means "hello".

At dinner they enjoyed the famous Peking Duck (well the ones who were not being vegetarian). This was followed by an evening at the theatre to see The Legend of Kung Fu. It was a phenomenal performance involving beautiful music and dance, acrobatics, and of course, kung fu (think break wood and concrete blocks with hands and head and lying on a bed of nails).

They are now in the airport, feeling exhausted, and ready to come "home" (which means Israel). It has been an amazing, fun, and educational experience. The group lands tomorrow in Israel at12:15. They will need to rest on Shabbat so they can jump back into the program on Sunday.


Happy Hanukah,


Keith