The sentence on the top of this email belongs to Rabbi Yitzhak, and is taken from the Talmud. The south of Israel is a very special area with lots of history, scenery, and culture. This week we had two different trips, both to southern destinations.
One of our groups drove down to Hirbat Midras and Kiryat Gat, where they got to explore ancient caves and meet the Ethiopian community there.
The other group visited Yeruham, hearing the stories of the Olim who came to Israel in the 50's and found themselves settling the Israeli desert. They also visited a Bedouin Village named Rahme, and ended the trip at the colored sand hills at the Makhtesh (crater) located in the area.
This is what Matthew Cooper shared about his trip to Yeruham:
"On Tuesday, we visited Yeruham, a development town created in the 1950s for new immigrants living in Israel's periphery. We heard the personal story of Rafi, an elderly man who migrated to Israel from Morocco as a teen. While life was difficult and Rafi experienced a culture shock at first, he grew to love Yeruham. Today, the place is a thriving town. Next, we ate our lunch with a scenic view of Yeruham's man-made lake. The most valuable part of the trip in my opinion was when we met a Bedouin woman named Salima. As is customary among the Bedouin tribes, she welcomed us into her tent with tea. Salima shared her way of life with us. We learned that Bedouins are nomadic peoples, but many have settled in small villages since the 20th century. Before being introduced to Western society and technology, Bedouins lived very traditionally, herding goats and camels and spinning fabric with their own tools. Nowadays, Western culture has changed the Bedouins by introducing them to new advancements, such as the internet. While this has given Salima new paths for income and education in recent years, she often longs for the more traditional times of the past. Meeting Salima reinforced the idea that modern-day Israel is a land of many people, with interesting cultures and histories. To wrap up the day, we were given the opportunity to fill bottles with colored sand and climb on the dunes before heading home."
MDA Track In the Spotlight
By Dan Ristvedt
"The beauty of MDA is that they can train anyone to volunteer. They pay no attention to race, gender, whether or not you understand any Hebrew, nor whether you remember any of your first aid training. As long as you're willing to learn and have a working pair of hands, then you're in.
I have been given the opportunity to respond to everything from car crashes to heart attacks. Just last week I performed CPR on an elderly woman in her home with her husband watching anxiously from the sidelines (big up Joey Lipschitz for getting straight on those compressions). During that same shift, we responded to a collapsed roof and a pregnant lady with stomach pains.
This has been an incredible and extremely rewarding experience that I am so happy I decided to do. It is an experience I will remember for the rest of my life."
This week we participated in a special activity named Meet the Israelis.
The community was split up into groups, with each group meeting a different Israeli speaker, then the speakers rotated between the groups so everyone got to meet them all. A soldier, a settler, an Ethiopian Israeli, an Arab Palestinian, a Haredi Jew, and a left-wing activist. Six stories of the many stories here in Israel. We had a chance to hear some very different opinions and perspectives, and some that were similar to ours. It was a chance to hear the stories of people we don't necessarily meet on a daily basis.
Jacob Kelman had this to say about the experience:
"Faces of Israel last night was my favorite Aardvark activity so far. We interacted with an incredibly diverse group of people and were able to speak to them about their views, opinions, and experiences. These interactions were eye-opening. Before that night, I had never spoken to anybody who had grown up in the West Bank, talked in detail about IDF missions into the Gaza Strip, or had a conversation with a Haredi Jew on their values and way of life. Every speaker was happy to answer any question asked, allowing for very open dialogue. My favorite topic that was asked about was what each person saw as an ideal solution to the Israeli-Palestinian conflict. Listening to each person's justification of their vastly different answers to the question was fascinating."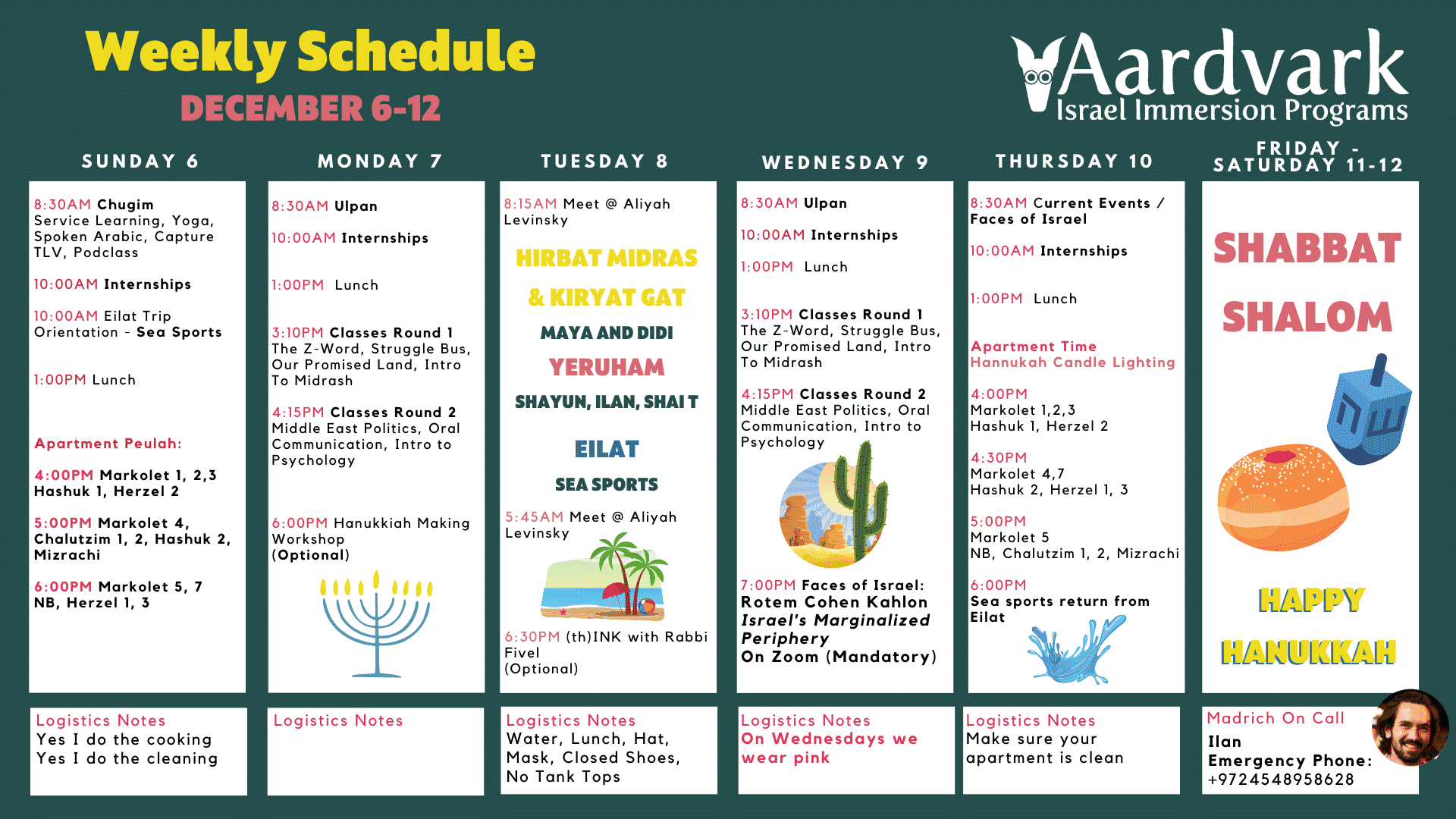 Next week we have a lot going on! Our Sea Sports participants are going to Eilat for three days of water activities, we're taking another trip to the south, and we have the first Hanukkah candle lighting on Thursday!
Our Madrich on call this weekend is Ilan.
Shabbat Shalom,
Etai