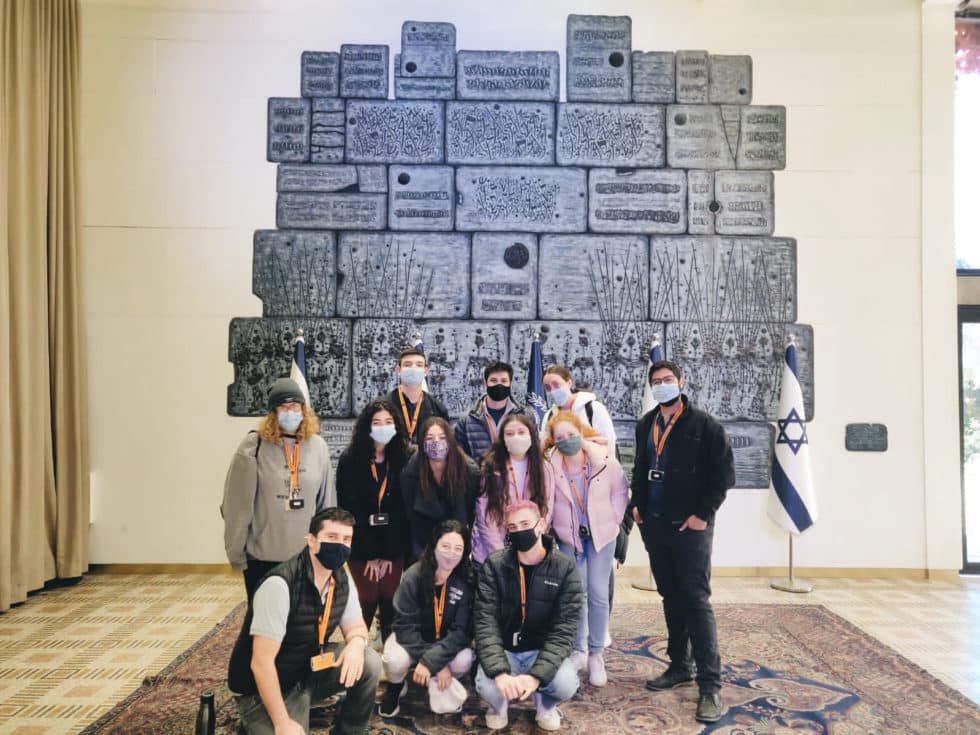 This week, my Israeli politics class went to the President's Residence! We were able to see "The room where it happens," as our teacher kept saying, which was filled with so many different aspects of Israeli life and culture. We learned about the president's role here in Israel, and how throughout history it has been important to each president to be one with the people. The courtyard contains statues of each president and the years they served, and we got to hear a short bit about the important things each of them did. We also watched a video about Ruby Rivlin's idea of the four tribes of Israel and how this applies to Israeli society.
– Dani Starr, Del Mar, California
Today my Israeli Politics class and I went on a tour of the Israeli President's residence. It was super interesting to see how the president lives in a residential neighborhood of Jerusalem, something very unlike the White House in America. We learned that this is because a past Israeli president wanted to make it known that they are no different than the rest of the citizens of Israel. At the beginning of the tour, we saw busts of all the past Presidents' heads and learned a bit about each one. It was cool because we only really hear about the prime ministers, so learning what the president's job is and who they are is something new for many of us. We also saw the entrance hall to the residence where they host foreign leaders as well as regular people for events. It was really pretty and decorated to be modern but also take Israel's ancient and diverse history into account. While we were there, we watched a short video about President Rivlin's vision for a diverse and equal future for all Israeli citizens. Before we left, we got to see the garden in the back of the building and take some pictures.
– Jake Brooks, Brooklyn, New York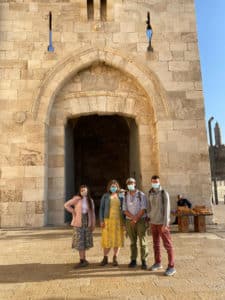 On Selah this week, we went on an outing at the beginning of the week. We visited the Maccabean Graves outside of Modiin and walked through the Ben Shemen Forest, where we learned about the unfolding history and the importance of the discovery of the graves of the Maccabee leaders. On Thursday, we visited the City of David to go deeper into our understanding of the history of Jerusalem and the Temple.
For (th)INK this week, we studied the story of Jacob wrestling the angel and we explored how it resonates with us in terms of our own growth.
Also this week on FOI, we were given an overview of the Charedi (Ultra-Orthodox) community. We learned about some of the customs of the different groups within the Charedi world as well as what is similar to other Jewish communities and what distinguishes them as well. We also explored the differences between the communities here in Israel and in the Diaspora.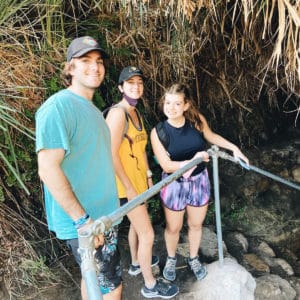 This Tuesday, we went to Og Stream, which was a very cool hike in a canyon. Before we went to Og Stream, however, we went to an overlook that commemorates an Israeli politician's deceased son, which was both scenic and emotional. The Og Stream was very cool in that for some parts of the hike, the path narrowed to only a meter or two wide, and some portions of the hike were a spacious valley. Overall, it was a successful Tiyul Tuesday, and I look forward to next week's adventure.
-Lucan Franzblau, Mountain Lakes, New Jersey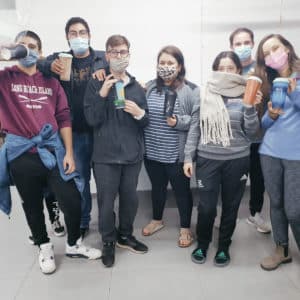 One thing that always makes me happy is being given the ability to be creative, and last week my counselor Noga gave me the perfect opportunity. I was asked to run a painting activity, and I came up with the idea to paint bottles. It was a really fun opportunity to paint with my friends. The night was full of conversation, laughter, and even some broken paint brushes. Some people got extremely creative…one painted Shrek and another painted a field during the day and night. Overall, it was a great night, it was amazing to see everyone's creative sides. I'm so glad I had the opportunity to lead this activity.
-Jamie Penn, Bellaire, Texas
On this week's tiyul we journeyed to the unique nature of Nahal Og, a canyon-like structure etched into the Judean Desert. Once we arrived, we admired the views and decended into the canyon for a short hike up the dry stream bed. As we trekked, we were impressed by the beauty surrounding us and we were thinking about what it would look like after some rain, with flowing waterfalls and swift current.
-Jacob Gottesman, Merion Station, Pennsylvania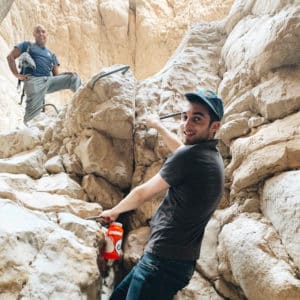 This week, some of the museums in Israel opened up, so I went with three friends to the Israel Museum. This was my third time, and it never ceases to amaze me. I spent most of my time in the archaeology section. One of the hardest parts was when I found out a lot of Jews had idols and shrines to the goddess Asherah. This made me question Judaism for a second, but then I realized that half of Nevi'im was all about Jews being idol-worshipping Jews. After being rushed out of the archaeology section by Zach (I love you Zach), we went to the Synagogue section, where there were many beautiful synagogues, including one from India which really surprised me. There was also a small art section of royal Indian art. Finally, we went to the Shrine of the Book, where we saw the Aleppo Codex. As I was taking a picture, a staff member walked by and I invited him to join the picture; he was so happy to get the invite.
-Zev Fine, Marietta, Georgia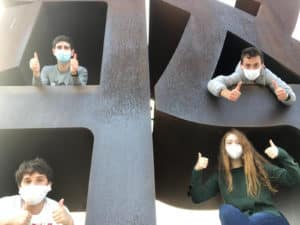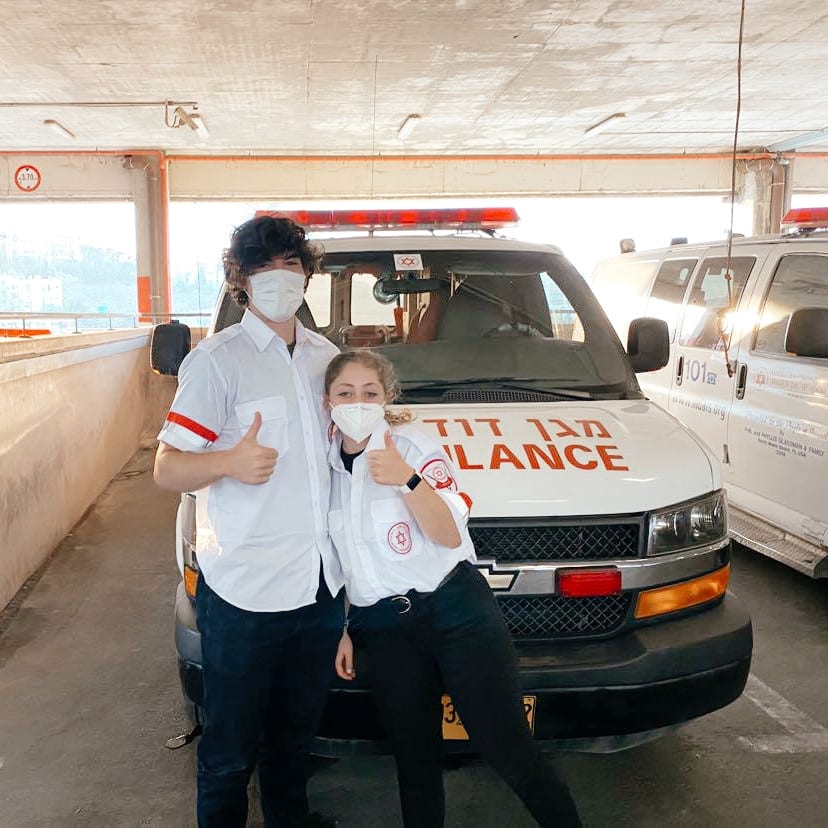 Redefining the Concept of Saving Lives
Signing up for Magen David Adom, one expects shifts to encompass hours of physical life-saving work. Personally, I anticipated, at the very least, a few CPRs, one or two car accidents, maybe even a couple of diabetics who fainted from low blood sugar. As a trauma surgeon hopeful, I hoped that my experience on the ambulance would better prepare me for med school and beyond. After nearly five weeks, it's safe to say action has come knocking; however, due to the low cost of calling an ambulance as a consequence of socialized medicine, a majority of shifts entail "busy work": transferring a patient from hospital to hospital, rushing to a home to find the patient only hyperventilating, etc.
If I had been told the true experience of working on an ambulance five weeks ago, disappointment and frustration would have pulsated through me. However, I have grown to appreciate the busy work. Albeit I live for the "big calls," where physical life-saving work truly happens, I understand that simply showing up for people in need, whether it's fighting a heart attack or just battling loneliness, are both means of saving lives, which is the true job of a first responder. I cannot wait to continue working with MDA for the remainder of my time in Israel, and I am incredibly grateful for this opportunity to help others.
-Judah Huberman-Shlaes, Chicago, Illinois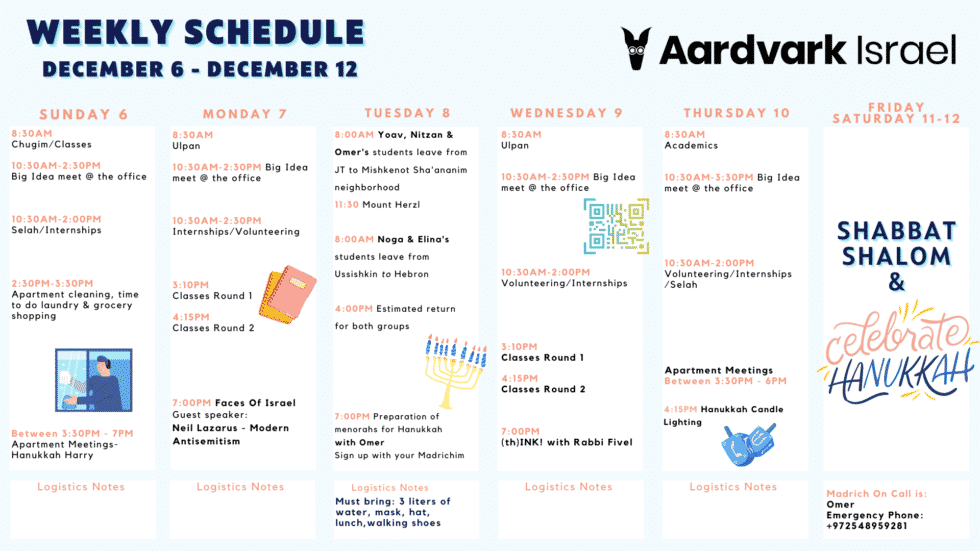 December arrived this week, and with the beginning of December came the bittersweet feeling that the semester in Jerusalem is soon coming to an end! As sad as we are that the semester is ending, we are looking forward to making more memories this month!
Next week, our students will be visiting Mishkenot Sha'anim, Har Herzl, and Hevron. The highlight of next week is preparing for Hannukah.
Our counselor on call this weekend is Yoav.
Shabbat Shalom,
Natali