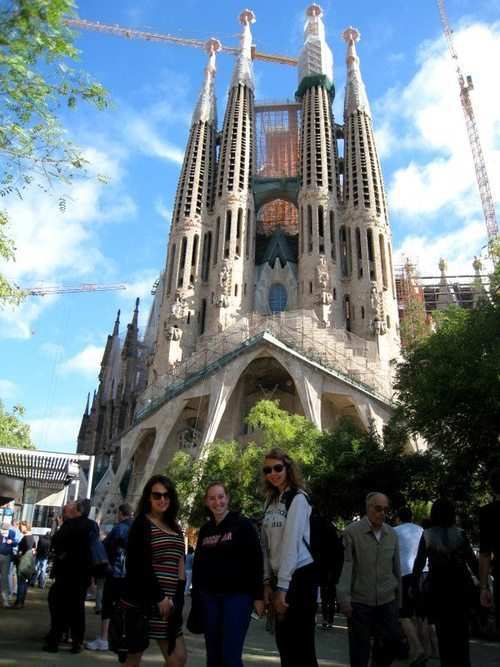 Day 1:

I just spoke with Paula and things are going great! Of course she is working with a group of young adults so we need to put things in perspective. Paula's job was very easy at first. Once at the airport and safely on the plane, all the students basically slept until Spain. She is not even sure that Jordy and Guy knew they were on an airplane. Everything went smoothly and they got to the hotel early so they had more time in their schedule. They love the hotel because we couldn't have picked a better location for young people to be in Barcelona…in the heart of all the action. They boys are all in one room. Rumor has it..sharing beds and bonding.


They explored the Gothic quarter and no Jewish program to Europe would be complete without immediately visiting….a church. Well what is are you going to see in Europe? Jamie was admiring the architecture. When they went to the top for the view Jordy was able to show off a little knowledge of the area from a previous trip.


For lunch they were in the Open Market which Paula describes as like the shuk in Israel only much much cleaner. There were lots of different kinds of food to choose from including brains and various animal heads (we don't think the students ate that stuff). All Jordy wanted was Chinese food. Perhaps, since he slept through the fight, he thought he was on the China trip. Or perhaps when he is in China he will want Italian food? Luckily Mark was there to keep it real ordering paiella and starting a trend. The group also has some free time to explore.


For dinner they ate at a restaurant next to their hotel. Paula said the food was soooooo good. However it was a French restaurant. Again people, where is the Spanish food? They really liked the restaurant because they gave them free cava with dinner. Jamie has been a big help using Spanish and ordering in the restaurants. She has also made sure the everyone says thank you which they have all been saying as "grassy-ass".


They arrived early for the Flamenco show but it was still packed.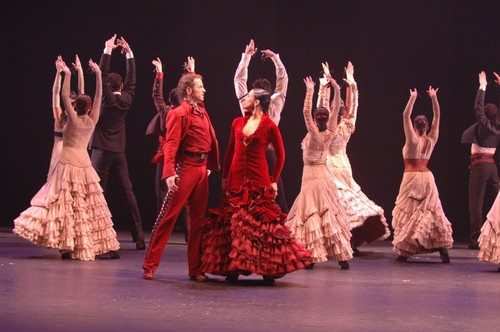 According to my sources it was a fantastic show and the women were very sexy. The music was very vibrant and loud but somehow Max managed to fall asleep a bit. How much coffee do these young people need?

The weather has been beautiful and they are going to sleep now exhausted. Their daytomorrow is even more packed and we will have a new update then.

Until then.

Buenos Noches, Keith

Day 2

Dear All, well two days in and they are all very tired because there is so much to see and do and they are just soaking in the local culture. They started the day with a bus tour.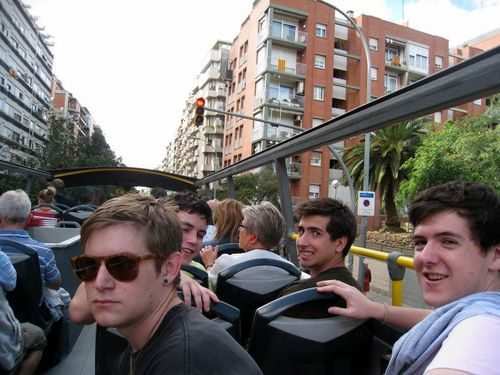 Except there was a twist. Even though Paula set up and paid in advance for the tour. And even though she called them the day before, when they arrived…no bus. It turns out they decided to go on strike. Now without offending anyone politically, in a country with 20% unemployment and the economy about to fall apart you just don't go on strike when you have paying customers. So Paula just quickly booked with an competitor and they did a great tour. They sat on the upper deck and the bus made several stops. Still some sleeping students when the bus was on the move…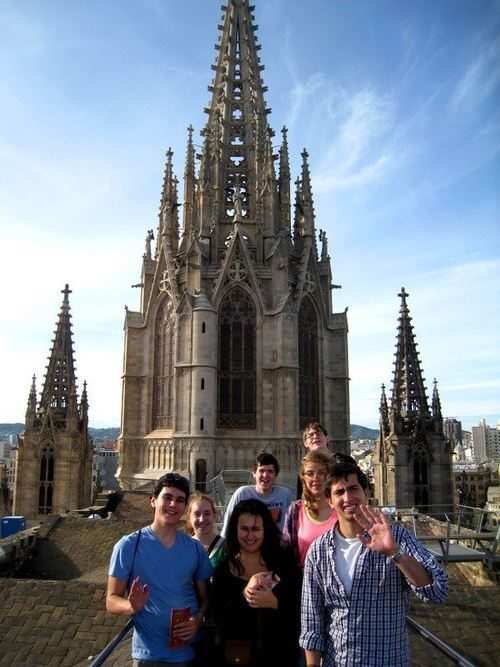 They made it to the Sagrada Familia church (more of their Chrstian theme). They are still building the church and this has been going on for 100 years (note comment above about Spain's economy and work ethic). But the place is gorgeous so far.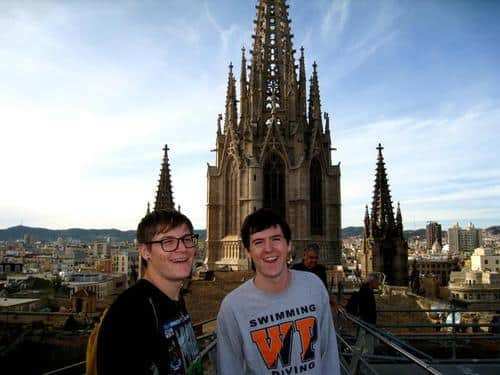 This was followed by Park Guell. The weather is fantastic and the students got to wander on their own.
They had a huge lunch followed by visiting the Football Museum (for you Americans that means soccer). Personally I hate sports so I don't relate to this section. But apparently a lot of people (mainly men) view this place as a shrine and it brings them to tears. Guy was very into this part and had a lot of knowledge that he was sharing with the group. Of course they ran into Israelis there so they got a taste of "home."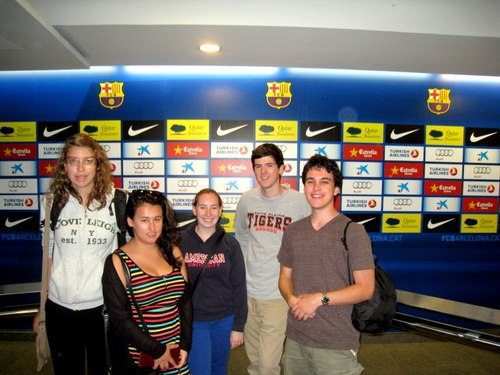 Casa Batllo is really weird house but the students were ready to move in. Maybe we should decorate Aardvark apartments differently. Our taste is Ikea. Then there was time for shopping hopefully helping the economy a bit. They had dinner at a restaurant called "Gut" and Paula said the food was very gut. There was a large variety of food and a bunch of them had steak.

I should mention that the concierge of their hotel named Eliezer is from Haifa as well as a couple of other Israeli staff. This was pure coincidence but Paula is getting extra attention from the hotel as a result.

Day 3

Dear Parents,

Keith is headed on his own little Aardvark International trip to Florida and Mexico (for both work and to see family), so I'll be filling in with your updates for the rest of the trip. (We have a healthy competition going on – who writes the better updates. Feel free to support me in this battle…)

I just hung up with Paula. Before I even got a chance to say hi, she burst out with "OH MY GOD, they're killing me, I'm exhausted. I'm having a such great time with the students and we're doing so much!" Even though we have a youthful staff, we're certainly not 18 any more!

The group has had amazing weather so far, but today it started to rain and the forecast for the rest of the trip is wet. Nevertheless, they are in great spirits and everyone is motivated to see and do as much as they can, even if that means walking in a little rain.


Today the group spent the day with Lori, an amazing tour guide who Paula had arranged for them. In all her correspondence with Lori, who had come highly recommended, it was never established that Lori was not a woman, but rather a man who was born in Israel, attended school in England, moved back to Israel at age 23, did the army, and move to Barcelona 15 years ago. He can only be described as classic Israeli – tough, buff, and a chain smoker (which makes you wonder how he can be so buff, but apparently the ladies on the trip were quite happy to hang out with Lori today.)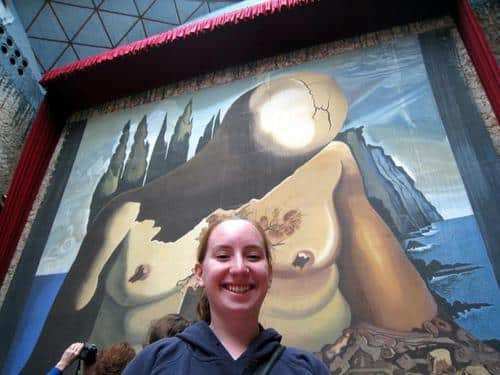 They began their morning in the town of Figueres, a hour and a half drive from Barcelona. The name of the town means fig tree in Catalan. The town is the birthplace of artist Salvador Dalí, and houses the Teatre-Museu Gala Salvador Dalí, a large museum designed by Dalí himself. Up until now, the group has seen a lot of work by Gaudi, so when they went to the Dali museum, Guy challenged everyone to decided who they thought was weirder Gaudi or Dali? To quote several of the students, "Dali was insane." The highlight of their visit to his museum was a portrait of a naked woman which the students and Paula all swear looks exactly like Abraham Lincoln when viewed from far away through a camera. I thought they were all a little ridiculous when I heard that, but it appears to be the whole point of the painting. I'm not actually sure if they realized that. A little search online revealed that the portrait is called "Gala Contemplating the Mediterranean Sea which at 20 Meters Becomes the Portrait of Abraham Lincoln" (catchy, right?). Click here to see for yourself. Max apparently did a great Wayne's World impression as they were viewing the portrait – but to be honest, I totally didn't understand what Wayne's World has to do with Dali, so you'll have to ask the students about that one.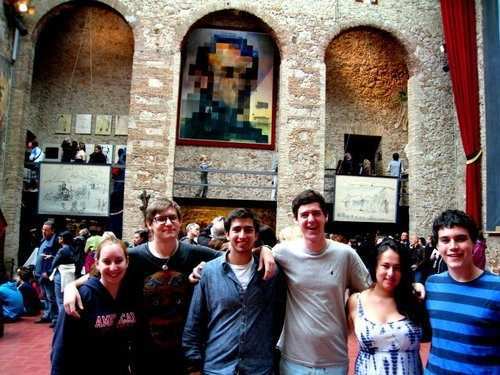 Also a highlight in the museum was another exhibit called "Aliyah, The Rebirth of Israel" which is a series of 25 lithographs from mixed-media paintings made by Dalí in 1967 and 1968. Commissioned by Shorewood Publishers for the 20th anniversary of the founding of the State of Israel, the series is a colorful and evocative Zionist history (yes, I cut and paste that description…) To see many of the images and to learn more about Dali and his connection to Israel and the Jews (his wife was Jewish),

Did Keith mention that the hotel concierge is named Eliezer and he's from haifa? Just a random tidbit I wanted to mention. Israelis can be found everywhere it seems… Who knew?

Next stop was Besalu, another town, where they saw the oldest mikva in Europe. it was a women's mikva and is located right next to the synagogue, which was demolished, but remarkably the mikva remained. It's not in use anymore – there are virtually no practicing Jews in the town, but nevertheless, the mikva fills up with rain water and is still kosher to use. The town is filled with many people whose ancestors were Jewish but converted out during the Inquisition. They are referred to as conversos and in Hebrew anusim.

The students enjoyed seeing criadillas on the menu at lunch but no one ordered it. Google it. You will be glad none of your kids ordered it.

Next they headed off to Girona, a cute town, where they went to Jewish history museum and visited the Old Jewish Quarter which was remarkably well preserved.

The guide pointed out to them over and over as they explored the areas, where they could see in the stone markings where mezuzahs once hang.

They also saw tombstones which were extremely well preserved, but they were hollow on the bottom, so over history they were turned over and used to hold water for animals to drink from or they held fish.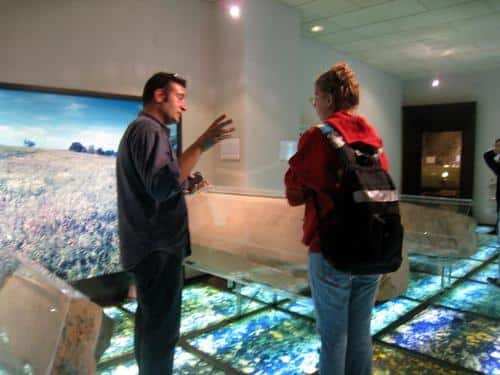 The synagogue in the town was relatively well preserved – they could see where the bima once stood, but the structure has no roof and is of course no longer in use.

Back in Barcelona they headed to the Aquarium, which Paula was really looking forward to as she remembered how cool it was from a previous trip… Although, it turns out she remembered it from a previous trip to Portugal. She'd never been to the Spanish aquarium. It wasn't what she remembered, but it was nice and they enjoyed it.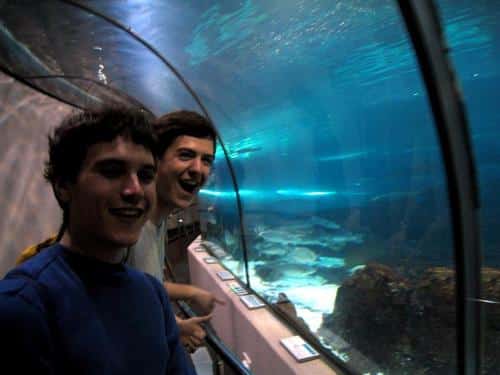 Finally, Paula told me the students were blown away by dinner. They ate at a restaurant with Spanish food, on the Port, called Aqua. They all really enjoyed it and the atmosphere – sitting essentially on the beach, watching the huge waves, and somehow communicating with a waitress that didn't speak even a word of English (who knew that was even possible???) Thankfully, Jamie translated for everyone again! And, although the waitress forgot Max's food at first, when it finally came his said it was so perfect.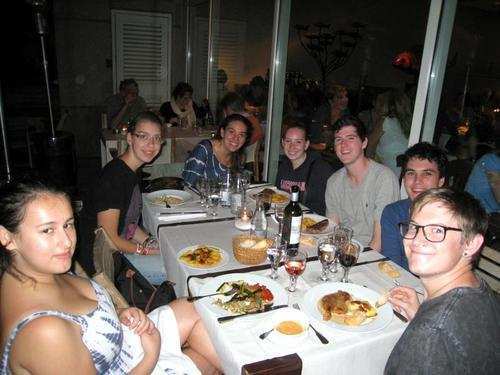 Bona nit (goodnight in Catalon)

-Debbie

Day 4

The group had a busy day yesterday – so busy that Paula and I weren't able to connect before Shabbat for an update. Tonight I got an overview of yesterday and today…

The rain didn't let up so some of the schedule had to be adjusted to accommodate the weather, but of course there's sooooo much to do in Barcelona! They really enjoyed the Picasso Museum, which is housed in five adjoining medieval palaces. There are several Picasso Museums in the world, but this one is the only one which was opened during Picasso's lifetime. Since Paula didn't have time to give me tons of details, I googled Picasso to see if I could find any interesting facts to include for you… Apparently, Picasso was baptized Pablo Diego José Francisco de Paula Juan Nepomuceno María de los Remedios Crispiniano de la Santísima Trinidad, a series of names honoring various saints and relatives. You know how many parents call their children by their full name when they're mad at them? Can you imagine being his parent and yelling at him when he was a kid?

Also Friday, they took the metro and a funicular up to Montjuic Castle.

(I have to admit, I had no idea what a funicular is… Had to look that up: A funicular is a cable railway in which a cable attached to a pair of tram-like vehicles on rails moves them up and down a steep slope; the ascending and descending vehicles counterbalance each other.) Montijuic is an old military fortress from the 17th century and sits atop a hill with an amazing view of the city.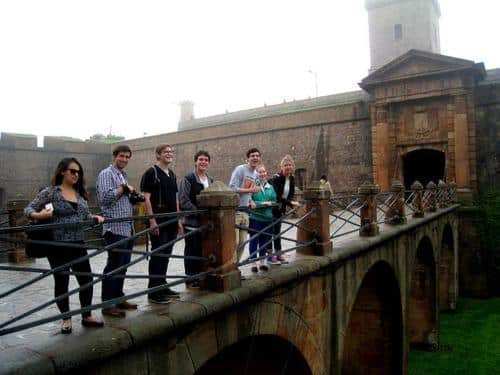 The remainder of the day was spent at the Joan Miro Museum,

the botanical gardens (although apparently they got lost trying to find it so I'm not clear if they actually found it or not) and getting a glimpse of the Olympic Stadium (a glimpse because even through they had been told it would be open, there was a special event going on and the guards wouldn't let them in.)

The highlight of the day yesterday was Pablo Espanyol which was BEAUTIFUL.

They had a chance to shop, see the scenery, and eat another wonderful meal. The magic fountain was also a lot of fun for them – they danced together around the fountain which was colorful and played great music. They even somehow got the fountain to dance to one of Jaime´s songs. Who knew that a fountain would take requests?

Today, the checked out of their hotel in the morning and put their bags in storage so they could head out for a walking tour of the old Jewish Quarter. They also had time for some last minute shopping before what seems to have been a huge highlight of the trip – a meeting and activity with the madrichim (counselors) of a Jewish youth group called Atid.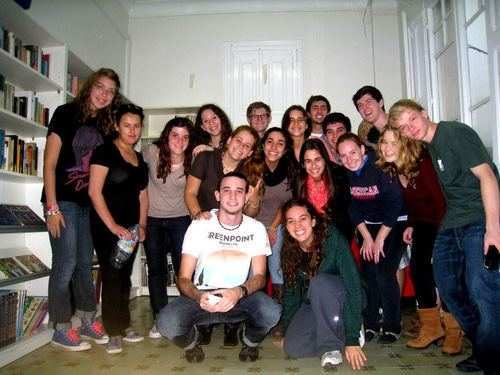 There were 28 counselors who are all university students (I think) and they had the chance to hear from them what it's like to be Jewish in Spain. Basically, they painted a pretty sad picture – they face antisemitism and feel that they need to hide the fact that they're Jewish. The students really enjoyed the opportunity to meet these young people and had a great time with them.

They had an 11pm flight back to Israel and I spoke to Paula (and Max) while they were seated waiting to take off. It took a long time to get through security since their luggage had been in storage all day – the El Al staff went through everything and asked them a million questions which was more evidence to them that it's not easy to be Jewish in Spain.

Overall, despite the rain, the group had a wonderful trip and they're all looking forward to Ireland in just a few weeks (and they're already lobbying for Paula to staff another trip!)

We'll let you know tomorrow that they all arrived home safe and sound… Monday, we're all off to Kibbutz Ketura in the Arava Desert (about a half hour north of Eilat) for a three day seminar on Environmentalism and the Desert. It's sure to be a great "local" trip for all!

That's all!