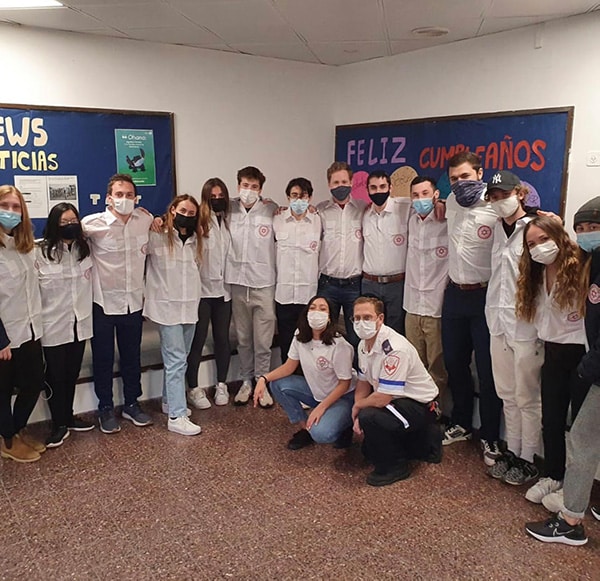 Hello Parents and Students,
This last week was filled with experiences that will hopefuly last for a lifetime.
Before this week started, we had a great weekend all together in Jerusalem. The wekeend started Friday at Yad VaShem, Israel's official memorial to the victims of the Holocaust. It is dedicated to preserving the memory of those who lost their lives; honoring Jews who fought against their Nazi oppressors, as well as Gentiles who selflessly aided Jews in need; and researching the phenomenon of the Holocaust in particular and genocide in general, with the aim of avoiding such events in the future.
For many of the students, it was their first experience in Yad VaShem, and they had an opportunity to learn more and understand the Holocaust from different points of view, hear heroic stories, and engage in thought-provoking discussions.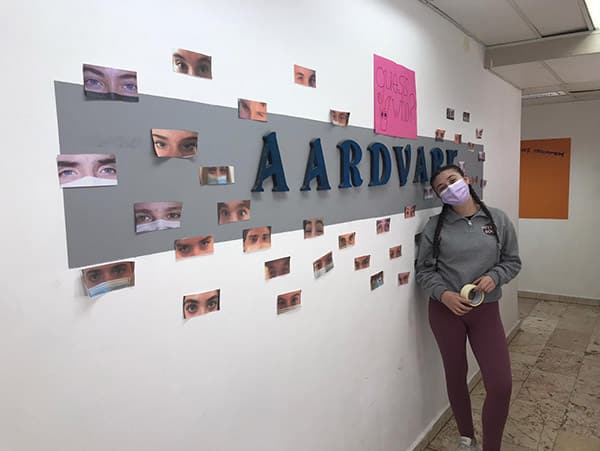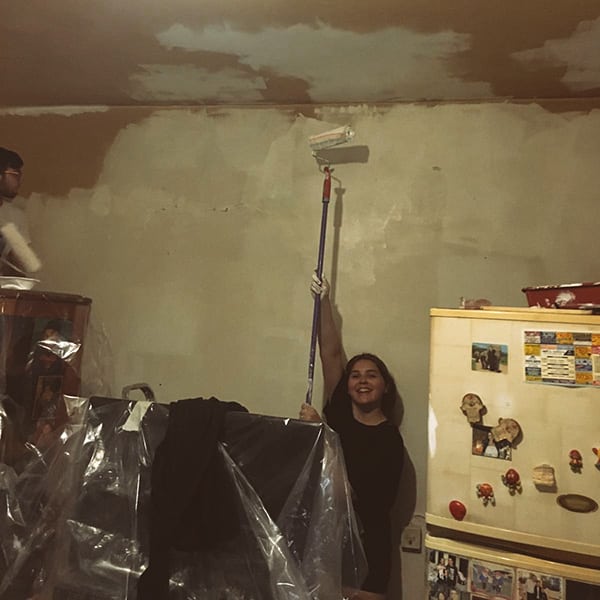 After Yad VaShem, we had some free time in Shuk Machne Yehudah in the center of Jerusalem, and then we went back to get some rest at the hotel. Friday night, each group prepared Shabbat in its own way. The students spoke about how they celebrate Shabbat at home and enjoyed a relaxing afternoon at the park
Friday night, the students went to a variety of synagougues, based on their interests and what kind of an experience they wanted to have. The options were: The Great Synagogue of Jerusalem, Kol Rina, Adas Syriac Synagogue, and Moreshet Yisrael Conservative Congregation.
After that we came back to the hotel for Shabbat dinner followed by Oneg Shabbat. The students gathered on the roof of the hotel, and with the beutiful view of Jerusalem, they played games, chatted and hung out together, and enjoyed some snacks.
On Shabbat morning we had a tour of the Old City. We climbed up the stairs to the highest point of the Old City to walk along the different rooftops and see the city from a different perspective. We also had some time at the Western Wall (Kotel).
During our Saturday afternoon activity, we spoke about Jewish identity and how it is reflected in our day-to-day lives. We pondered whether there's a right answer to Jewish identity or if evey person can define it differently. We discussed what it's like to be Jewish in israel and outside of Israel. We asked difficult questions like if it's harder to practice Judaism outside of Israel or not, and more..
We finished our Shabbat experience in Jerusalem with Havdallah, but not before we recognized our "Mench" students. Every semester, the Madrichim pick a few students who have shown positive characteristics throughout the semester. Our Tel Aviv Menches for Spring 2021 are: Nathan Rangel Klein, Zoe Silver, Emily Willrich, and Juliette Kendal.
After a wonderful weekend in Jerusalem, Sar-El week finally arrived, and the students left for an IDF Army experience. During the week, the students volunteered in different areas and had an opportunity to learn more about Israeli society, speak to soldiers, and experience a little bit of the Israeli Army culture.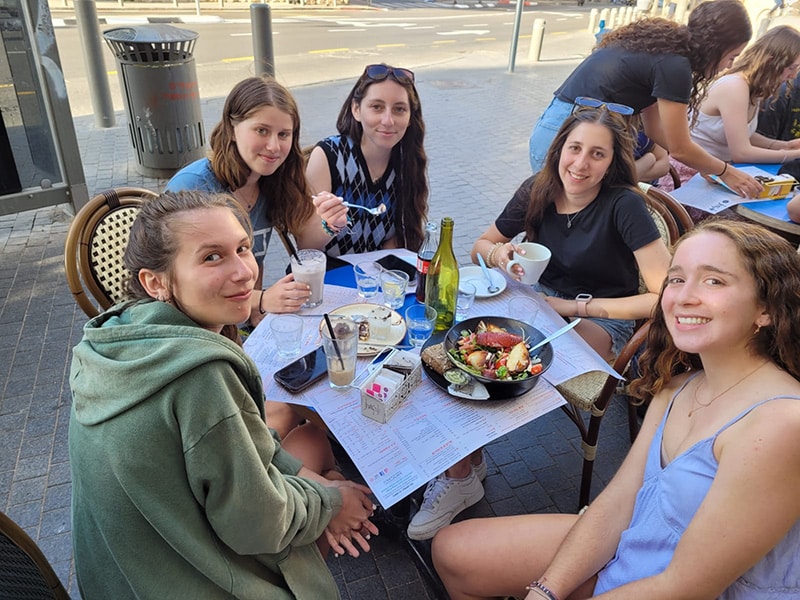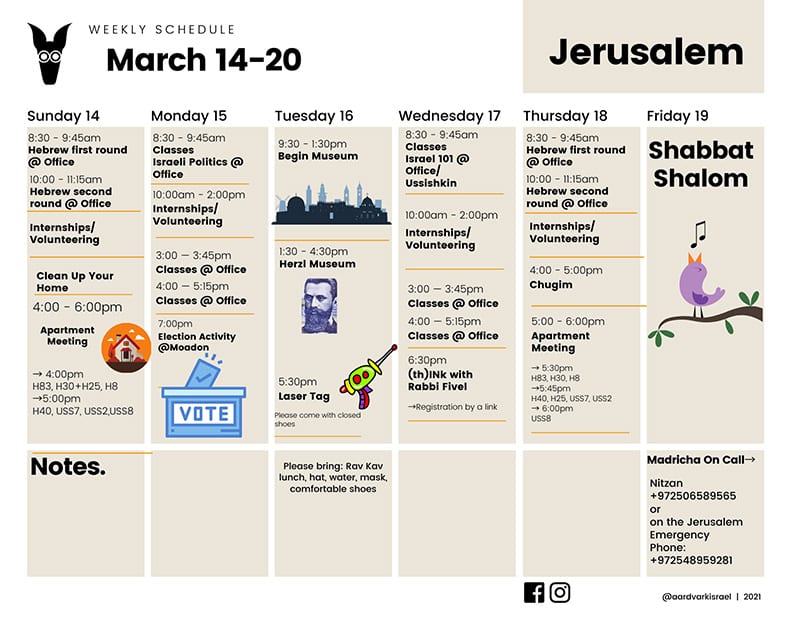 Zoe Silver wrote about her experience:
"On July 4th, my friends and I celebrated our (home) country's Independence Day by joining a foreign army. We were thrilled when we arrived to see the quality of the showers, but less thrilled to learn that the army base did not have a gift shop. We got to meet several soldiers our age and hear their stories. Upon learning that many of them were on disciplinary probation for losing their Rav Kavs (bus passes), we felt grateful that Aardvark is not as harsh. Personally, I will look after my Rav Kav even better now as an act of solidarity with these soldiers. A low point for me was when I was going for a walk and fell into a pile of barbed wire, however my mood quickly improved once my madricha pulled me out and gave me a snack. Our Mifaked (commander) was very tough, but he really pushed us to become better volunteers. A highlight was a touching music video that our group produced — a military-themed rendition of "Boyfriend" by Justin Bieber — featuring the most esteemed dancers in the IDF (the other Aardvark kids). I also loved the flag-raising ceremony we participated in each morning. As the former flag raiser of my elementary school, I felt honored for the opportunity to pursue my passion once again. In fourth grade, I hit my head on the pole while raising the flag, landing me in the ER; however at Sar-El, I managed to raise the flag unscathed.
Overall, we had a meaningful and memorable experience volunteering in the army. I feel lucky for this once-in-a-lifetime opportunity. We learned lots of new Hebrew military slang during our time so now I'm proud to say we are all now "Tzahovim" (people who love the army)!"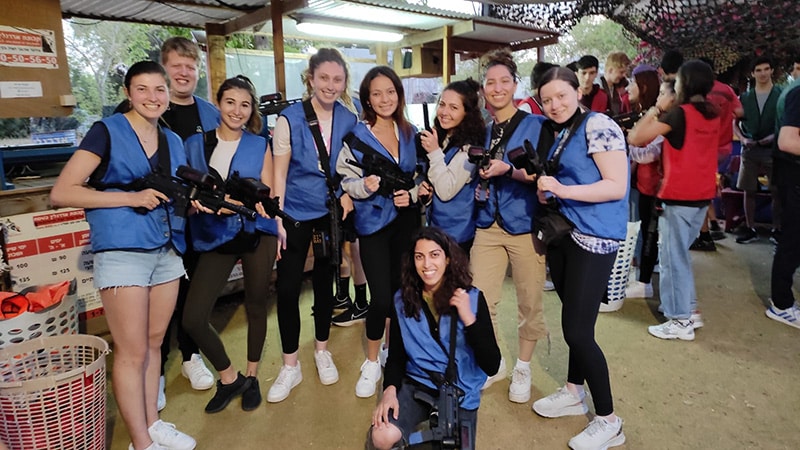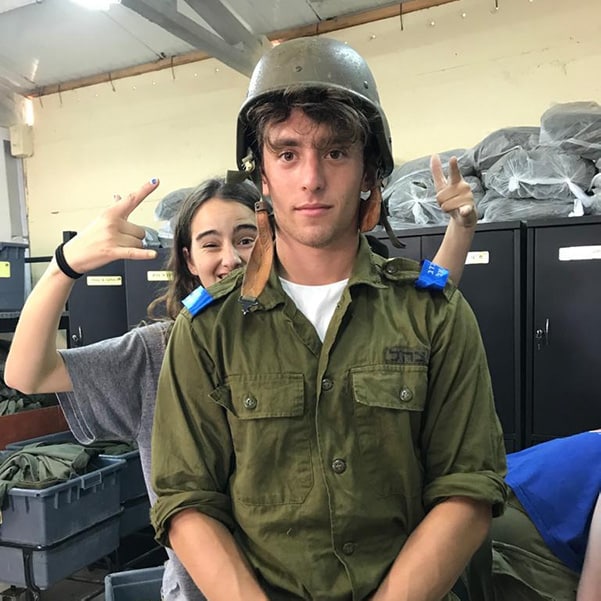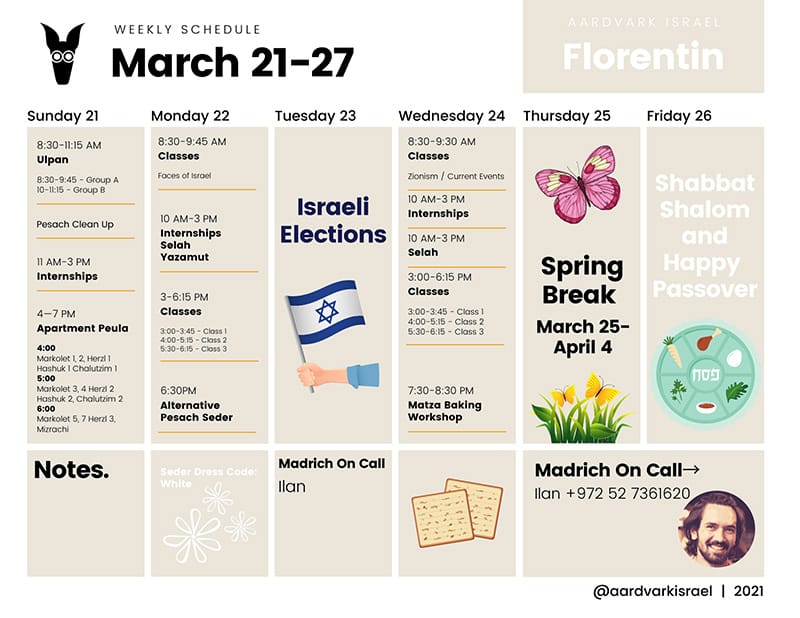 We are looking forward to next week for another week of great experiences and fun!
This weekend Netta will be on call.
Have a great weekend,
Gili