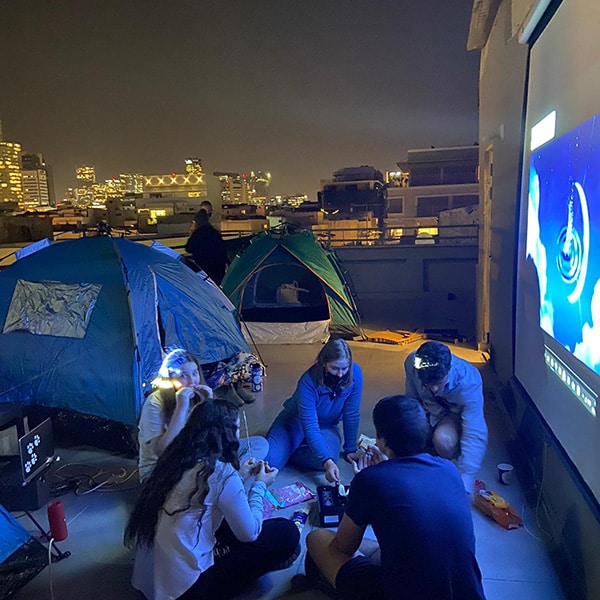 After five months of being a Covid-free program, this week our community faced and still is facing the challenge of managing a few corona cases and the "bidudim"

(quarantines) as a result. One of my favorite quotes about overcoming challenges and facing difficult times is from Rabbi Nachman of Breslov who said, "You will never be faced with an obstacle that you do not have the strength to overcome." I have to say, it was incredible to see the entire community, students and staff, work together to ensure everyone's safety – everyone got tested, passed on their results, and reported any possible exposure to the staff in a clear and timely way. We have adapted to this new situation together as a group and as individuals. Very soon, everyone will be out of quarantine and getting the first dose of the vaccination. Even while managing the Covid situation, this week was still jam-packed with content. We started Selah as well as classes, we had a siyur (field trip) within the permitted 1,000 meters exploring the neighborhood, we offered online activities for students who had to stay home, and some of our community members even got vaccinated.

We are looking forward to next week, hopefully with fewer restrictions and more people out of quarantine.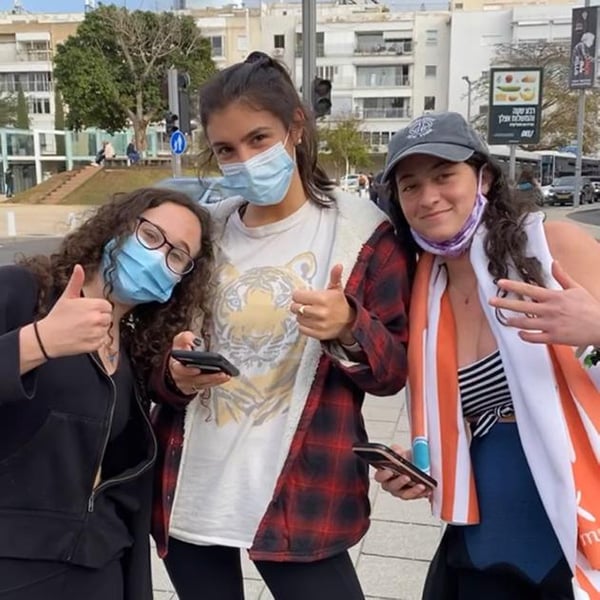 Abby Miller wrote about her experience going into quarantine this week:

"Finding out that some of my best friends had the coronavirus was obviously devastating for all of us. I went into quarantine like I go into most things— very optimistic. I looked forward to spending more time with my roommates and having a bit of time to relax, workout, read, and reset. I began my quarantine in my apartment in Markolet where my roommates and I anxiously awaited our results. Upon finding out I was "almost positive," I was moved to a different building where I would quarantine alone and get retested. After living with five roommates last semester and four this semester, living alone and having my own room felt like quite an adjustment. Between FaceTiming my friends on Aardvark and my family at home, doing my software engineering internship remotely, working out, and trying out new recipes, I found countless ways to keep myself busy. Nonetheless, just when I accustomed myself to living alone, I got my negative test result, packed up my things, and opened the door to apartment 15 where I was enthusiastically welcomed by two other girls on the program who had also tested negative. Our fun began when Aardvark dropped off an activity called the "36 Questions Experience" that aimed to foster "mutual vulnerability through self-disclosure." While I didn't expect to be answering questions about my love life, biggest regrets, or worst memories on my first night, I was pleasantly surprised by how much closer I felt to my new roommates. Despite all living situations and surreal circumstances, quarantine has been a breath of fresh air. I look forward to being reunited with everyone and hope that those who have Corona get well soon! Best, Abby"

Coby Kornfeld also shared a humorous take on his experience:

"Dear Aardvark newsletter, Its day four of quarantine, and we are running low on food rations. Oxygen is declining steadily, and it seems like Corona is still on the perimeter outskirts of our apartment windows. This is a message to all my family and friends from the outside world. I am telling you all that I love and miss you very much, however I will go through hell and high water to keep you safe from the infection. Because of this, and the law, I have six more days to stretch out my will power like I do with tooth paste towards the end of the tube. Even if I am suffering stage three dementia, and if the virus is trapped among the six of us, we will remain strong like the men we are and choose to be.

Over and out, Coby Kornfeld"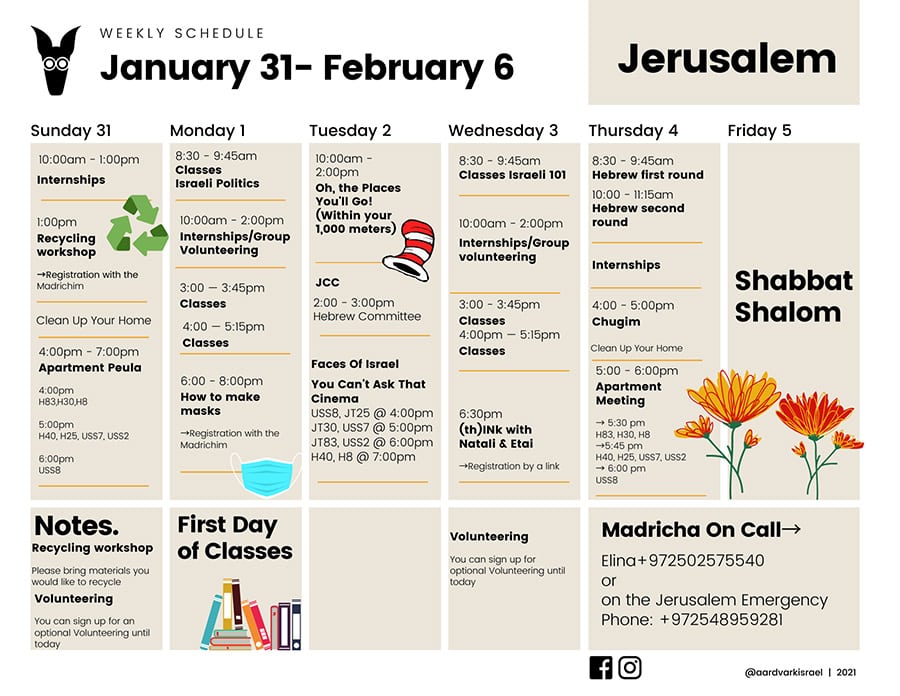 On Getting Vaccinated – Zach Buller

"This past Monday, I was privileged to receive my first dose of the Pfizer COVID-19 vaccine. Because I am planning to volunteer with Magen David Adom, I was offered the special opportunity to receive the vaccine in advance of the beginning of my volunteer period and my possible exposure to COVID patients on the ambulances.

Unsurprisingly, my vaccination experience at the MDA center was very efficient — within an hour I arrived at the center, received my vaccine, and scheduled my appointment for the second dose on the 22nd. I am excited to begin volunteering and am proud to be living in a country which has established itself at the forefront of the world in vaccinating its citizens, hurrying to fix the pandemic."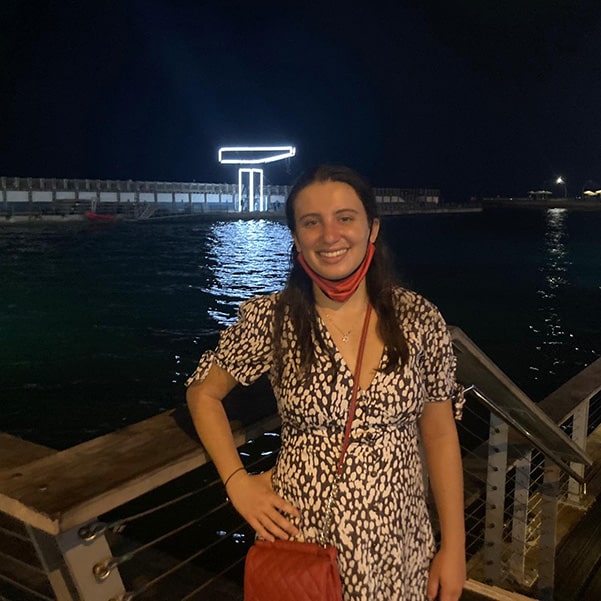 Maddy Rubin wrote about her first Psychology class:

This week I am so happy to say that we started our classes! One of my favorite classes that I am in is my psychology class! This week in class we learned about the history of psychology, different types of psychology, and research methods of psychology. I love how small my class is (there are only six of us) because it allows for more participation, it is easier to ask questions, and it makes focusing much more manageable too. I am so happy to be learning how the mind works, because it makes understanding myself so much easier! I'm so happy I joined this class!"


This week to start off Selah, we met in person for the first time! In order to keep to the Corona guidelines, we met in two groups, and also had a third session for those that are in quarantine. We opened the semester with an exploration of different approaches to the origin of the Bible, and how that could impact the different world-views of different denominations and movements within Judaism. It was great to finally be together, and we look forward to continuing to explore these and other ideas in preparation for some of the people we will meet around Tel Aviv.


Josh Glucksman wrote:


"What is the Torah? Who wrote it? What lessons are being taught and are they still applicable? These are all questions we began answering in our first two Selah sessions this week, where we started to dive into the important facets of Judaism, starting with the Torah. After this COVID craze, we all look forward to hearing our first speakers and going on our first field trips!"


Below is next week's schedule: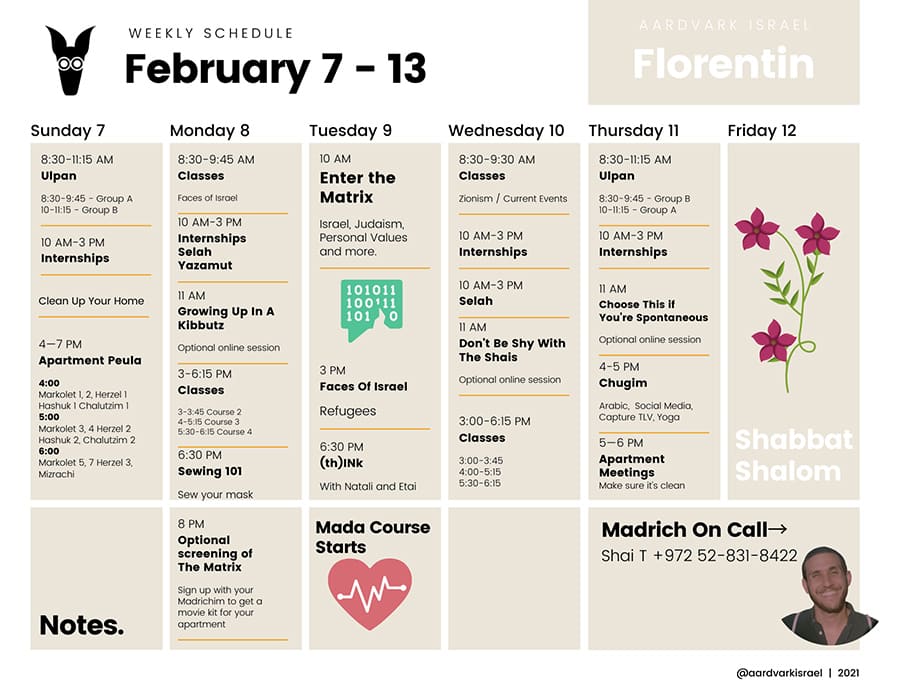 Our Madrich on call this weekend is Ilan.
Shabbat Shalom,
Etai