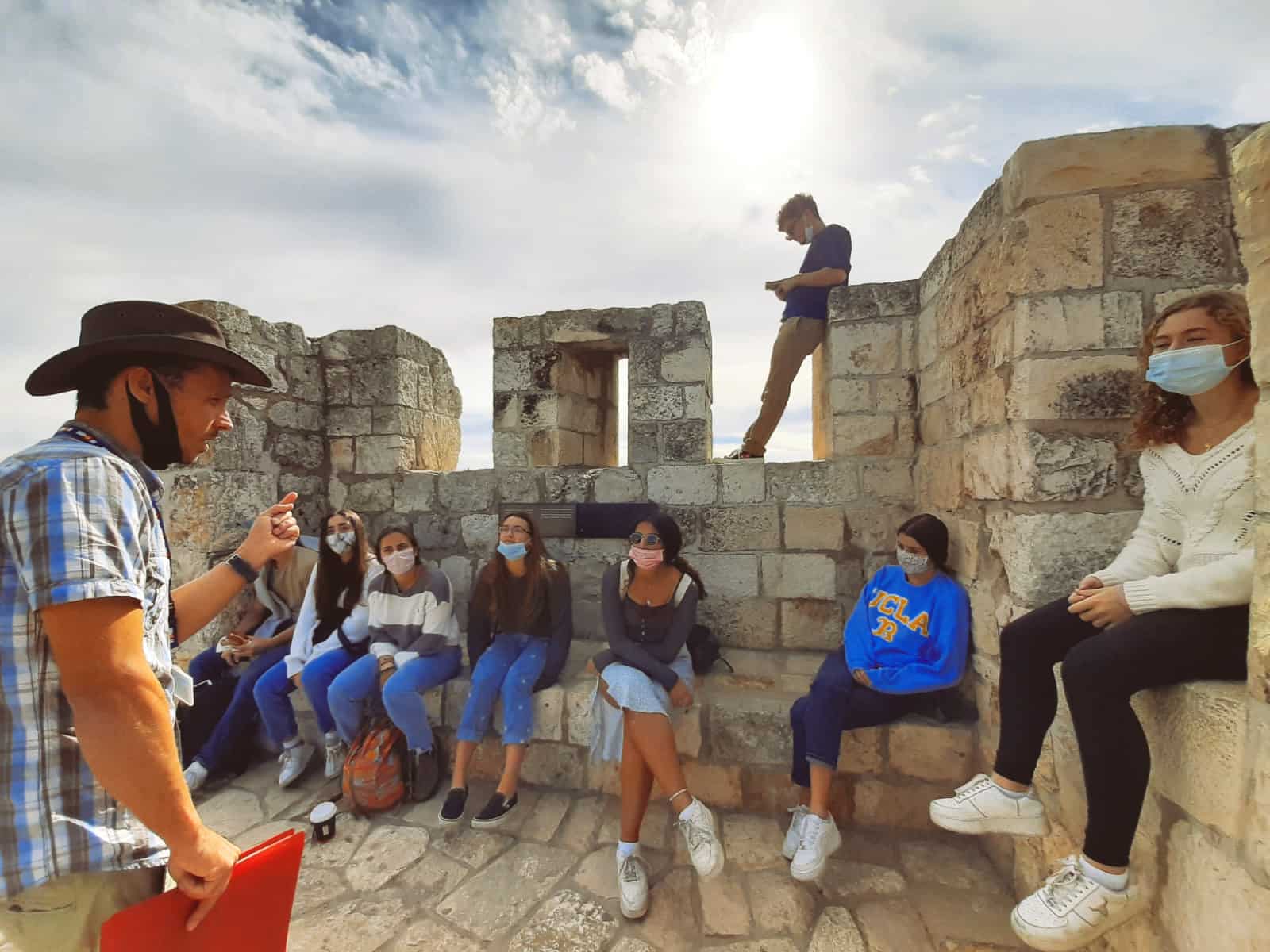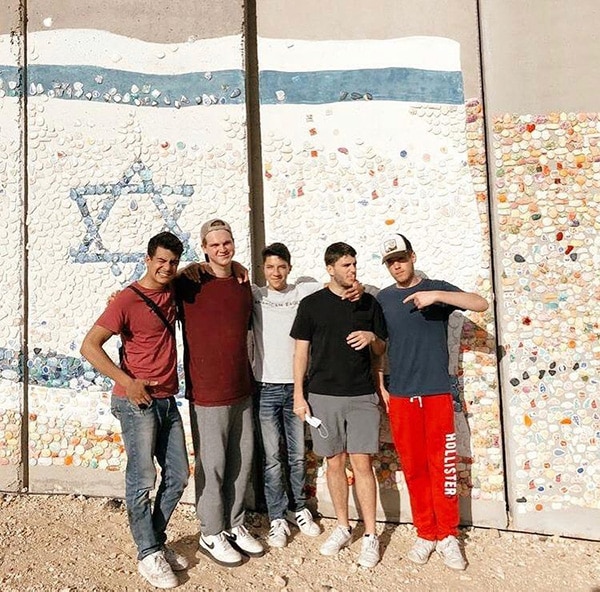 Shalom and Happy Holidays, Parents, Students, Partners, and Staff,
We are down to one month until Fall semester ends, and winter has finally arrived in Israel! Our students celebrated Hanukkah and Thanksgiving, and some of them even organized their own Thanksgiving meals all by themselves. For some of our students it was their first time making a Thanksgiving meal (and trust us, by the way it looked – these kids can cook!) Here's to new experiences!
Our students have been busy as usual, with internships, tiyulim, classes, and a Shabbaton In Peki'in – a Druze village in the North of Israel. They prepared for Shabbat with an optional Shabbat candle lighting, and then split to three versions of Kabalat Shabbat, so each student could pick his or her own way of celebrating Shabbat. Then they ate an authentic Druze meal and heard about the Druze culture from their local hosts. Later, the group had a Shabbat meal all together, followed by Oneg Shabbat. On Saturday, the students took part in different workshops, focusing on Hanukkah and Jewish identity. They toured the city of Peki'in, including the old synagogue and the cave of the Rashbi. At the end of this special Shabbaton, the students gathered around for Havdalah and then returned to Tel Aviv and Jerusalem.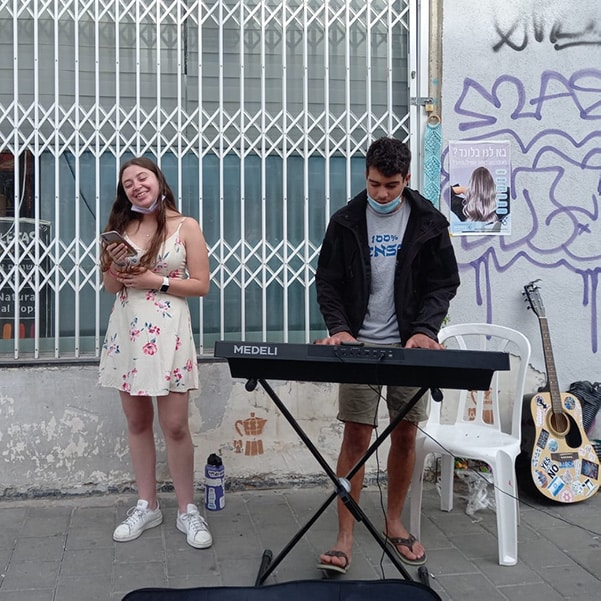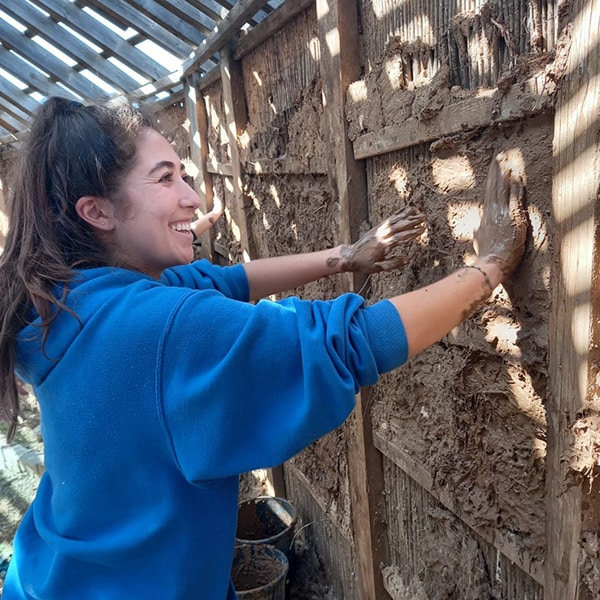 WHEN INNOVATION MEETS RELIGION
Our Selah students had a pretty busy month as well, including weekly tours and Jewish enrichment classes. The students traveled to the Biblical Museum of Natural History, where they learned about indigenous species to the region in biblical times and how they feature in Jewish writing and lore. They learned what makes a kosher shofar, and the attributes of all kosher species. A couple of them even ate kosher locusts! They also interacted with live animals and learned about their connections to Tanach.
Selah students also visited the Haredi neighborhood of Mea Shearim in Jerusalem. Before setting out, they prepared for the experience with a discussion about expectations and impressions about the community and how external observations should be balanced with the understanding that there is diversity and complexity within every community. They discussed the challenges of encountering discomfort with the community standards. In Mea Shearim, they wandered the streets, visited a famous Jewish book store, Manny's, and then they were treated to a walking tour by Manny himself! He shared his story of opening and growing his store despite not being Haredi himself while giving the students a peek at the variety of lifestyles represented throughout the neighborhood.
Big Idea (our Innovation & Tech program) students visited Betzalel Academy of Art and Design in Jerusalem and the Hebrew University Center of Innovation. They saw a few departments at Betzalel, participated in a thought-provoking conversation about the connection between design and innovation, viewed wood and metal workshops in the Industrial Design department, and visited the art and computer department of the School of Visual Communication. At the Hebrew University, they discovered how the university teaches about innovation, the methods of teaching innovative thinking, and the ways in which they incorporate entrepreneurial skills into their classes. All of that, with coding classes, preparing for their internships, and Impact month coming ahead. These kids have sure got a lot going on!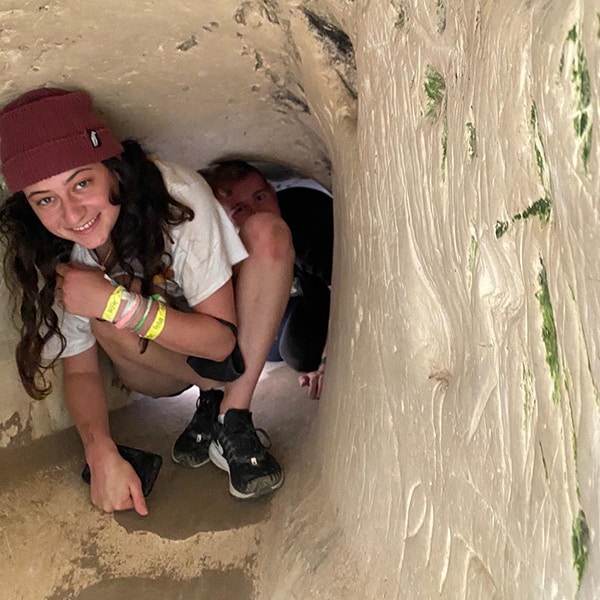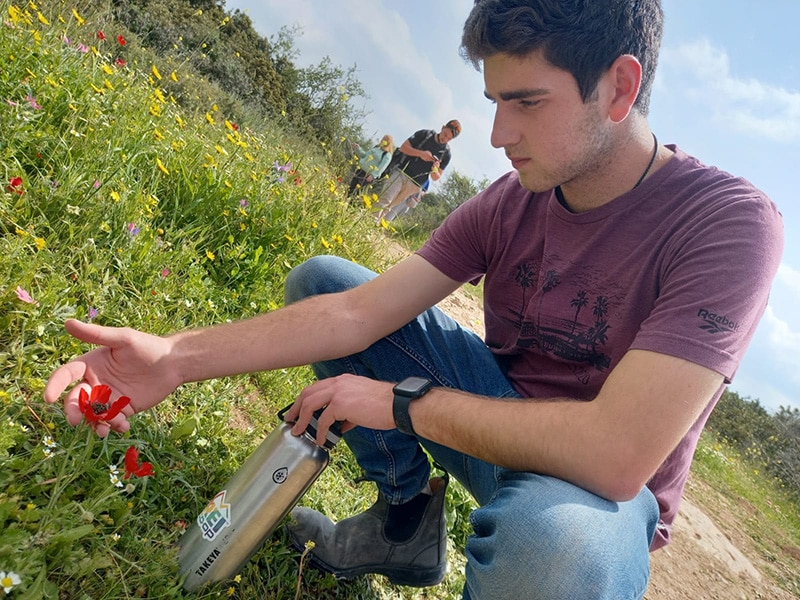 DIVERSITY AND MEMORAILS ON TUESDAY TIYULS
On some of our recent Tuesday Tiyulim, students traveled all the way down south, to Sderot and Nativ Ha'Asara, while learning about the complexity of living near the border with Gaza. Jacob Weiser told us about his experience: "It's hard to imagine what these people who live near the Gaza border have to face everyday, knowing that day could end in tragedy. The day starts as a calm and peaceful day, when they are going around their daily business, when there could be a 'Tzeva Adom' (red color) siren which means they've got seconds to find a shelter. The people who live in the kibbutzim near the Gaza border or even closer like Nativ Ha'Asara know that living there is a risk, but for them it's a risk worth taking. When I was there, I felt part of what that community life is like. We listened to a woman who grew up there and learned how she's trying to make a difference with her art. Along the wall, people put ceramics up to create images of peace; Some of these ceramic images can even be seen in Gaza."
The students also traveled to Ramla & Lod, two mixed cities, with Jews and Arabs living together. They started their day in Ramla's Great Mosque, where they met a man named Isham who explained what Islam means to him. Later, they learned about the city of Ramla and its history, and went to the famous market there. Then, they traveled to Lod and did a short tour of the city, which included a conversion with an Arab woman and a few young members of the Arab community in Lod. The students engaged in an interesting discourse and got the chance to learn about the Arab culture, and its struggles in Israel.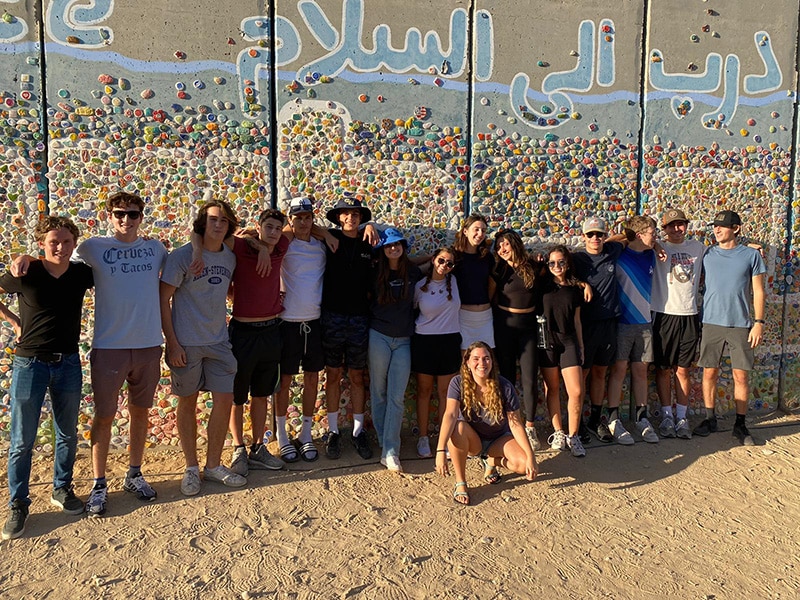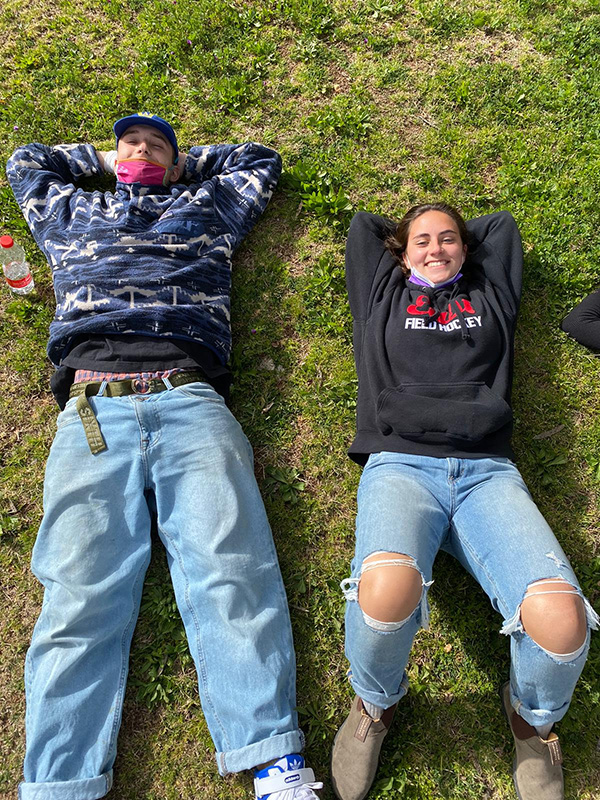 Some of our students also traveled to the beautiful city of Haifa, up north. Haifa is a well-known example of coexistence, with Jews, Muslims, and Christians living there. They went to the Bahá'í Gardens observatory and the Ahmadiyya Shaykh Mahmud Mosque, which is the visitor center of the Ahmedi community in Israel. Our students the went to the Stella Maris Monastery and had some free time to tour the city and visit Wadi Nisnas, one of the most colorful neighborhoods in Haifa, right by the German Colony.
On Hanukkah, our Levontin community traveled to the city of Bnei Brak, to learn about the diverse communities of the Israeli society. The majority of the city consists of Haredi Jews. Julian Frucht told us about his experience: "My experience in Bnei Brak learning about the orthodox community in that city was very interesting. We have been to religious areas of the country on other tiyuls, but this one, in particular, was very unique. Our tour took place during the third night of Hanukkah, and it was fascinating walking around the city and seeing menorahs through many people's windows, especially in the large yeshiva (which our tour guide called "the Oxford of Yeshivas") we walked by, where you could see the menorahs through every window in the building. The experiences I've had traveling around Israel and seeing many different communities and cultures is one of the biggest things I'm going to take away from this program. From Jewish communities to Ethiopian communities, to Arab communities, I feel like I've seen it all. Witnessing all these different communities has increased my appreciation of the diverse world we live in and its history of. I am excited to learn more about Israel and its history for the rest of the semester."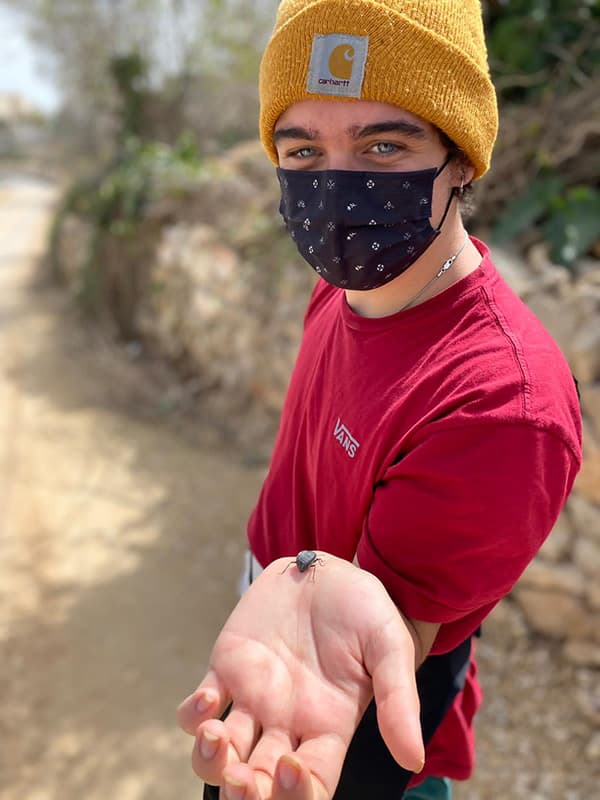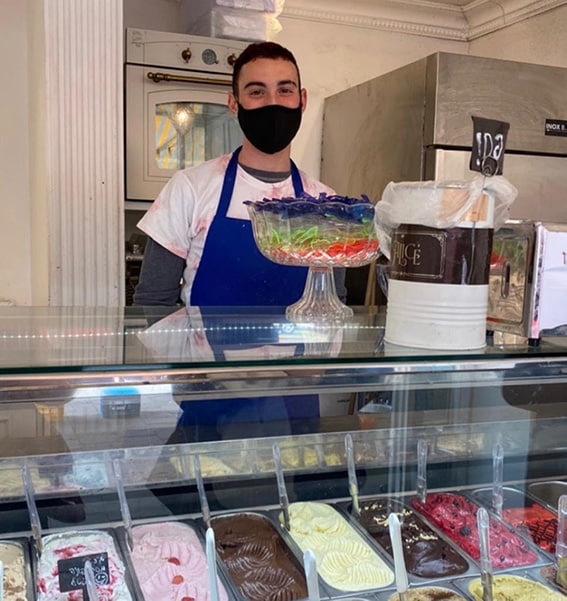 Our Jerusalem community students climbed all the way up to Masada at sunrise, where a few of them celebrated a special edition of a B'nei Mitzva ceremony. And what place is more meaningful than Masada? Hannah Nahmias wrote about her experience: "Visiting Masada was challenging yet rewarding. We left early in the morning in order to watch the sunrise on the mountain. We took the Roman Ramp up and the Snake Path down. We visited an ancient Mikva, church, and synagogue and even got to witness three of our friends have their bar/bat mitzvah on top of Masada. Overall, it was really fun being in an old place with a lot of history and meaning connected with it."
Daniel Matthys wrote, "I came to Israel to grow closer to my culture and heritage. The opportunity to have a Bar Mitzvah on top of Masada was another part of this journey, and one I am glad that I took. It was awesome being able to have this experience with my friends – Benjamin and Gabi. There was something really cool about having a Bar Mitzvah in Masada, a very important place for Judaism. I am so thankful to be able to have these experiences in Israel."
Last week, our Jerusalem students traveled to Yad Vashem, the national Holocaust museum, and Har Hertzl, walking in the path from the Holocaust to rebirth of the Jewish nation and the people of Israel in their homeland. Sam Lynn shared his thoughts from that emotional day: "For me, Yad Vashem stands out because of its incredible attention to detail and its ability to tell as many individual stories as possible. While I have been to Yad Vashem before, each time that I go I learn something new. This time around, I had the opportunity to go into the learning center where we were able to look at 13 difficult questions and potential answers. Another place that we visited was Mount Hertzl. Mount Hertzl is a very special place that I believe all tourists should go to. It has amazing views, a large soldier presence, and acts as the final resting place of soliders who were killed, as well as high ranking political figures. This time around we went to two very unique places on Mount Hertzl. We visited the memorial of the victims of terror and the memorial to the victims of the mass migration from Ethiopia. This was the first time that I had been to either and they both left a lasting impact on me. I am incredibly grateful that I was able to visit both memorials while I was there."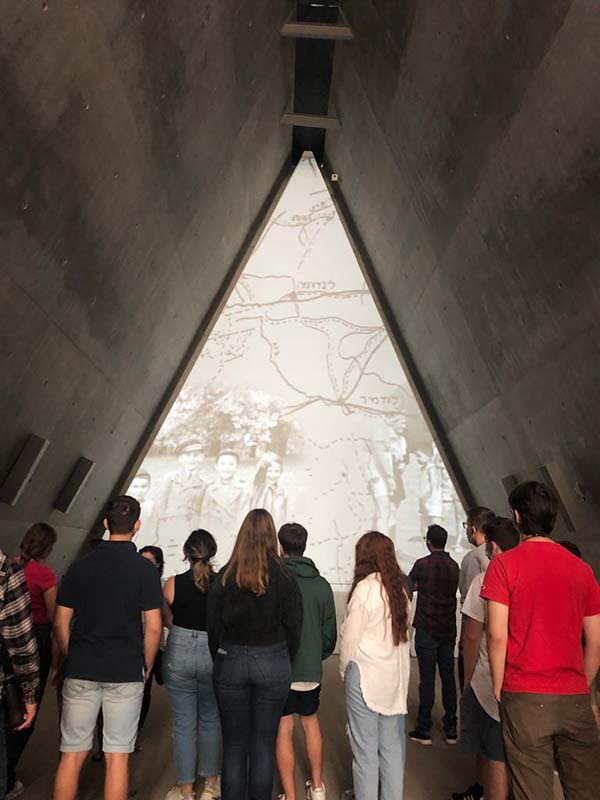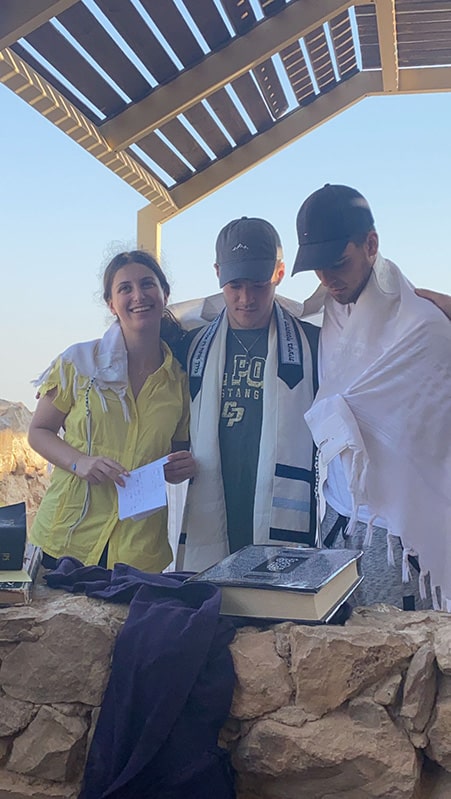 SPOTLIGHT! ON INTERNSHIPS AND VOLUNTEERING
Through internships and volunteering, our students are developing their own sense of responsibility and professionalism. Here's a spotlight on two of our internships! Haley Slate (Seattle, Washington) from our Florentin community writes about her experience at Green.Course: "I'm a global movement building intern at Green.Course, the largest environmental activist non-profit organization in all of Israel. I'm so happy to be working with such an impactful group. As an intern at Green.Course, my main project is to create a webinar. This process includes finding an inspiring activist to speak, building the content and format of the webinar, working with other people for marketing, inviting people, and working on the technical management of the event. This is my biggest project as an intern, but I'm also working to get the name Green.Course into America by connecting with my home communities like temple and youth groups and doing small things when an extra pair of hands is needed. Green.Course is a great resource to learn more about climate change and more specifically about environmental struggles in Israel." Haley, you sure impressed us!
From environmental activism to diversity in Israel. Noa Isaacson, from our Jerusalem community, is advancing her skills by taking her photography one step forward. "I'm interning for Ethiopian National Project, a nonprofit that works to integrate Ethiopian Jews into Israeli society and create equal opportunities for them in the workplace. As part of my internship, I'm working on ENPeople, a photojournalism project in which I photograph and document stories of different participants in ENP. My goal is to create a safe platform for Ethiopian Jews to share their experiences and highlight their strength and resilience. Hearing the stories of the interviewees have been so inspiring and I love all the new people I've been able to meet and new stories I've heard through this experience. I hope readers will be inspired to become more mindful about their actions and resources so they can do more to help Ethiopians in Israeli society feel welcomed, supported, and heard."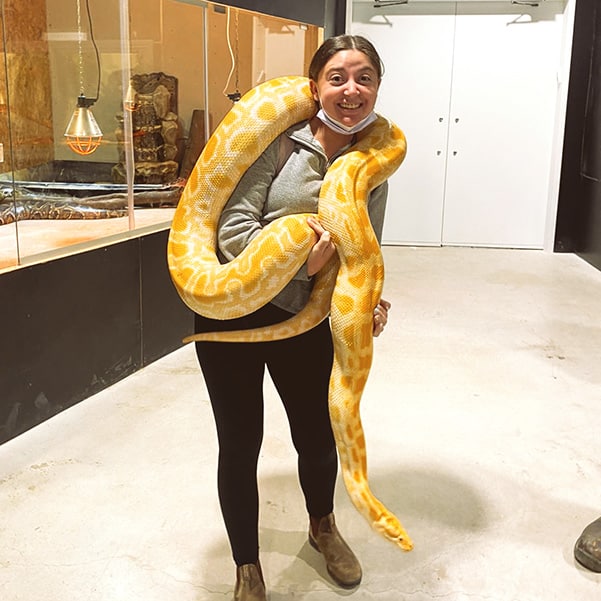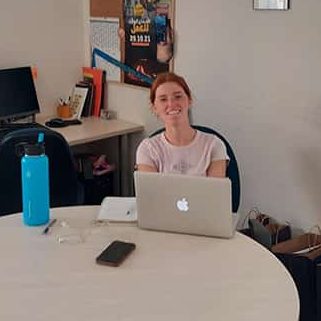 Though it is almost over, we would like to wish you all a Happy Hanukkah, may the lives of you and your loved ones always be full of light. And hey, winter break is coming soon! See you again at the end of the semester 🙂
The Aardvark Israel Staff