Weekly Updates – Tel Aviv April 20, 2017
Shalom Parents!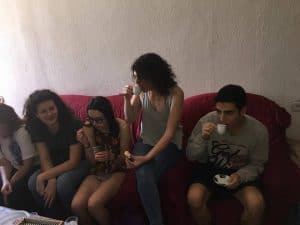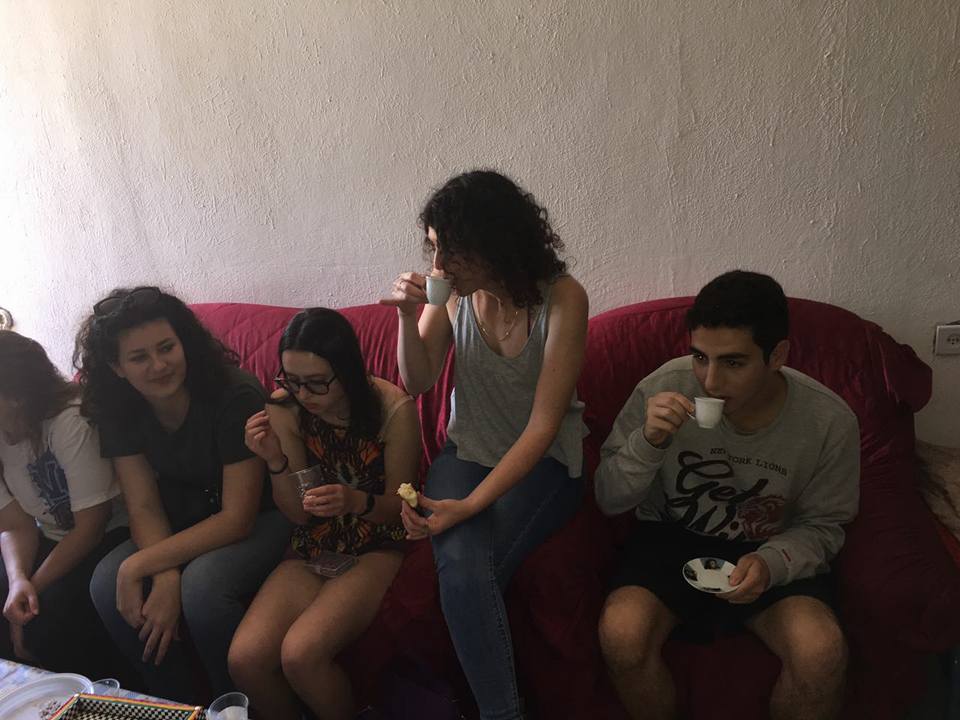 The students just came back from their Pesach holiday. Many of the students made use of platforms we offered and many of the opportunities that Israel has to offer in the spring!
Alex Maybloom for example spent some time in the beautiful desert:
"Over the Pesach holiday I went to stay in a place called Tsuqim, which is about a four hour drive out of Tel Aviv. I stayed with a host family as I don't have any relatives in Israel however, my family and school have a partnership with the community so it was as close to family as I could get. Tsuqim is located in the desert near Eilat; it is very remote so I was literally in the middle of nowhere. Every day was sunny and hot but on the last day it poured with rain which lead to the craziest and most wonderful show of nature I have ever seen. After raining for some time, rivers began to form down the rocky desert mountains and filled the dry riverbeds below creating an incredible contrast between the dry land and the fast currents of the flowing water. The sky was grey and lighting frequented the sky, which added to the drama of the show. This happens very rarely so I felt incredibly lucky to witness it and I have to say it was a really cool way to celebrate Pesach."
We know that coming back from spring break to the program's intense schedule can be rough so we made sure that the first few days were easy going.
For example, Tuesday began with a tour of a city called Gedera. The tour focused on the Ethiopian community living in Israel and their journey. Our tour guide, Melaco, met us in the city's foundation museum to tell us a little bit about the community itself and its history.
We learned about the two main operations that brought more than 20,000 Ethiopian Jews to Israel. We also learned about their tribe, Beta Israel, and their villages and families back in Ethiopia.
There is a common misconception that the Ethiopian community came to this country because of racism, poverty etc. In fact, Beta Israel is here because of their love for Israel and strong Zionistic beliefs. They actually had minimal clashes with racism and their lives in Ethiopia were satisfying (a lot of them are actually living here in poverty). After a fascinating talk we split into 2 groups and went to meet some people from the community in their own homes where we had the opportunity to try their traditional foods – Ethiopian bread, Injera etc. (In my opinion, it was delicious!)
Later on that day, the madrichim met with their students in the apartments to bring them back to a clean and tidy way of life and of course, to share the experiences they had over the break. Some students were thrilled to share their stories about their hiking, traveling, and festivals they attended around the country, as well as movies they saw and adventures they had.
On Wednesday, the staff organized a great activity that dealt with the sects of Judaism. Spread around the moadon were many questions about different aspects of Judaism. For example, "What is the Torah?" Each question had 6 or 7 different answers. Each answer represented a different Jewish sect (Reform, Conservative, Orthodox, Secular, etc.) and was assigned a fruit. The students needed to choose the answer that best matched their perspective. Then at the end of the activity, each of them had a different fruit smoothie that represented their opinions. "Surprisingly", each smoothie was completely different. The idea neatly demonstrated their varying perspectives on Judaism as a whole. The discussion Elad and Maya led afterward was impressive, both because of the differences the students expressed towards the subjects and because of their willingness to talk about it and to explore each other's new ideas.
*Now you know why we call it – "The Jewish Shake"
Dr Josh Helickman wrote about his History of Zionism class (Through Sports)
"We had the privilege to learn about Natan Sharansky, a "Prisoner of Zion" in the Former Soviet Union and his fight for freedom for himself and other Jews trapped in the communist regime. After a decade of imprisonment, he was set free in 1986 and walked over the famed Glienicke Bridge while a few years later once the Iron Curtain fell, Israel absorbed more than a million new citizens from the FSU. We talked about the challenges for not only the country back in the early 1990's but also the effect that communism had on the lives and "Jewishness" of those who were unable to practice religion freely.
We read an article by Sharansky's daughter Rachel who so eloquently described the battle that her mother Avital had to gain Natan's freedom which eventually led to Rachel's own birth in Israel. I highly recommend spending a few minutes reading the article http://blogs.timesofisrael.com/30-years-after-glienicke-bridge/ which really puts into perspective who Natan Sharansky was to the Jewish People as a whole, a true Zionist Hero.
Earlier this year, your children had the privilege to meet Sharansky at a MASA event and I hope that over the course of our last class they understood what type of honor this opportunity was. "
Before I wish you all Shabbat Shalom, I wanted to mention that we are in the middle a very special and unique period here in Israel. Israeli Society stops for a few days each week to respect and learn the history and traditions of our people – from the exodus from Egypt to the National Holocaust Memorial day and to the memorial day for the fallen soldier and terror victims of Israel.
Those days can be very emotional and meaningful for the students. It is important that they will have as many opportunities as they can in order to process the things they are going through. So, along with the platforms we are providing for them, we recommend that you talk to them to ask about the ceremonies, activities and the general atmosphere they feel here in Israel.
On Sunday, we'll be going to the national Israeli Holocaust ceremony along with the prime minister and president of Israel in Yad Vashem, Jerusalem. This means that they will be at the heart of the occasion, at the center of attention at an event that a significant part of the world is focused on.
That will be all for now,
Until next time,
Shabbat Shalom,
Adi